We are a network
Multiple times per year, AER brings together regions, so that they may stand stronger together, and grow in a space of best practice exchange.

2019 AER Summer Academy – Novi Sad, Vojvodina (RS)
1 July 17:30

-

5 July 23:30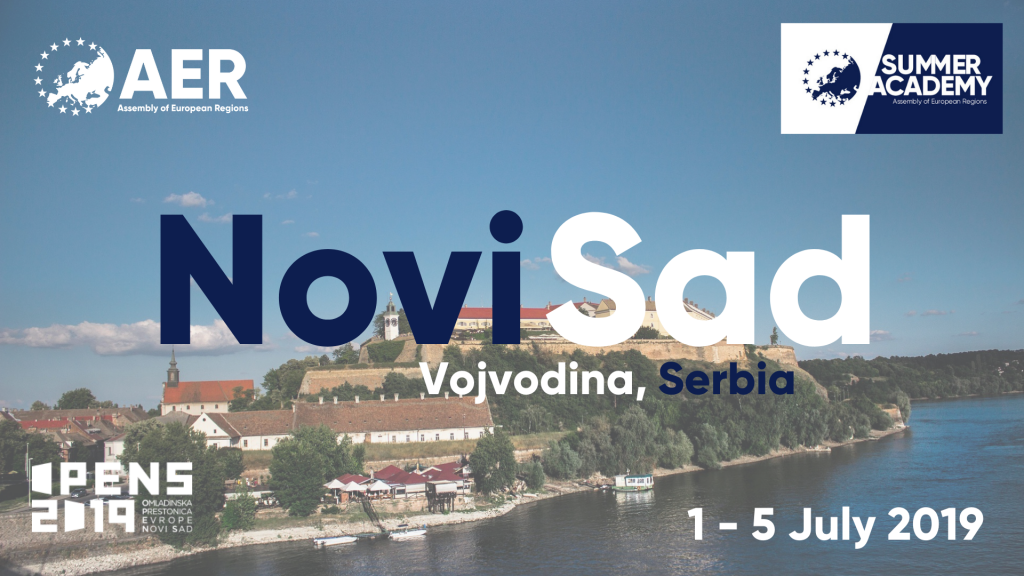 On the occasion of its hosting of the 2019 European Youth Capital, the AER Summer Academy will take place in Novi Sad, Vojvodina (RS) from 1-5 July 2019. This year's theme is "Youth is future, youth is Europe" in the wake of the 2019 Elections to the European Parliament.
The Future of Europe is YOUth!
Watch the promo video below or on our Facebook page

Deadline for registrations:

20th June 2019

Local and regional authorities play a unique articulatory role between citizens and EU institutions. In the context of ongoing discussions on the Future of Europe, regions' voices are of paramount importance not only to pave the way forward for the EU but also to ensure that citizens are included in the (re)construction process of a more sustainable, social, prosperous and democratic Europe. The only direction to go in is one in which young people are included in EU decision making and at the centre of its policies.
Hence, the participating regions at the 2019 Summer Academy will show off, by exchanging innovative ideas and good practices in various fields, the potential of young people to bring about a social transformation and rethink the way Europe can meet the challenges of the future.
The 2019 Summer Academy will then provide a hub for mutual learning on various topics of great relevance for young people –in line with the European Youth Event Report 2018 – Speak up Europe!–:
Youth is democratic participation and European citizenship.
Youth is diversity and equal opportunities for all.
Youth is social entrepreneurship and sharing economy.
Youth is a driving force for green development.
Last but not least, the 2019 Summer Academy programme is offering participants an exciting opportunity to visit on 4 July one of the top European and world music festivals: EXIT music festival !
Registrations will open by Spring 2019! 
General Programme

Details
Start:

1 July 17:30

End:

5 July 23:30

Event Category:

Event Tags:
Organiser
Assembly of European Regions
Venue
Assembly of AP Vojvodina

Vladike Platona bb




Novi Sad

,

Vojvodina

21000

Serbia

+ Google Map