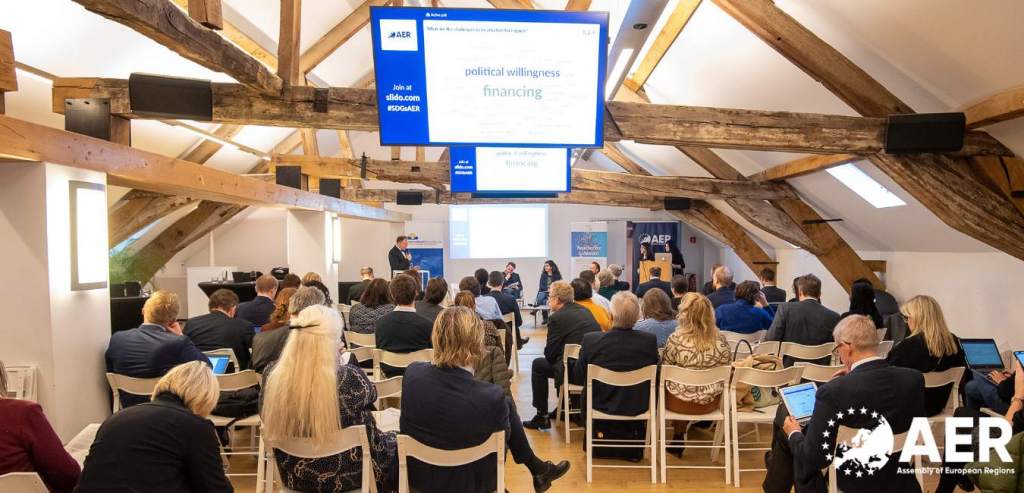 The Bureau is the primary political voice of AER. It engages in issues of a pan-European and global nature emanating from members and establishes the political base for AER's advocacy work. It is the primary political voice of AER, meeting at least twice a year.
The meetings will be open to the public, inviting international, interregional, regional and municipal organisations to take part in the debate – contrary to the General Assembly, which often deals with internal organizational issues.
Composition
It consists of the members of the Executive Board and two representatives per State represented within the AER as well as a series of individuals (outgoing Presidents, Presidents of AER Programmes, Presidents of partner organisations and institutions, and representatives of regions hosting the AER offices) invited on a personal basis..
AER's Statute and Procedures on the Bureau
See Article 5 of the Statute and Article 5 of the Procedures for more information.
Bureau members
Positions
Position on Annex D Investment Guidance Cohesion Policy Funding
AER Manifesto for the European Parliament Elections 2019
Position on European Commission's proposal on the Cohesion Policy beyond 2020
Statement on the next EU Multiannual Financial Framework and future of cohesion policy budget
Position on Cohesion Policy Post-2020
Position on Sustainable Development Goals
Recommendations on the Conference on the Future of Europe
Task Forces
The Task Forces are convened by the Bureau with the objective of driving AER's joint political action in specific issues, in support of the network's political priorities.
There are currently three Task Forces (up to 6), each led by a Bureau member with support from representatives from AER member regions. The Task Forces are:
Task Force on Climate
Task Force on Sustainable Mobility & Connectivity
Task Force on Democracy
Bureau Task Forces' Terms of Reference
Recent articles about the Bureau
---
Contact
Institutional Relations & Advocacy
Vania Freitas
Mobile: +32 2 400 10 86
E-mail: v.freitas(at)aer.eu
Skype ID: vaniamisafreitas
Languages: pt, en, fr, es
Institutional Relations
Bureau and Task Forces Coordination
Observatory on Regionalisation