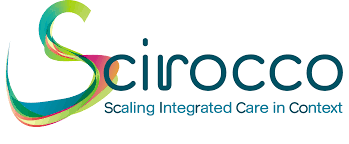 Share this!
Scirocco Exchange – Personalised Knowledge Transfer and Access to Tailored Evidence-Based Assets on Integrated Care
Project Mission
Integrated care, also known as integrated health, coordinated care, comprehensive care, and seamless care, is a key priority of the European Innovation Partnership on Active and Healthy Ageing (EIP on AHA)'s whose group of EU experts have developed a conceptual model for regions to assess their readiness for integrated care – the so-called "Maturity Model"
But what does it mean for regions? "Integrated care" is a concept bringing together inputs, delivery, management and organisation of regional healthcare services related to diagnosis, treatment, care, rehabilitation and health promotion. Integration is a means to improve services in relation to access, quality, user satisfaction and efficiency.
The AER member region in Scotland, NHS, in their Long Term Plan and many other documents advocating integration, evidencing that it will produce reductions in costs or emergency admissions to hospital. To this aim, AER supports the NHS's demands. In addition, the SCIROCCO project mission falls within the AER Committee 2 on Social & Public health policy priorities.
To innovate healthcare and improve the patient's journey, more integrated care systems are essential. A range of opportunities is available to AER members in the context of the Scirocco Exchange project on integrated care, as the AER Project workshop showed on the occasion of the AER Committees Spring 2019 Plenaries in Örebro.
Project Consortium
NHS 24 Scotland (Lead Partner, AER member region)
University of Edinburgh
Kronikgune – Research Centre on Chronicity
Vrije Universiteit Brussel
Universitat de Valencia
Osakidetza – Health Service of Basque Country
Puglia Regional Agency for Health and Social Care
University Hospital Olomouc Assembly of European Regions, AER
Project Aims
While the vertical integration involves patient pathways to treat named medical conditions and connect community-based generalists with largely hospital-sited specialists, the horizontal integration involves peer-based and cross-sectoral collaboration to improve overall health closing gaps between health and social care
The ultimate objective of integrated care systems is to provide health and social care in a flexible, personalised, and seamless way, enhancing the quality of the care provided and improving the attention given to the patient.
SCIROCCO aims to develop the Maturity Model into a validated and tested self-assessment tool that will facilitate the successful scaling up and transfer of good practices in integrated care across European regions. The project will explore how matching the complementary strengths and weaknesses of regions can deliver two major benefits:
1)A strong basis for successful twinning and coaching that facilitates shared learning; 2)A practical support for the scaling up of good practices that promote active and healthy ageing and participation in the community.
More, precisely, the SCIROCCO project will help regions to identify:
The context requirements of a good practice that is being considered for adoption;
The level of maturity required for the health and social care system to adopt a particular good practice;
The actions that more progressive regions have taken in order to be successful;
Lessons learned from these pioneers to overcome barriers and accelerate results;
The process of information sharing on lessons learned to help other aspiring regions to speed up their own adoption.
Project Activities: The SCIROCCO Maturity model & The Knowledge Management Hub
Regions working on innovative solutions that support the delivery of integrated health and care can use the SCIROCCO online self-assessment tool. This tool was tested in 60 regions and organisations in Europe and beyond. The Scirocco self-assessment tool is used to identify the maturity of the health and social care systems for the adoption and scaling up of integrated care solutions.
This online self-assessment can be used by stakeholders, be it at the level of a hospital, a city or a region
The outcomes of this process help to inform stakeholders involved about the readiness of their local environments for integrated care and identify priority areas for action.
The SCIROCCO tool was also tested with multidisciplinary teams to capture the perceptions of all stakeholders involved in integrated care.
This participatory tool facilitates the discussions and negotiations within the teams in order to reach consensus and agreements on the maturity of the environment for integrated care.
The Scirocco online self-assessment tool for integrated care is presented and explained on the Scirocco website, a set of set of videos and a tutorial explain how to use it.
AER member regions which have already implemented successful practices in the field of integrated care can share expertise with other regions in the world via the Scirocco Knowledge Management Hub and test the hub to improve it. This Knowledge Management Hub is being developed to maximise the use and improve access to existing knowledge and evidence. This hub will help regions find relevant resources depending on their own needs. Interestingly this hub will also be used by fellow projects financed by the European Union's 3rd Health Programme.
Regions can share expertise for the Knowledge management Hub: tools, guidelines, good practices
Regions can identify experts who could contribute to the different knowledge transfer activities, in training webinars, study visits, mentorship, etc
Regions can identify experts who would be able to advise for the elaboration of regional improvement plans
Healthcare managers, national and regional authorities in charge of designing and commissioning healthcare services can test the Hub and help the consortium to improve it
Knowledge transfer, the core of the project – Delivering AER expertise on peer learning and best practices
This project, of which AER is a proud partner, will run for 3 years (2019-2021) and builds on the outputs of the very successful Scirocco project, which brought together Scotland, Norrbotten, Puglia, Olomouc and the Basque Country to assess strengths and weaknesses, facilitate multi-stakeholder dialogues and transfer good practices via twinning and coaching.
The key to the deployment of complex changes is peer learning. But peer learning rarely happens spontaneously, it needs to be encouraged and facilitated. With its almost 35 years experience in mutual learning and good practice transfer, AER was the ideal partner for this task. AER will therefore facilitate the transfer of knowledge in Scirocco Exchange.
Scirocco Exchange will:
Maximise the use and improve access to existing knowledge and evidence in order to increase the capacity of regions to implement integrated care
Facilitate the scaling-up of the expertise and good practices identified and analysed within the AER regions with the view to trying to transpose or transfer those into different regional care systems and environments.
Determine precisely how to improve capacity of regions to redesign and improve their healthcare systems in order to speed up the adoption and scaling-up of integrated care
Tailor the capacity-building support and improvement planning to local needs and priorities in health and social care management hub
---
Want to learn more about the SCIROCCO project?
https://www.scirocco-project.eu/
Project contact details:
EDUARDO NADAL – European Projects Manager
Phone: +32 2 400 10 52
E-mail: e.nadal(at)aer.eu

Follow AER!