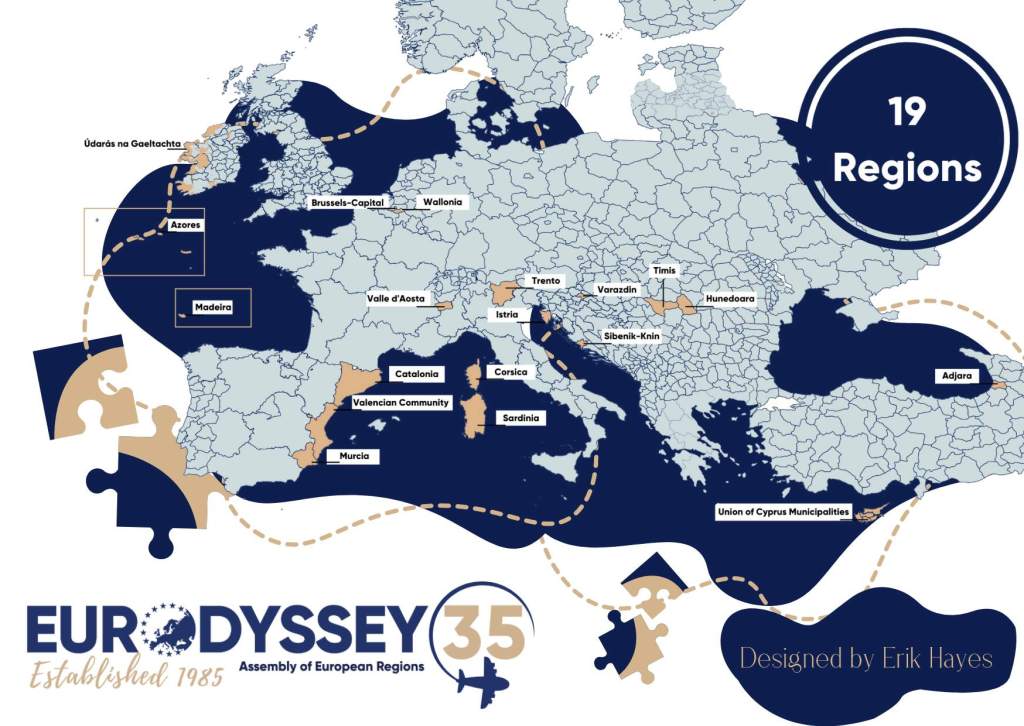 Eurodyssey is AER's flagship youth mobility programme operating between the participating regions since1985. It provides paid traineeships, including accommodation and language training, but also cultural and social activities, to young people in these regions.
The programme is open to young Europeans between the ages of 18 and 30, unemployed or recently qualified, living in a participating region. The traineeship placements are organised and financed by the host regions (in some cases, with the support of the European Social Fund), making Eurodyssey quite unique: the mobility arrangements and the traineeship offers are managed entirely at regional level, giving them the hand to validate the traineeship offers and the applications.
Since its creation, over 10,000 young people have benefited from Eurodyssey traineeship placements. The programme's statistics and surveys show a high employment and satisfaction rate from the alumni. At the same time, it allows host organisations (companies, association, public administrations) in the regions to attract international profiles, with the skills and/or training needed in their sector – keeping in mind that they also have to support the trainees in developing their skills and competences throughout the traineeship.
Further information can be found on Eurodyssey's own website, where all applications and traineeship offers are managed. You can also contact AER Programmes Coordinator Lorène Weber at [email protected].
Testimonials – Eurodyssey 35th Anniversary Video
Eurodyssey Steering Committee Members
Esther Estany – Eurodyssey President
Region: Catalonia (ES)
Email: [email protected]
Laurence Hermand
Region: Wallonia (BE)
Email: [email protected]
Anita Kalala Mbiya
Region: Brussels (BE)
Email: [email protected]
Agneta Kardos
Region: Timis (RO)
Email: [email protected]
Emilio Terrado Vicente
Region: Valencia (ES)
Email: [email protected]
Vitória Soares
Region: Azores (PT)
Email: maria.vm.soares(at)azores.gov.pt
Antonis Kafouros
Region: Union of Cyprus Municipalities (CY)
Email: [email protected]
Michele Monteleone
Region: Valle d'Aosta (IT)
E-mail: [email protected]
PDF Embedder requires a url attribute