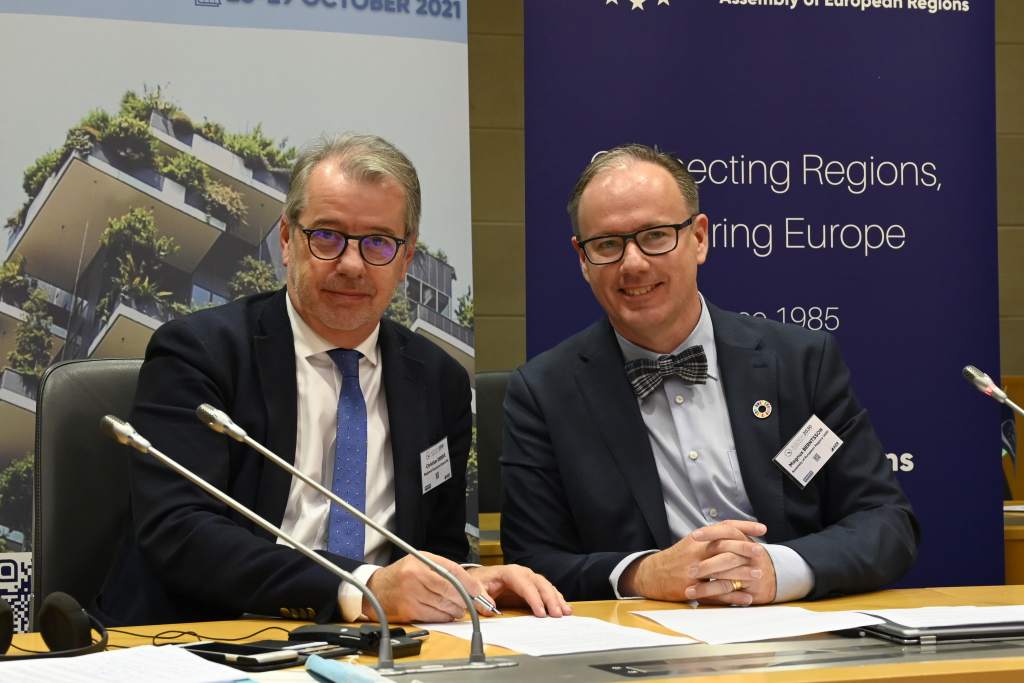 AER President, Magnus Berntsson and Vice President — Treasurer, Christian Debève co-sign our Agenda 2030 Manifesto.
Join the AER in achieving the 2030 Agenda for Sustainable Development
Now more than ever, regions, alongside cities, must have a key role in implementing and achieving the 17 Sustainable Development Goals set out in the 2030 Agenda for Sustainable Development. For this reason, the AER and its global partners reaffirmed their commitment to achieving these objectives to safeguard our planet for the future of the next generations on the occasion of the Conference 'Agenda 2030: Transforming Regions, Changing the World' that took place on 28-29 October 2021 in Strasbourg.
A common challenge
Entering the decade of action. It is now time to deliver on the commitment made in 2015; the outbreak of the COVID-19 pandemic has also stressed the urgency of action and highlighted the importance of cooperation among countries, organisations, and different levels of governance to face common environmental, political, economic, and social challenges.
Policy-makers, civil society, and AER members gathered together at the Regional Council of Grand Est to discuss how to overcome the current situation in the most sustainable and inclusive way, and ensure the creation of resilient and strong societies.
To do so, it is crucial that the multi-level governance principle is taken into consideration in the policy-making process. Local and regional authorities are the nearest institutions to the citizens' needs.
How can we make an impact?
The two-day conference in Strasbourg shed light on the main priorities for the future: localisation of the SDGs, strong engagement of regions and cities, creation of a circular and green economy, cohesion policy and digitalisation, bridging the gap between rural and urban areas, and most importantly fostering cooperation by promoting multi-level and multi-stakeholder partnerships.
All these purposes have been reiterated by signing a Manifesto that enshrines the principle of "thinking globally, but acting locally". This was co-signed by AER President, Magnus Berntsson and Vice President — Treasurer, Christian Debève on behalf of Region Grand Est — and endorsed by our partners, Regions4 and United Cities and Local Governments (UCLG).
To know more about the conference Manifesto and all the SDGs initiatives promoted by AER, have a look at the official event website regions2030.com