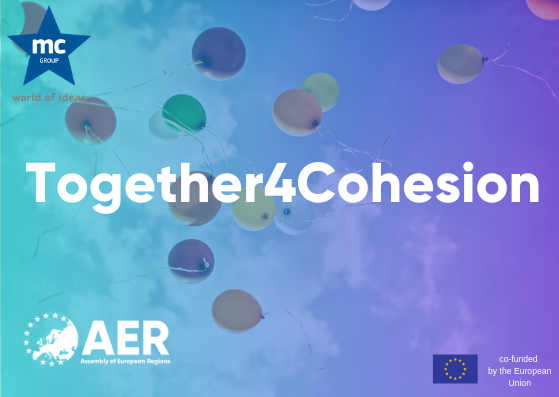 Let's rEUnite: Together for Cohesion is an EU-funded project (DG REGIO) that looks at identifying and exchanging successful good practices on communication strategies and initiatives at regional level in relation to the information and dissemination of the use and benefits of the EU Cohesion funds for transposition and/or scaling-up purposes across the diverse European regional contexts and environments.
The "Together for Cohesion: let's rEUnite!" project is built on two main objectives.
The first objective is to raise awareness about the importance of programmes, projects and services funded by the Cohesion policy funds in terms of benefits on citizens' life. At the heart of this proposal is a bottom-up approach: leading regions, citizens and stakeholders become the main protagonists and thereby Cohesion policy could benefit from this virtuous cycle.
The second objective is to encourage the participation of citizens and stakeholders on Cohesion policy to turn them in active players in the regional and national dialogue on Cohesion policy. That involvement will strength the connections between regions and citizens for a more constructive collaboration in the future implementation of the Cohesion policy programme.
Why?
The latest Eurobarometer survey, published in June 2017, showed that only 35% of EU citizens are aware of projects funded by the EU Cohesion policy in their regions.
More specifically, this survey shows that close 28% of them know of the European Regional Development Fund (ERDF) and less than one in twenty respondents (4%) have heard of the Cohesion Fund.
This Eurobarometer report concludes that there is a significant disparity between the proportions of respondents who say they have heard only of the European Regional Development Fund (ERDF) and those who say they have heard only of the Cohesion Fund.
According to the research data, then, it is recommended that regional target groups ensures that the proposed communication strategy has maximum impact, therefore, the consortium will focus its communications on the 35-60 year age group.
For what?
-To get regions to share effective dissemination and engagement strategies and campaigns with each other and to develop new techniques;
-To help citizens and stakeholders see the positive impact of Cohesion policy-funded activities in their lives;
-To empower citizens and stakeholders to contribute to the future of Cohesion policy to maximise the use of the tools and practises developed by the project, during the project and after its conclusion
-To strengthen the capacity of regions to involve media in dissemination.
Who?
The project is led by AER in consortium with the Media Consulta (MC) group – a German-led international communications agency network with offices in all 28 EU member states.
Thanks to its renowned expertise in communication on European public affairs, its extensive knowledge of national political and socioeconomic contexts and strategic connections to national media and multipliers, MC group is the key partner to successfully contribute to the best practices sharing and exchange on communication activities and initiatives at the grassroots level, at regional level.
In parallel, the Advisory Board is made up of AER regions actively involved and targeted in this project:
Alba, Romania
Timis, Romania
Catalonia, Spain
Varazdin, Croatia
Csongrádm Hungary
Trentino, Italy
How?
In short, there will be four inspirational channels of influence to strategic communication and active participation not only towards the regions but also to a wide range of public and private stakeholders:
Integrated communications via research – combining all the appropriate communication channels and tools including media engagement, public relations, and a cutting edge social media approach.
Partnership strategy – delivered through strategic partnerships and advocacy by engaging key stakeholders to amplify campaign messages, including workshops and training sessions.
Visibility events – making the campaign personal, relatable and emotive while broadening campaign reach. This will include attendance at local events in the regions.
Media strategy – ensuring that Cohesion policy reaches the target groups through local and national media, through the best channels and that communications are relevant, responsive and timely, as well as accurate and impactful.
Which (milestone) project deliverables? Have a look at our working-packages!
The project is based on the climax: empower regions, look for good stories and speak loud to reach as many citizens as possible!
In addition to the horizontal working-package on project coordination, monitoring, evaluation and reporting, three working-packages (along main actions and deliverables) give structure to the project:
● Working-package 1: Do it better! What regions are already doing?
In short, the WP will be focused on knowledge sharing and exchange of successful practices by regions for regions. What regions are already doing to inform and communicate projects, services and activities funded by the Cohesion Policy funds will be the starting point. The red line will be what really works out in the dissemination of cohesion policy projects: strategies, tools and channels.
One of the points will be how to enhance visibility on local, regional and national media on the impact of those activities as well as the collaboration between regions and the media partner to start gathering the inputs for the dissemination campaign.
Among others, project milestones will include stakeholder mapping and analysis as well as and the collection and dissemination of regional good practices.
Among others, project deliverables will include an online catalogue with at least 10 of the most successful campaigns and the partner communication strategy.
● Working package 2: The voice of citizens! What really innovative regions can do?
In brief, this WP is the opportunity to take a step further. Innovative information strategies, channels and ways to engage citizens and stakeholders will be analysed and implemented.
Among others, project milestones will include the exploitation and implementation of the communication campaign with social media activity and organisation of local events.
Among others, project deliverables will include pilot engagement plans as well as local training workshops and press trips to build self-made communication materials in the beneficiary regions.
● Working package 3: Cohesion policy is sexy! Citizens on board! The Messengers for Cohesion for blowing Cohesion policy positive effects over European regions: the "For Cohesion: let's rEUnite!" campaign
In short, this WP will focus as well on how to better engage citizens and key stakeholders. Specific activities to boost active participation will be planned and implemented in the frame of the regional cohesion calendar event and the dissemination strategy tuned on the selected audience groups.
Among others, project milestones will include the dissemination and outreaching of the communication campaign and the full implementation of the "European cohesion calendar" with local events and thematic activities across Europe with the view to further promotion and advertising of the project as a whole.
Among others, project deliverables will include recommendations for leveraging the results of the campaign into the future, local 'visibility' events and a wide range of social media activities. An online digital content hub, along informational and promotional materials, would be created as landing page in each region.
---
Want to learn more about the Let's rEUnite: Together for cohesion! please, visit Together4Cohesion official website and check our Cohesion Calendar to be updated on upcoming events!
Project contact details:
EDUARDO NADAL – European Project Coordinator
E-mail: e.nadal(at)aer.eu / Tel: +32 2 400 10 12