We are a network
Multiple times per year, AER brings together regions, so that they may stand stronger together, and grow in a space of best practice exchange.

AER Spring Committee Plenaries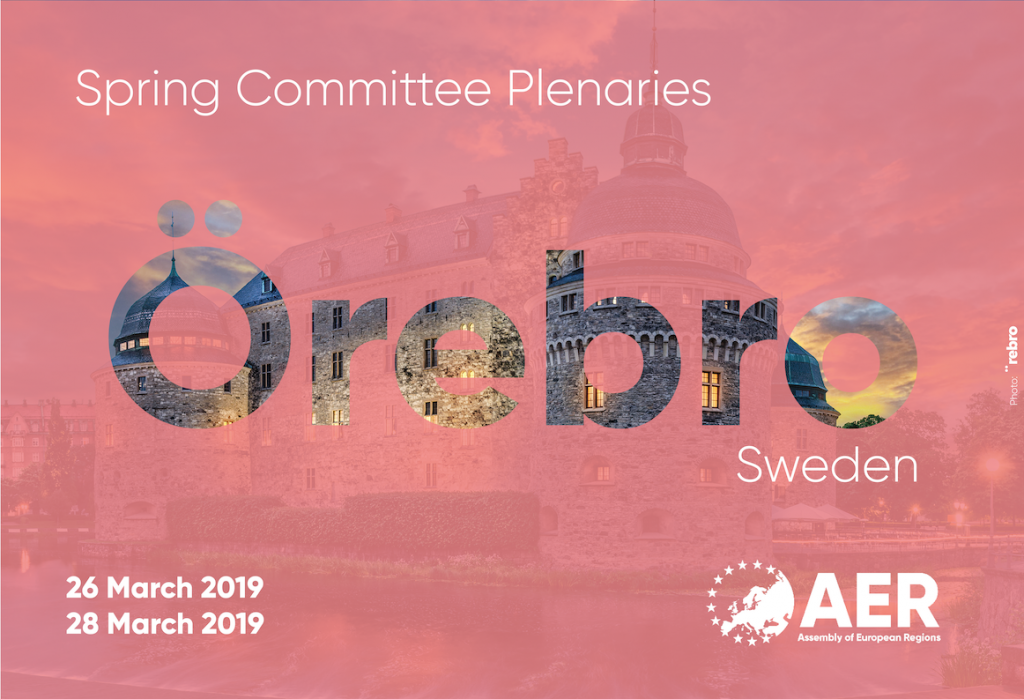 The spring plenaries of the three AER committees will take place in Örebro (Sweden) from 26 till 28 March 2019.
Work programmes
During the statutory plenary meetings of the Committee on Economy & Regional Development, the Committee on Social Policy and Public Health and the Committee on Culture, Education and Youth, AER members will develop jointly the Committees' 2019-2020 work programmes. Only one rules apply for this exercise: everything is possible!
Thematic activities
The seminar and on site thematic activities with innovators from Örebro will revolve around food, innovation and health.
The seminar 'Food for thought Action!' A regional approach to innovating food systems, will be an opportunity for regions to share how they innovate food systems to achieve:
-nutrition for healthy and sustainable diets
-climate and environmental sustainability
-circularity and resource efficiency
-innovation and empowering communities.
A Breakfast Debate will be organised on youth entrepreneurship
There will be workshops on
Energy and Climate Change: the SDGs as a policy framework
Transports & Mobility: Open Data & Blockchain
The AMID workshop on multilevel cooperation for migration policies
Available opportunities for AER members in current projects
Detailed Draft Programme
A draft programme can be found by clicking the button below:
Registration
Registration has now closed!
Please contact e.lee@aer.eu if you need to make any amendments to your registration.
Other information
The 'study tour' of Örebro will be a 45-60 minute walking tour of the city, its history and all the region has to offer.
Please make sure to wear comfortable shoes appropriate for this kind of activity.
FINAL IMPORTANT INFO EMAIL TO PARTICIPANTS
GDPR Compliance
Please note that photography and video recording may take place during this event. If you do not wish your image to be recorded, please contact the AER secretariat.
Please also note that a list of participants will be published on this website in due course. Only the names and organisations of the individuals will be listed. No contact details will be made public. For any queries, please contact e.lee(at)aer.eu.