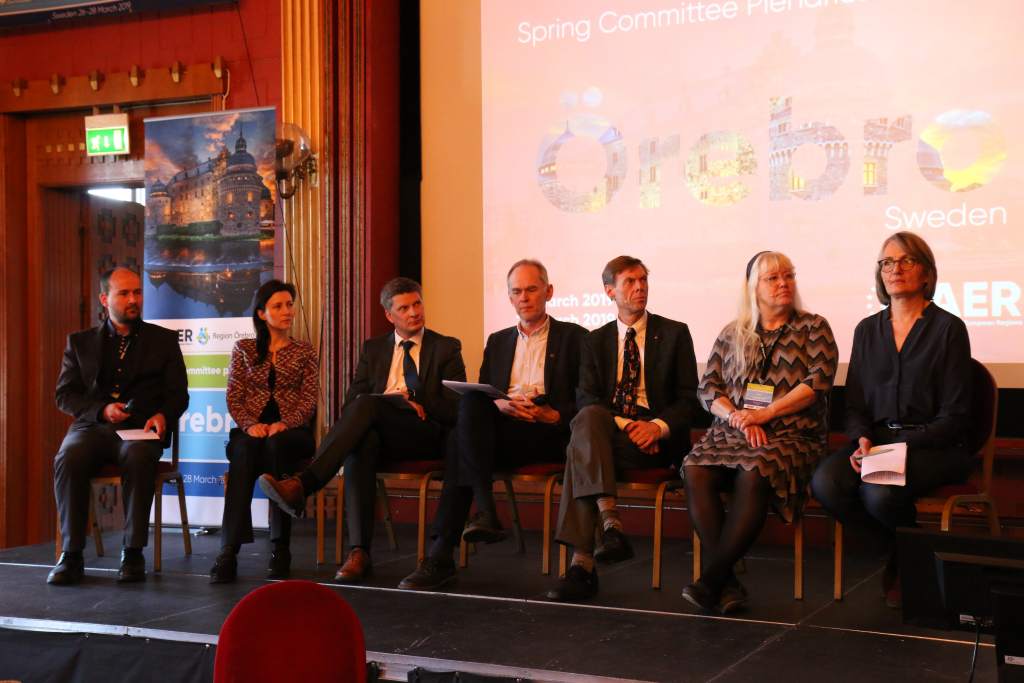 Share this!
The AER Spring Committee Plenaries, which took place from 26-28 March 2019 in Örebro County, Sweden, revolved around food, innovation and health.
The seminar 'Food for Action!' A regional approach to innovating food systems, was an exemplary opportunity for regions to share how they innovate food systems to achieve nutrition for healthy and sustainable diets, climate and environmental sustainability, circularity and resource efficiency, and innovation and empowering communities.
Moderated by Tina Wu, Member Relations Coordinator the seminar saw participants engage in a multisensory activity on Sensory research within the field of Gastronomy – a multisensory perspective in order to promote healthy eating" delivered by Åsa Öström, from Örebro. This delightful and delicious experience was followed by inputs on nutrition & mental health by Robert Jan Brummer, another expert from Örebro County. AER members Olimpia Neagoe, Dolj (RO), Peter Medved, Eastern Slovenia (SI), Erik Lagethon, Oppland (NO), Thomas Norrby, from the European Network for Rural Development (ENRD), were among the participants who then shared insights from their regions and networks on the all-encompassing issue of food, nutrition and innovation.
Keeping with the theme of food a Breakfast Debate was organised on youth entrepreneurship, and all participants to the Joint Plenary had the opportunity to join a dinner reception at Örebro Castle where they were greeted by Governor of Örebro, Maria Larsson and President of the Regional Executive Board Andreas Svahn, and treated to a vast menu of local specialities including Hjalmaren Pikeperch.
A number of other successful workshops that took place at the Plenaries included:
Energy and Climate Change: the SDGs as a policy framework
Transports & Mobility: Open Data & Blockchain
The AMID workshop on multilevel cooperation for migration policies
Available opportunities for AER members in current projects
As always, the three AER Committees
Economy and Regional Development
Social Policy and Public Health
Culture, Education and Youth
held their dedicated plenary sessions and outlined achievements made over the last six months and spent some quality time reflecting on the work programmes for the upcoming year. More on this to follow!
Follow AER!