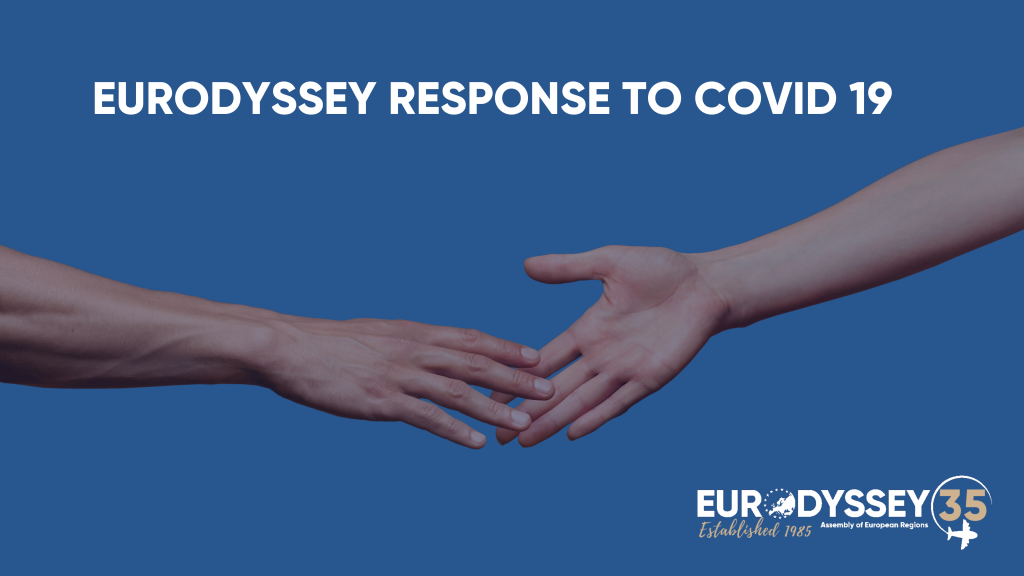 Share this!
Following the decision 13/03/2020 of suspending temporarily Eurodyssey due to the COVID-19 emergency, a Eurodyssey monitoring group was immediately established to respond to the crisis and coordinate joint actions to protect the Eurodyssey trainees in mobility.
Joint actions, joint solutions!
As it is already well-known, Eurodyssey has proved once again to be a remarkable example of interregional cooperation across Europe by adopting joint measures aimed to ensure the wellbeing and safety of the Eurodyssey participants stuck in another region amid the sanitary crisis.
In light of the first signs of the virus outbreak in Europe in early March, a group of Eurodyssey correspondents from different regions immediately reacted to the international sanitary call. A round of individual consultations, coordinated by the AER Secretariat, followed to closely evaluate the situation in each Eurodyssey territory.

As a result, it was unanimously decided to temporarily suspend the programme and cancel any mobility sending of participants for force majeure reasons. This way, the Eurodyssey regions may have anticipated to eventual worse scenarios derived from the pandemic.
A weekly review of coordinated measures…
Since the suspension took effect (13/03/2020), a Eurodyssey monitoring group composed of more than 15 member regions has been assessing every week the individual situation of those participants who were directly affected by the crisis.

Such an emergency has posed daunting challenges to the regional administrators ranging from contracts extensions or cancellations, travel assistance or repatriation and medical insurances to financial aid for those stuck in mobility in another region. Some examples of these are illustrated as follows: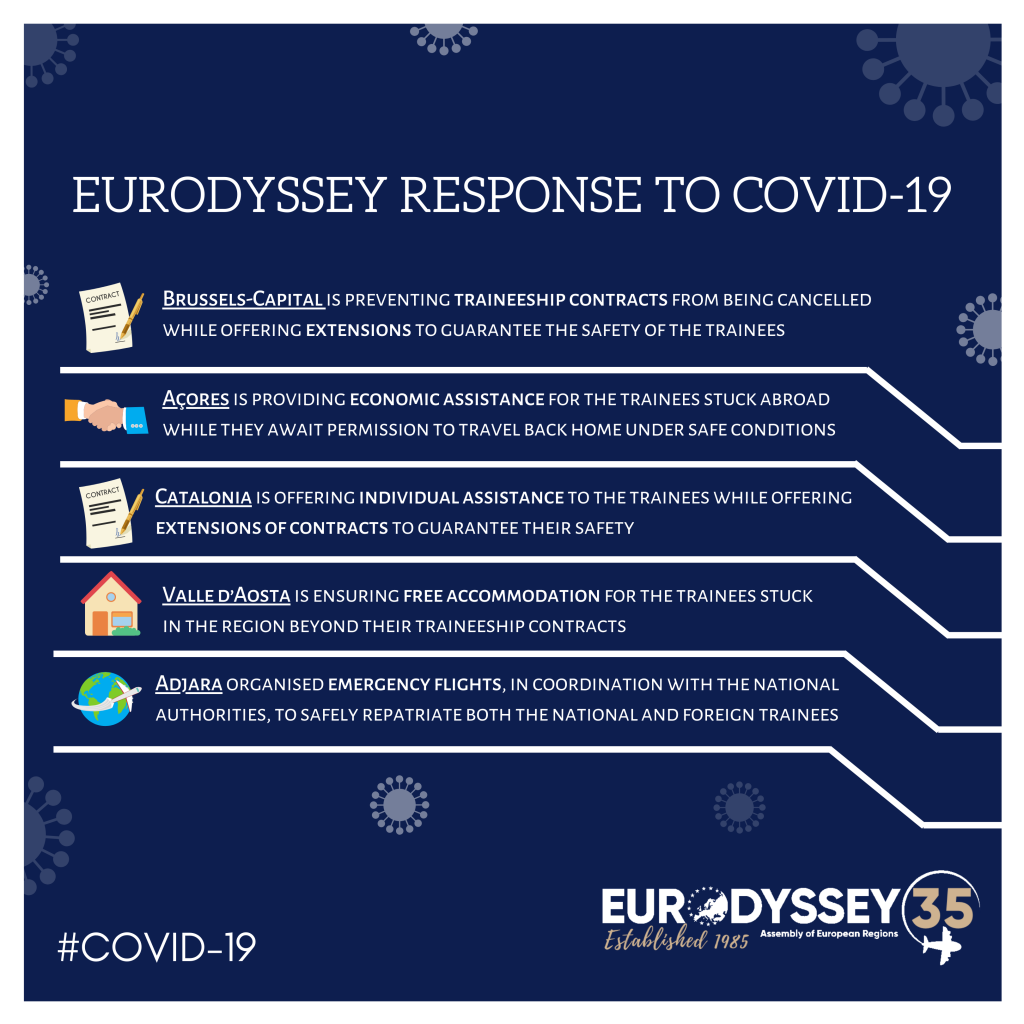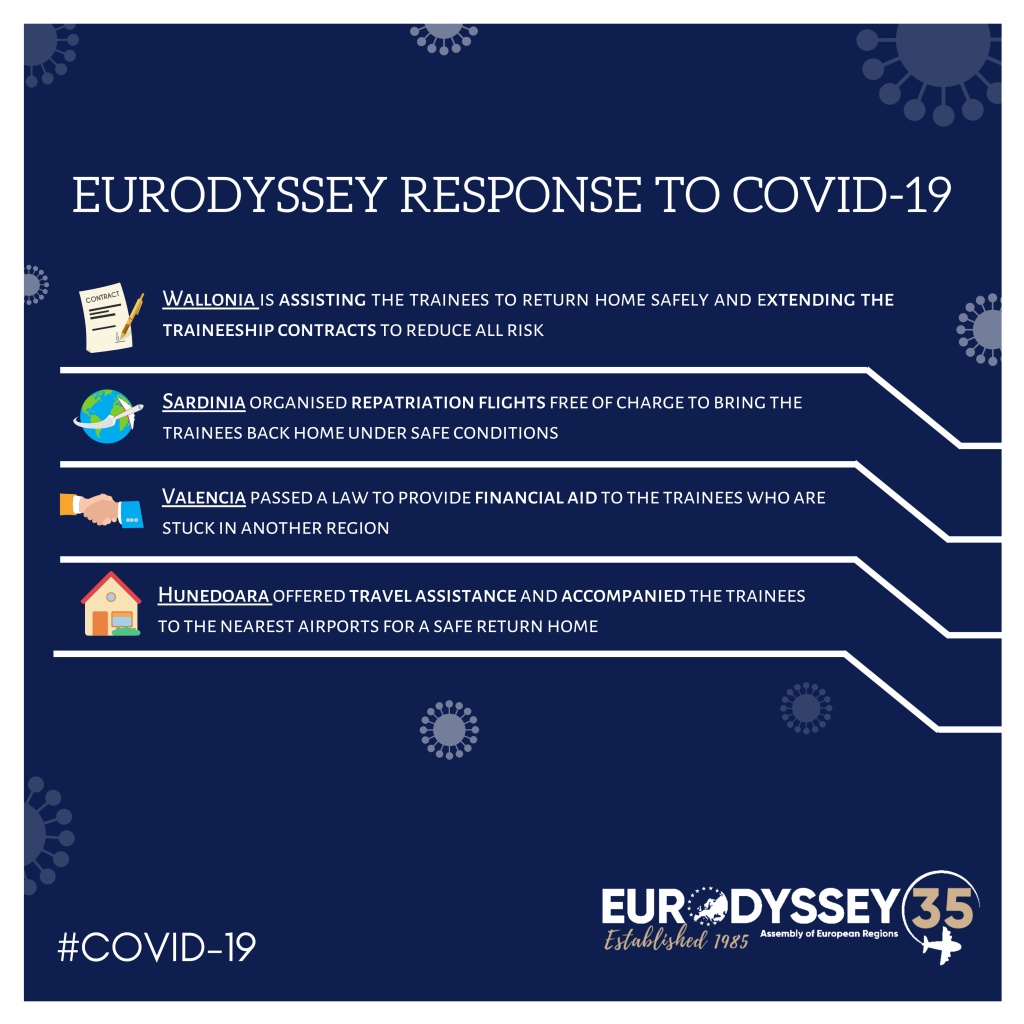 Acknowledgements from the Presidency!
@estany_esther,President of AER-Eurodyssey, has a message to share with all the member regions in recognition of their efforts to contain the spread of the #COVID19 and to keep the participants safe during the sanitary crisis👏🌐👉Read more in the article: https://t.co/LqXXe9slgr pic.twitter.com/q76PQeup0v

— AER (@europeanregions) April 29, 2020
I want to express my sincere recognition to all the Eurodyssey member regions for their invaluable efforts in guaranteeing the safety and wellbeing of the Eurodyssey participants during this sanitary crisis of the COVID-19.

I am very proud of the network not only for anticipating on time to eventual worse scenarios derived from this crisis but also for the weekly monitoring to keep the participants safe.

Following the crisis, Eurodyssey will be back stronger and full of new ambitious goals to the benefit of our young participants!


Esther Estany, President of AER-Eurodyssey
Follow AER!