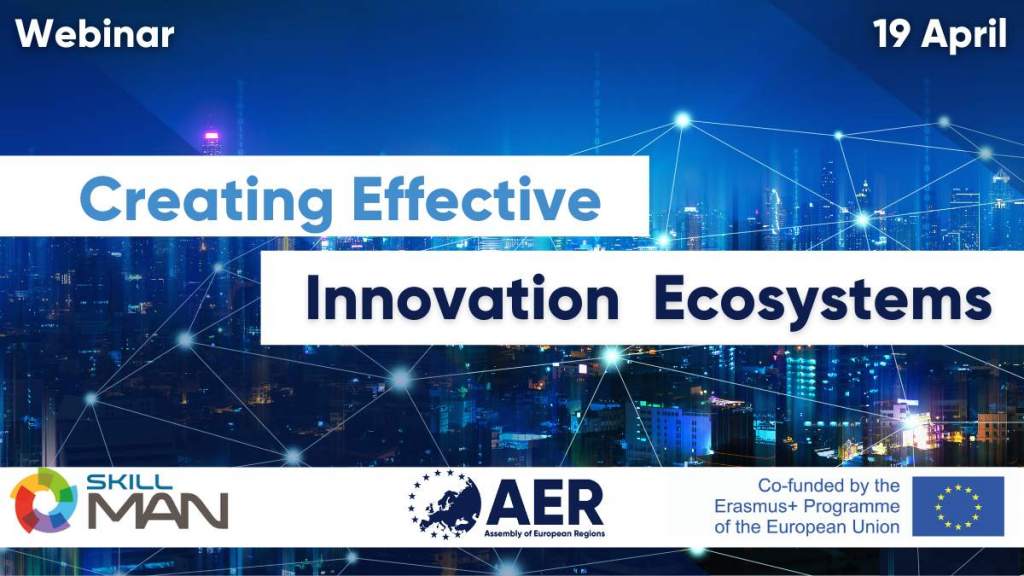 Share this!
We are pleased to invite you to the webinar "Creating Effective Innovative Ecosystems" which will take place on 19 April 2021 at 10:00 CET.
Innovation ecosystems: a complex set of relationships
The term innovation ecosystem derives from the analogy with biological ecosystems. These are a complex set of relationships among the living resources, habitats, and residents of an area. Their functional goal is to reach sustained equilibrium.
An innovation ecosystem describes the complex set of relationships among very diverse actors and entities, which work for technology development and innovation in a territory. Amongst others, this includes the material resources and human capital of universities, colleges of engineering, business schools, business firms, venture capitalists, industry-university research institutes, state or regional economic development agencies and chambers of commerce, funding agencies and policymakers.
Partnerships, competences and talent
Regions are facing a paradigm shift from closed innovation and linear subcontracts to open innovation ecosystems. Value chains are becoming more interregional and a wider spectrum of stakeholders is necessary. In this context, communication, collaboration and engagement on all sides are essential to attain effective innovation ecosystems.
Ecosystems are smart when all segments of society take part to build a culture of co-design and co-creation in their area. The participation and integration of diverse collaborative partnerships is a key enabler to support and foster innovation ecosystems.
In this context, facilitating the involvement of Technical Vocational Education & Training centres (TVET) in innovation ecosystems is imperative to increase the availability of competences and talent.
The webinar will look at:
The elements that enable an effective innovation ecosystem;
how regional ecosystems involve different levels of education, and in particular whether TVET stakeholders are involved.
How to join the webinar
Click on the "register here" button below
or go to the Skillnet events page and choose:
E 421 – Creating Effective Innovation Ecosystems | @: Online () 19.04.2021 10:00 CET
Speakers and the agenda of the event will be announced soon.
This webinar is organised as part of the SKILLNET series of webinars on EU funding opportunities. SKILLNET is a project funded by the Erasmus+ Programme of the European Commission aiming to strengthen the Vocational Education and Training (VET) system's role and capacity to design high-quality VET programmes tailored to current societal needs through enhanced transnational and cross-sectoral partnerships.


Follow AER!