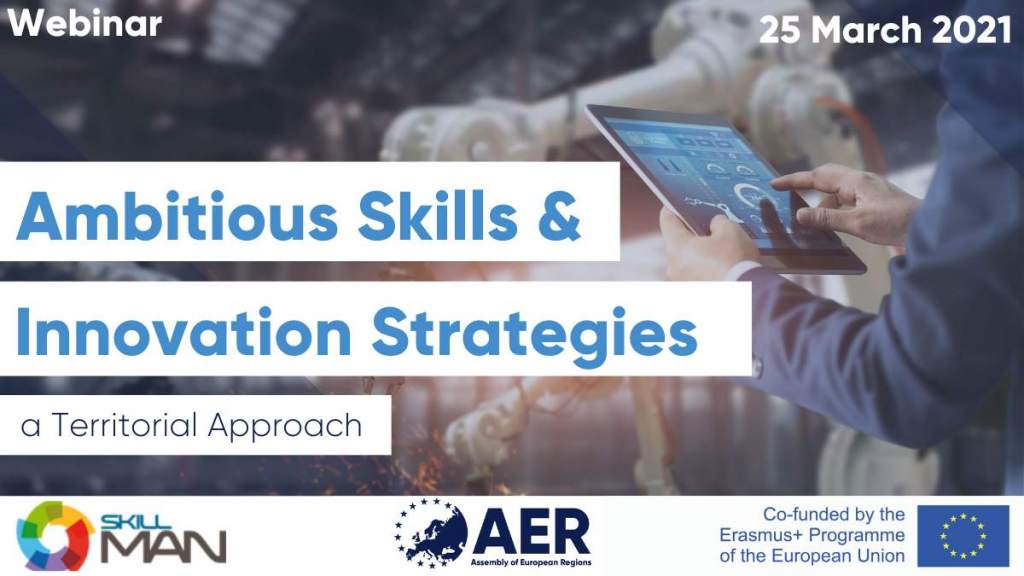 Share this!
We are pleased to invite you to the webinar "Ambitious Skills and Innovation Strategies: A territorial approach" that will take place on 25 March 2021 at 10:00 CET
Including rural areas in innovation strategies to tackle EU challenges
Rural areas, cover 44% of the EU territory, and are home to almost 1 in 4 Europeans. Education, vocational training and lifelong learning play a vital role in the economic and social strategies of the European Union (EU). The strategic framework for European cooperation in education and training is called Education and training 2020 (ET 2020). It pursues four common objectives: make lifelong learning and mobility a reality; improve the quality and efficiency of education and training; promote equity, social cohesion and active citizenship; enhance creativity and innovation, including entrepreneurship.
However, rural areas rural or sparsely populated regions often have a relatively large agricultural sector, with a low level of supply of highly-skilled employment opportunities. This in turn reinforces the existing brain drain trend, from rural areas to cities.
In this context, integrated innovation and skills strategies are needed to develop the strengths and comparative advantages of rural areas, instead of barely considering them as a source for raw material and cheaper space. For rural regions, the necessary competitive edge can be done by finding niches or mainstreaming new technology into the existing industry. Further including rural areas in innovation strategies will also help regions to reach the objectives of the Green Deal.
This webinar will look at:
Why innovation strategies aimed at developing Advanced manufacturing need to be based on territorial approaches and why it is so important to consider and involve rural areas from the start
Available EU funding opportunities and tools to boost innovation and skills in rural areas
Strategies to attract innovation and skills in rural areas
The role of VET to achieve more cohesive regional development
Agenda
Ambitious Skills and Innovation Strategies:
A territorial Approach
25 March 2021 at 10:00 CET
10.00-10.05 – Housekeeping rules, quick presentation on Skillnet, Valentina De Vico, Communication Manager, Skillman Team
10:05-10:10 – Opening remarks and introduction to the webinar, Johanna Pacevicius, Policy and Knowledge Transfer Coordinator, Assembly of European Regions
10.10-10.20 –  Available EU funding and incentives, Agnese Pantaloni, EU Projects Coordinator, Assembly of European Regions
10:20-10:35 – Peer reviews and knowledge exchanges to boost innovation, Elena Ferrario, Thematic Manager, and Katharina Krell, Thematic Expert, Policy Learning Platform Interreg Europe
10.35-10.45 – Regional practice from Donegal County, Vinny McGroary, Area Training Manager, Donegal ETB
10.45-10.55 – Panel discussion and Q&A session
10.55-11.00 – Closing remarks 
How to join the webinar
Click on the below "register here" button
or go to the Skillnet events page and chose:
E 419 – Ambitious skills and innovation strategies: a territorial approach; 25/03/2021 10:00 CET
This webinar is organised as part of the SKILLNET series of webinars on EU funding opportunities. SKILLNET is a project funded by the Erasmus+ Programme of the European Commission aiming to strengthen the Vocational Education and Training (VET) system's role and capacity to design high-quality VET programmes tailored to current societal needs through enhanced transnational and cross-sectoral partnerships.


Follow AER!