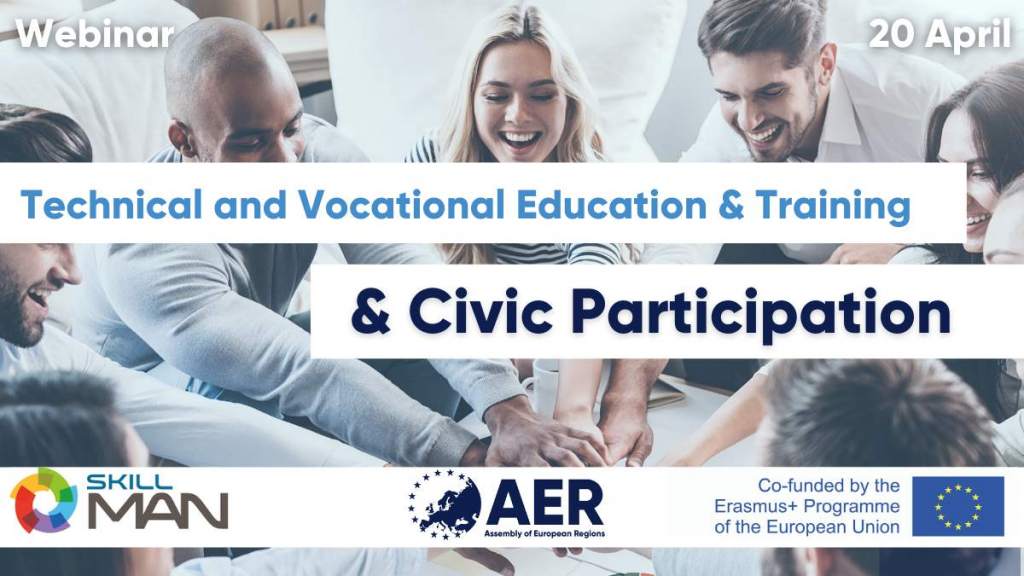 Share this!
We are pleased to invite you on 20 April 2021 at 10:00 CET to a webinar on how to encourage citizen participation of stakeholders in Vocational Education & Training
What is active citizenship?
Civic participation is a process in which people take collective action to address issues of public concern and can adopt many forms: from individual volunteering, community engagement efforts and organisational involvement to governmental support. With regard to governments, effectively engaging with stakeholders translates into better services, source ideas and knowledge, co-creation solutions and seizing new opportunities.
To achieve high-quality civic participation, it is however crucial to make sure to involve all regional stakeholders. Research shows there is a large participation gap between college students and other young people. Thus, this webinar will look at the factors that can improve civic participation of people in technical and vocational education and training, and how such multi-stakeholder strategies benefit regions.
About the webinar:
This webinar will look at:
Whether activities for youth participation are addressed to Technical Vocational Education & Training learners and tailored in a way that encourages participation;
how Technical Vocational Education & Training learners and teachers can be encouraged to contribute and be visible in political arenas;
identifying the systems which allow all segments of society to feel capable of contributing towards the fulfilment of SDGs.

Find out more and register here!
This webinar is organised as part of the SKILLNET series of webinars on EU funding opportunities. SKILLNET is a project funded by the Erasmus+ Programme of the European Commission aiming to strengthen the Vocational Education and Training (VET) system's role and capacity to design high-quality VET programmes tailored to current societal needs through enhanced transnational and cross-sectoral partnerships.


Follow AER!