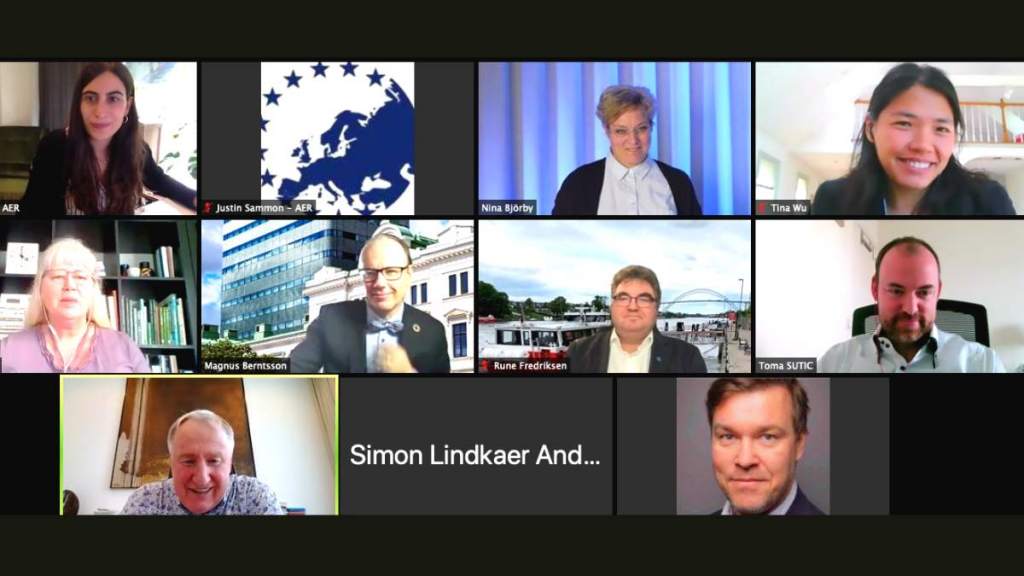 Share this!
Rising populism, widespread misinformation, and a loss of trust in governments and institutions. Add a global pandemic to that list of ailments, and it's clear that democracy in Europe is not in the best shape. But what is the best course of treatment to restore Europe's democratic health? The answer is a wholesale 'lifestyle change' for our democratic system, starting at local level.
On 12 May, the AER Task Force on Democracy, chaired by Örebro (SE), brought together representatives from member regions, EU policymakers and youth organisations to debate how to reform Europe's democratic system from the bottom-up. This Bureau Debate, organised in collaboration with the EU Project 'Y-FED: Europe is what we make of it', and moderated by AER's Vice President for Democracy, Nina Björby, participants shared ideas "on how to truly put citizens back at the heart of decision-making." In her welcoming speech, she also presented the AER Recommendations on the Conference on the Future of Europe.
Democracy Beyond the Ballot Box – the key Role of Regions
When we think about "democratic participation", we usually think of elections, meaning citizens only actively "participate" during election cycles every two years or so. This means politicians are not getting enough feedback from citizens to meet their needs effectively. The net result? A disconnect between citizens and policy-makers that erodes trust in the wider democratic system.
More creative, regular input mechanisms for citizens are required to bridge this gap. As the level of government closest to citizens' everyday lives, this is where local and regional authorities have a key role to play. In her contribution, Irén Lejegren, Chair of the AER's Task Force on Democracy, set out examples of how to better integrate citizens in the decision-making process, and "help them participate in democratic life." Citizens' dialogues are one such mechanism her region of Örebro in Sweden have used to great effect.
Similarly, Karl-Heinz Lambertz, Rapporteur on Deliberative Democracy at the Congress of Local and Regional Authorities of the Council of Europe; and President of the German-speaking Community of Belgium, explained that the Eastern Belgium region has convened citizens' assemblies to produce recommendations on "concrete issues" in areas like elderly care and education. Both speakers underlined that for this model to succeed, citizens need to feel their feedback counts.
This means the onus is on politicians to turn recommendations into policy actions. Otherwise, "it's only words". Which brings us to…
The Conference on the Future of Europe – Turning Talk into Action
The Conference on the Future of Europe aims to give citizens the chance to shape the European Union's priorities. Through a series of open dialogues and debates across EU Member States, the Conference will give voice to 'the silent majority' of Europeans, putting people back at the centre of policymaking.
During the debate, we heard from Toma Šutić, Member of Cabinet of the European Commission's Vice President for Democracy and Demography. Echoing the previous speakers, Mr Šutić stressed that the Commission is committed to working with local and regional authorities, civil society and social partners to make sure citizens are "engaged, included and heard" throughout the Conference. The interactive platform and citizens' panels are new ways to gather feedback directly from citizens, and "reinforce democratic participation beyond elections."
But once citizens have given their feedback and the Conference closes…what happens next? Nina Björby asked whether these novel tools could form part of a permanent feedback mechanism for citizens, as called for in the AER's Recommendations for the Conference. Mr Šutić underlined that the three EU institutions are committed to following-up on the final outcomes, but stressed that the Conference "is only one piece of the puzzle" and "not a panacea for all problems". On that basis, the Commission is committed to collaborating more closely with local and regional authorities across Europe through other avenues to build up participatory democracy.
Riding the Youthquake? – Empowering young people in Europe's regions
With all this talk of "the future", much of the buzz in political circles around the Conference has centred around getting young people involved. The 2019 European elections saw young people turn out to vote in record numbers. What can regions do to harness this enthusiasm and give young people a greater say in their future?
Simon Lindkær, Board member of the European Youth Forum, said it's all about politicians listening to and giving real power to young people. The level of involvement of young people in the citizens' panels in the Conference is a great first step, and can really "set the standard" for youth participation. More broadly, what is required to empower youth is for regional policymakers to create "vibrant, open and democratic civic spaces in their localities" that give young people a real say in political decision-making in their communities. For example, since 2015, Cluj Napoca in Romania has involved a youth council in the management of infrastructure funds, which have been directed towards projects like a civic centre for young people. Concrete initiatives like these "are the truest measure of really involving young people in democracy."
During the more open discussion with regional and youth representatives, what became clear is while there is a real eagerness on the part of young people to get involved in political life, they weren't sure how to go about it. Leonie Martin, President of the Young European Federalists, noted that initiatives directed at the local level can help keep politics relevant to the day-to-day lives of citizens and get them engaged. An example of this is European Project, 'Y-FED: Europe is What we Make of It', which trained young activists to develop and implement an advocacy strategy at regional level based on the European Youth Goals. There are currently eight advocacy actions underway in eight partner countries, coordinated by the AER and JEF Europe.
The AER has been at the forefront of driving this type of engagement with young people. In his contribution, AER President, Magnus Berntsson noted that the AER has been active in empowering young people through it's Youth Regional Network (YRN), the Y-FED Project and its Summer Academy. The Academy's President, Rune Fredriksen, set out in concrete terms how the Summer Academy acts as an interlocutor between youth and decision-makers, helping them to build networks and learn to to advocate for their interests.
The key takeaway from the Bureau debate is that to build up democracy across Europe, policymakers need to find new channels to engage citizens, and then make sure that their feedback is translated into action. From acting as partners of the Conference on the Future of Europe, to initiating citizens assemblies in our towns, villages and cities, local and regional authorities are leading from the front; "connecting Europeans not through institutions, but as citizens", as Nina Björby put it in her closing remarks. As the level of government closest to citizens' lived experience, local and regional authorities are the ones best placed to make sure citizens – young, old and in-between – have a real say on the future of Europe.
So while there is no panacea for Europe's democratic malaise, regions will have an essential role to play in restoring its health across our continent.
***
This event was organised in the context of the European Project "Y-FED: Europe is what we make of it". Y-FED aims to bring the EU closer to its young citizens by developing a proposal for an improved institutional framework of the Union in line with the European Youth Goals. The initiative, supported by an Erasmus+ "European Youth Together" grant is implemented through a series of capacity-building training courses, public policy hackathons, a large-scale simulation of a reformed EU and advocacy actions.
Follow AER!