We are a network
Multiple times per year, AER brings together regions, so that they may stand stronger together, and grow in a space of best practice exchange.

Territorial approaches to innovation: spotlight on rural areas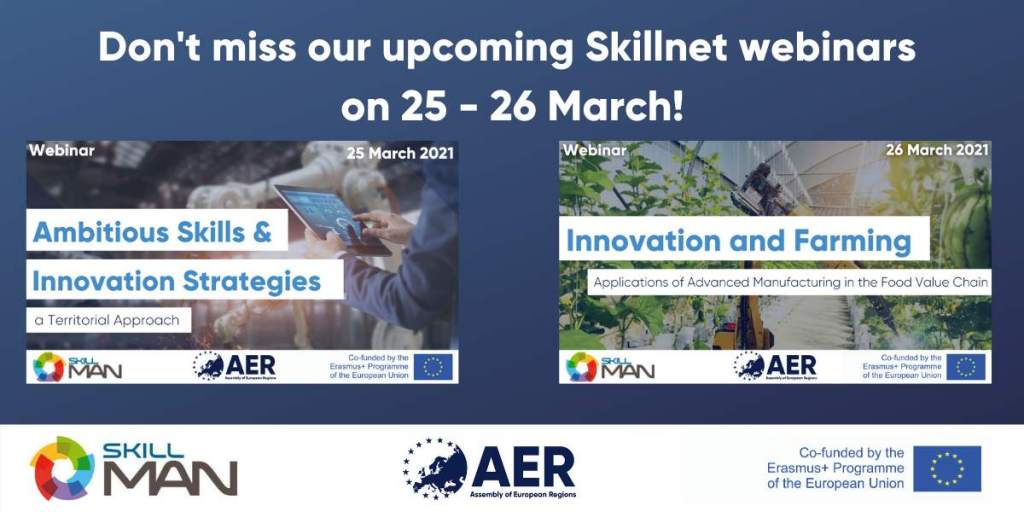 We are pleased to invite you to two webinars that will look at the need for territorial approaches to innovation, based on strong rural-urban links and ambitious and forward-looking skills strategies

What are the main challenges and opportunities for European regions and rural areas in particular when it comes to fostering innovation? These two events will provide an opportunity to share regional experiences and hear about support initiatives at EU level.
The events are part of the Skillnet webinar series AER is organising, which provides an opportunity for mutual learning around topics identified by AER members.
Ambitious Skills and Innovation Strategies:
A territorial Approach
25 March 2021 at 10:00 CET
In the context of regional innovation strategies rural areas should play an essential role, not just as a source of raw material and places to locate space-intensive activities, but as genuine partners. Place-based approaches call for cooperation at all levels and in particular between rural and urban territories or between disconnected territories.

The first webinar, which will take place on 25 March 2021 at 10:00 CET, will offer the opportunity to learn and exchange about regional policies and practices for ambitious skills and innovation strategies through territorial approaches.
This webinar will look at:
why innovation strategies aimed at developing Advanced manufacturing need to be based on territorial approaches and why it is so important to consider and involve rural areas from the start

strategies to attract innovation and skills in rural areas 

the role of TVET to achieve more cohesive regional development

Innovation and farming: Applications of Advanced Manufacturing in the food value chain
26 March at 10:00 CET
As is the case in other industries, agriculture is currently making extensive use of data mobility, industry 4.0, and new technologies that unlock productivity and cost savings. High-tech solutions are available to both local farming families and major agricultural corporations.
The second webinar, which will take place on 26 March at 10:00 CET, will highlight the existing use of advanced manufacturing in the agro-food sector and focus on skills strategies for this particular sector.


How to join the webinars
Click on the above "register here" buttons (one registration per event)
or go to the Skillnet events page and chose:
E 419 – Ambitious skills and innovation strategies: a territorial approach; 25/03/2021 10:00 CET
E 420 – Innovation and farming: application of Advanced Manufacturing in the food value chain; 26/03/2021 10:00 CET
Save the date!

The events will take place on 25 and 26 March 2021 at 10:00 CET!
Speakers and agendas of the events will be announced soon.
Contacts

j.pacevicius@aer.eu

b.sandu@aer.eu
This webinar is organised as part of the SKILLNET series of webinars on EU funding opportunities. SKILLNET is a project funded by the Erasmus+ Programme of the European Commission aiming to strengthen the Vocational Education and Training (VET) system's role and capacity to design high-quality VET programmes tailored to current societal needs through enhanced transnational and cross-sectoral partnerships.