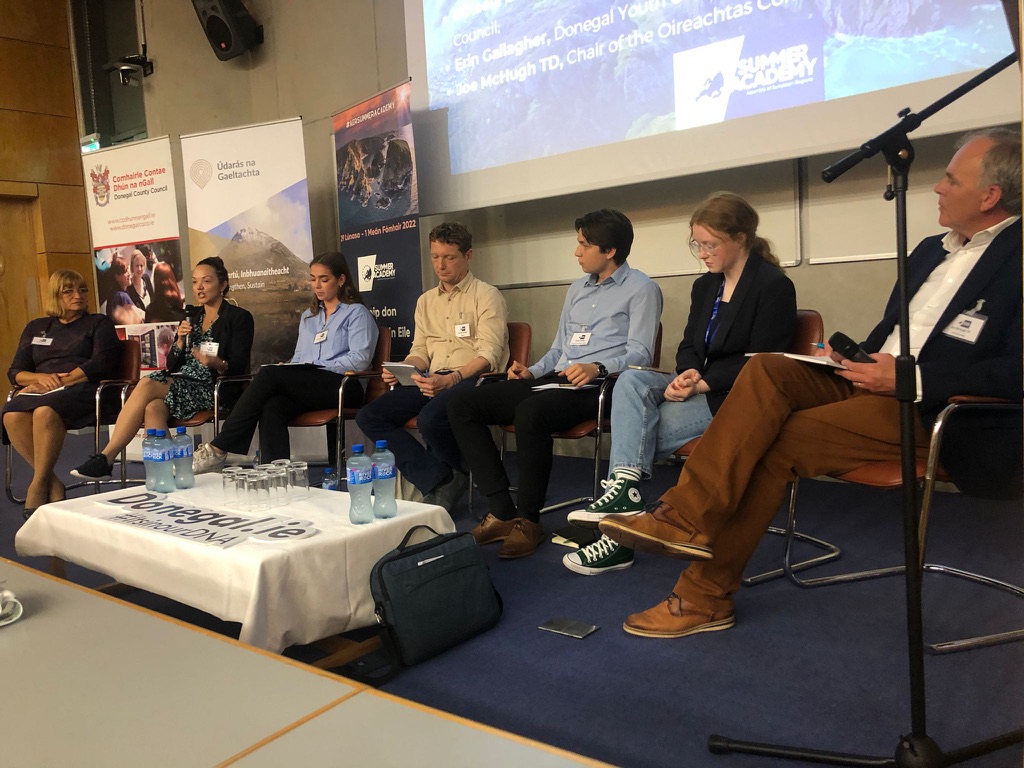 Share this!
Picture: AER Summer Academy 2022 – Panel discussion – Youth and regional Government: young people (re)shaping their regions – 30/08/2022, Letterkenny, Donegal, Ireland.
In early October, the Assembly of European Regions participated in the 2022 edition of the European Week of Regions and Cities. The European Year of Youth inspired numerous workshops on the links between Cohesion Policy and youth policy, and AER seized the opportunity to show its commitment to empower youth.
"Youth is not our future, but our present"
COVID-19 prevented active participation of younger generations in youth policy-making. The European Week of the Regions and Cities highlighted the need of young people for the right platform to make their voice heard, to react and to raise awareness about youth issues.
One slogan was often heard: "Youth is not our future, but our present". The message speaks for itself: young people need to be engaged and empowered in decision-making and policy-making. They must take part in democratic processes to find their place in society and contribute to building their present and their future. Students, young graduates and first-time job seekers should be the ones designing youth policies.
Main findings from AER workshop on Youth Empowerment
AER's own workshop at the European Week of Regions and Cities had the goal of facilitating the exchange of views on how to empower and receive feedback from young people. Christian Spahr, AER Secretary General, observed that "young people have to be able to speak to politicians and be politically active; to achieve this, we must reduce the distance between students and politicians." During this online workshop, which involved several experts in the field, it was agreed that creating relevant tools provided by and for young people was an important step forward.
Participants affirmed the need to enhance young people's participation in decision-making and policy-making. As Member of the Committee of the Regions for Cork City Council, Kieran McCarthy, pointed out: "There has been a staggering response from young people, who have clearly expressed their will to participate". European youth clearly wants to convey the message to politicians that "young people are not the citizens of tomorrow, but the citizens of today". Young people want to make their voice heard and raise awareness about the challenges that they are experiencing.
Contribute to AER network for concrete proposals on youth empowerment
The AER stands for young people to be heard, feel trusted and find their place in society as active citizens. In this regard, our Task Force on Youth has recently developed a Position Paper, open for consultation in the AER membership. We strongly encourage regional youth councils among AER member regions to contribute to it!
Another important step the AER is taking is the revival of its Youth Regional Network (YRN). This aims at providing young people with an opportunity to express policy recommendations, to foster debate and capacity-building, to exchange good practices, to reach out to decision-makers and to influence policies. The YRN is AER's unique forum for young people from diverse regions to raise their voice, and introduce a European dimension to youth policy in those regions.
With the revitalisation of the Youth Regional Network, the AER wishes to confirm its strong stance to encourage young people to take an active role in policy-making, and shaping the political narrative.
Follow AER!