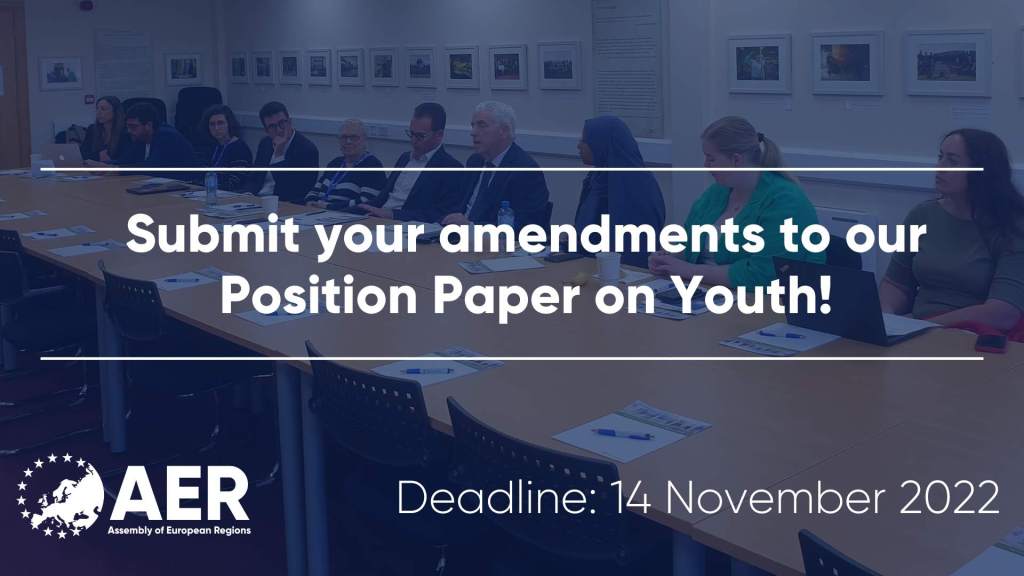 Share this!
AER is inviting members to offer their amendment proposals to the Draft Position on Youth. This includes the regional youth councils in our member regions: the AER is very much attached to including youth voices in the process, make sure to spread the word among youth councils and youth organisations in your regions!
The closing date for submitting amendments is the 14th of November 2022. Amendment proposals can be submitted using the online form below:
About this Amending Process
This consultation aims to invite all AER members to offer their amendment proposals to the Draft Position on Youth.
At the Bureau meeting in December 2021, Bureau Members made Youth a priority topic for its political work in 2022, designated European Year of Youth by the European Commission – and decided to set up a Task Force on Youth. Co-Chaired by Vice President for Youth, Culture and Tourism Mícheál Ó hÉanaigh (Donegal, IE), the Task Force produced a common Position with a set of recommendations, advocating "for tailor-made youth policies addressing the challenges of the next generation". This paper aims to provide a comprehensive position advocating for a better future of youth in Europe. It addresses various topics, from the development of socio-economic opportunities for young people, to the several and diverse inequalities faced by the youth, to the future of work and skills in the context of the green and digital transition, to the inclusion of young people in decision-making processes, to the development of political and civic education, to supporting young people's mental health.
To make these proposals stronger, the Task Force is inviting AER member regions to share their inputs about the Draft Position.
The amendment proposals can be submitted until the 14th of November 2022.
Suggested amendments will be discussed and voted by Bureau Members at the Autumn Bureau Meeting on the 7th of December 2022.
How to Submit Amendments?
Please, read the Draft Position Paper HERE.
Submit your amendment proposals using this online form before the 14th of November 2022.
Try to make the amendments as clear and concise as possible, indicating which number line you wish to amend and the type of amendment you use to make (add, delete, or replace parts of the text). Look at the examples provided HERE.
If you are unable to use the online system, we will be happy to provide you with the form in other formats. To request one, please contact the AER Secretariat.
Should you have any questions, please contact the AER Secretariat – Lorène Weber at [email protected].
Follow AER!