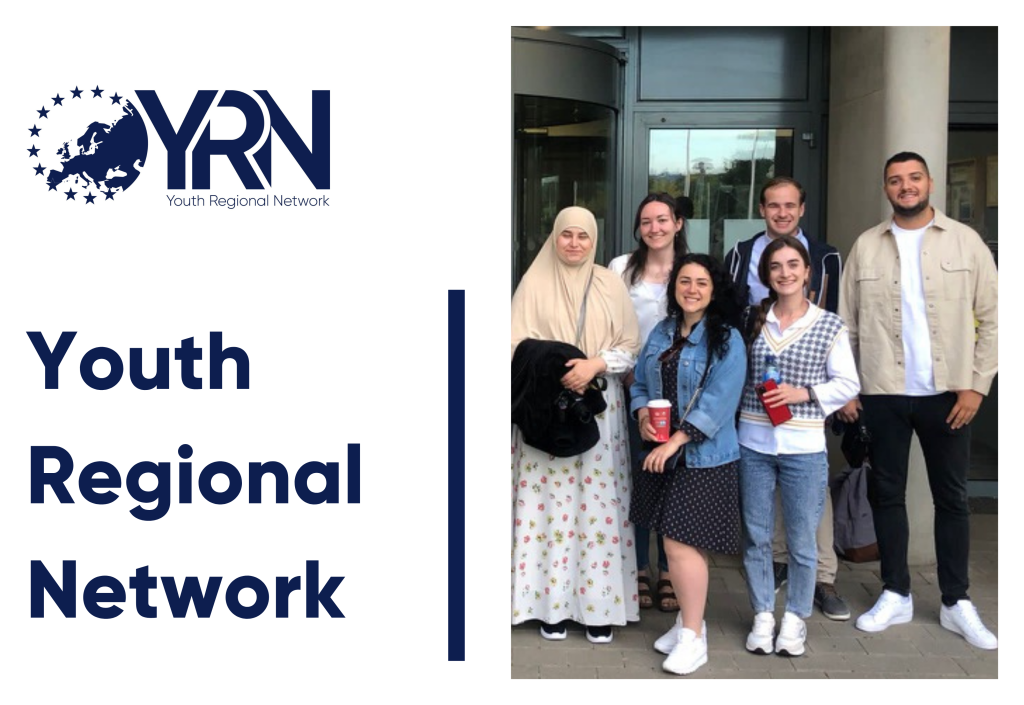 Share this!
Spread the word among your youth regional councils: the Assembly of European Regions is reviving its Youth Regional Network (YRN)!
Are you interested in joining the new YRN and taking part in its rebuilding process?
In addition, are you interested in attending the YRN General Assembly (10 March 2023) and/or in applying to a position on the YRN Presidium?
Then click on the buttons below to fill in the two dedicated forms:
*Only eligible young people who register through these forms will be contacted to take part in the new YRN.
About AER Youth Regional Network
Created by the Assembly of European Regions in 2008, the Youth Regional Network (YRN) is a cross-regional youth platform that promotes active youth participation at regional level. Composed of regional youth councils, parliaments, organisations and young civil servants of the AER network and membership, it provides young people (16-30 years old) with an opportunity to express policy recommendations, to foster debate and capacity-building, to exchange good practices, to reach out to decision-makers and to influence policies. The YRN is a unique forum for young people from diverse regions to raise their voice, and introduce a European dimension to youth policy in those regions.
Members of the YRN can:
Be nominated by their region (e.g. regional council, county council) directly, to represent them in the YRN – this was a common practice in some AER member regions working closely with their respective regional youth councils;
Apply spontaneously, as members of a youth regional council, student council, youth parliament, regional youth organisation…
Why are we reviving it?
The YRN suffered from the COVID-19 pandemic, and became dormant since then. However, AER Summer Academy 2022, a youth-focused event involving youth delegates from across European regions and youth civil society organisations, provided us with a momentum to relaunch the YRN. We now aim at developing a "YRN 2.0" with the youth delegates from the Summer Academy and beyond in the AER membership and network – please spread the word among your youth regional councils!
Milestones of the YRN revival – Save the dates!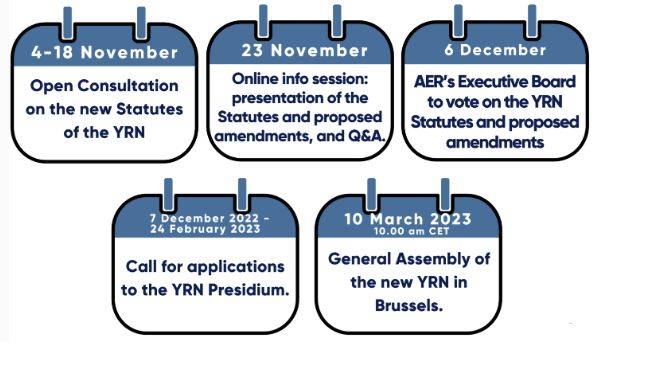 1. Open consultation on the new statutes of the YRN (4-18 November)
Completed.
2. Online meeting & info session (23 November)
Completed.
3. AER's Executive Board to formally decide on the adoption of the new statutes / amendments (6 December).
Completed.
4. Call for applications to positions in the YRN Presidium + registration to the YRN General Assembly (8 December 2022 – 24 February 2023).
Completed.
5. YRN General Assembly in Brussels & Election of the YRN Presidium (10 March 2023)
Completed.
Questions? Contact AER Programmes Coordinator Lorène Weber at [email protected].
Follow AER!