We are a network
Multiple times per year, AER brings together regions, so that they may stand stronger together, and grow in a space of best practice exchange.

General Assembly and Spring Bureau Meeting – Larnaca (CY)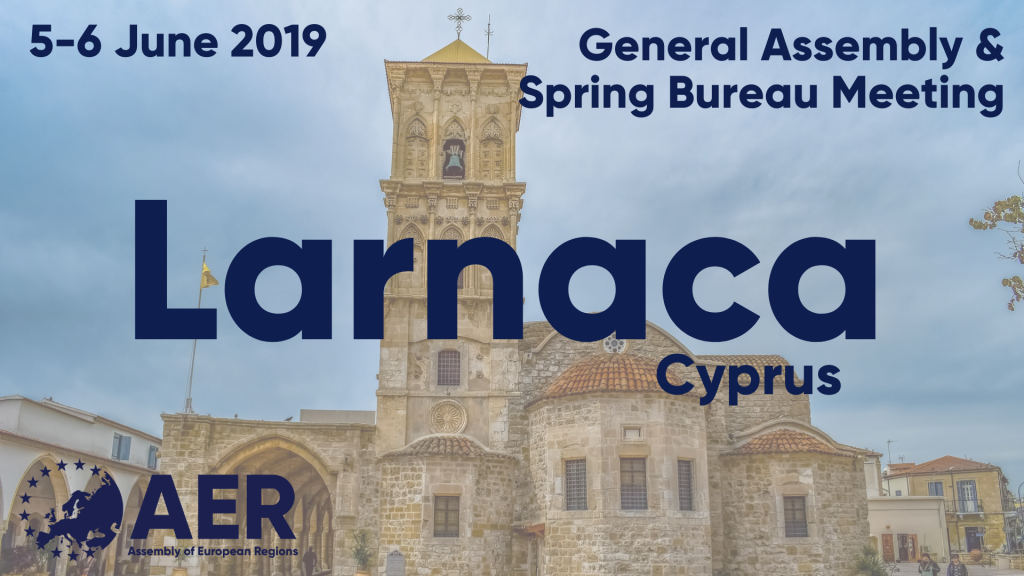 The 2019 Spring Bureau Meeting and General Assembly of the Assembly of European Regions will take place on 5-6 June in Larnaca, Cyprus.
Registration is now open:

Programme:

*****
Special Activities:
Guided Tours.  The Larnaka Tourism Board shall provide an English-speaking guide for the tours on the 5th and 7th of June 2019.
Walking City Tour on 5/6 from 10:00 until 12:00. Meeting point is at Europe Square and the tour will cover the main attractions of Larnaka city seafront, most of which can be found on the Larnaka Cultural Walk Map (can be downloaded from here).
Excursion in Lefkara picturesque village on 7/9 from 9:00 until 15:00. More information about Lefkara can be found here.  The tour shall also include a stop at Eleni Mimi Dairy in Skarinou village to see a demonstration of halloumi making and also tasting of halloumi and anari cheese with honey.
*****
Practical Information:
Venue for Meetings:
Radisson Blu Hotel, Larnaca
Atlantidon 2, Larnaca 6058, Cyprus
Overnight Accomodation:
The Union of Cyprus Municipalities has secured reduced hotel rates at a number of hotels in Larnaca. Details of these will follow very shortly!!
Public transport from the airport to the city centre and the Radisson Hotel is available:
Route 419 (click here for the schedule and here for the map)
Route 425 (click here for the schedule and here for the map).
More information to follow!