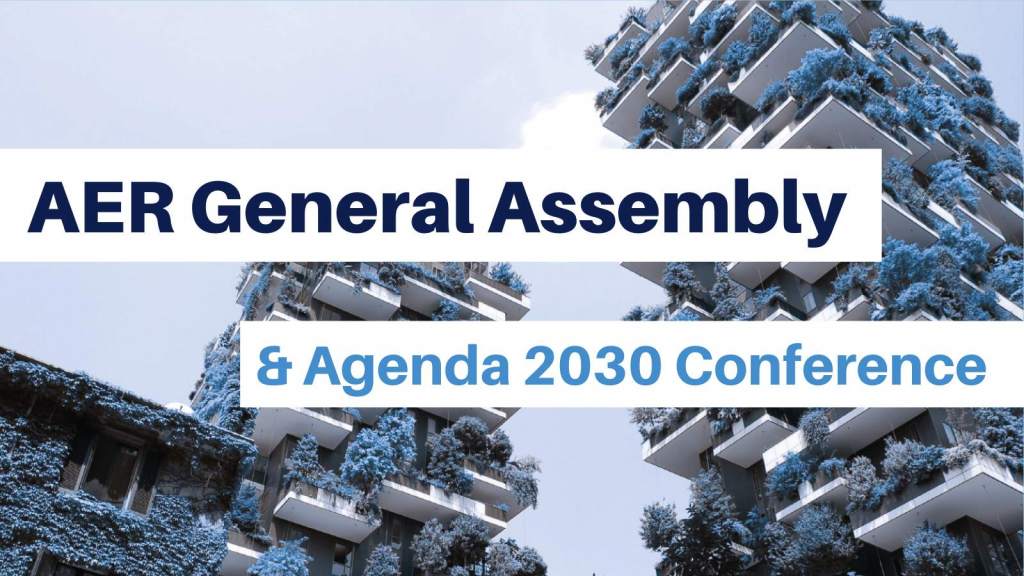 Joining the GA & SDG Conference online?

AER General Assembly — Join us in Strasbourg or online.
The General Assembly is organised in tandem with the Agenda 2030 Conference, hosted by the Region of Grand Est (France).
The General Assembly will take place on 28 October from 10:15 to 12:30 CET online and in Strasbourg.
Members are invited to join on-site in Strasbourg or online by registering via the relevant buttons above.
Direct Links:
Please note: the on-site and online registration forms for the General Assembly and Agenda 2030 Conference are the same. You can find out more information about the Agenda 2030 Conference and all practicalities below.
You have until Friday, 8 October to register for on-site participation, and until Monday, 18 October to register to participate online.
Below, you can find more information about the Agenda 2030 Conference.
***
Online and On-site registrations are open! — AGENDA 2030 CONFERENCE
On-site registrations for our high-level conference 'Agenda2030: Transforming Regions, Changing the World' are open until next Friday, 8 October. Can't make it in-person? Online registrations will remain open until Monday, 18 October!

Our keynote speeches, plenary sessions and panels will be available to stream live via YouTube in English and in French on the day, so there is no need to register in advance.
You can find out more about the keynotes, panels and plenaries by reading the articles in the event Agenda HERE.
Stay updated via the official Regions2030.com website!
More about the Agenda 2030 Conference 🌍
The goal of the Conference is to show that regions play a key role, alongside cities, in facilitating the transformation required to successfully implement and achieve the 17 Goals set out in the 2030 Agenda.
This Conference will take place on 28 and 29 October on-site at the Region of Grand Est in Strasbourg (FR) and online. The AER will hold its Executive Board and General Assembly meetings in tandem with the Conference on-site and remotely.
What can Participants Expect?💡
Hosted at the Region of Grand Est (FR), the AER and our global partners will gather local and regional stakeholders from around the world for two days of discussion, debate and sharing of ideas on how to achieve the 2030 Agenda. Read the programme HERE.
Get insights on the SDGs at our Plenary sessions:
High-Level Panel Debate: Transforming Regions, Changing the World
Thursday, 28 October: 15:00-16:30 CET [Hemicycle Room]: This panel debate will discuss challenges that know no borders, and assess recommendations to increase multi-stakeholder involvement in the development of policy strategies related to the SDGs. President of United Cities and Local Governments and Mayor of Al Hoceima (Morocco), Mohamed Boudra, will join this debate.
Panel Discussion: The Way Forward — Achieving Sustainable and Resilient Regions in a Post-pandemic World
Friday, 29 October: 12:00-13:00 CET [Hemicycle Room]: AER President, Magnus Bertnsson, will lead a discussion on the state of play regarding implementation of the SDGs at local and regional level. The panel will assess the consequences and opportunities that the COVID-19 pandemic has brought about, and set out ideas in order to achieve sustainable and resilient regions in a post-pandemic world. Leen Verbeek, President of the Congress of Local and Regional Authorities, and Ricardo Rio, Mayor of Braga (PT) and Member of the European Committee of the Regions are among the speakers who will take part in the discussion.
Share ideas for transforming regions at our Workshops:
On Friday, 29 October, the AER and our global partners will host hybrid workshops on different themes related to the SDGs. You can find out more about them by clicking the links below, and indicate which workshop(s) you would like to join in person or online via by filling out the on-site or online registration forms in the buttons above.
Please note that you can only register for two workshops. One taking place from 9:15-10:15, and one from 10:30-11:30. Zoom links will be provided closer to the date.
Peace: The Future Is Yours — Inclusive and Participatory Institutions for All
Organiser: AER Task Force on Democracy
9:15-10:15 CET: This workshop will focus on the critical role of democratic, inclusive governance in delivering the SDGs. Good practices will also be exchanged on how to foster multi-stakeholder partnerships to bring the voices of the most marginalised and under-represented communities to policy decision-making, in order to promote peaceful and inclusive societies for sustainable development.
Planet: Protecting Biodiversity, Achieving Sustainable Development
Co-organised by AER Task Force on Climate & Regions4
9:15-10:15 CET: This workshop will explore how local and regional governments can drive action toprotect biodiversity, delivering on the SDGs and enabling a green and resilient recovery from the pandemic.
Partnership: How Can Regions Deliver on Voluntary Reviews?
Organiser: Congress of Local and Regional Authorities (CoE)
9:15-10:15 CET: The objective of this workshop is to highlight the importance of regional and local input into national reviews,in the context of the overall need for greater regionalization of SDG implementation.
***
People: Hate speech — Towards a Comprehensive Approach
Co-organised by Intercultural Regions Network, Intercultural Cities Programme (CoE) and Includ-EU Project
10:30-11:30 CET: Includ-EUhas partnered with the Intercultural Regions Network and the Council of Europe to shed light on the application of theintercultural integration concept at the regional level, focusing on one main topic, hate speech.
Prosperity: Leaving No Youth Behind — Building resilient, sustainable and prosperous cities and regions
Organiser: AER Summer Academy
10:30-11:30 CET: 'Leaving No Youth Behind' means that the green and 'just' transitions can only be achieved in full partnership with all members of society –regional and local authorities, civil society and young people– so that no one and no territory is left behind. This session will look into good practices of intergenerational governance facilitating youth leadership in the shift to a sustainable and prosperous path.
Getting to Strasbourg 🇫🇷
Those travelling to Strasbourg are invited to take a look at the Info Pack for information on travel, hotels and Study Visits HERE.
AER members are cordially invited to join the meeting of the General Assembly on 28 October. The agenda for the General Assembly will be available shortly.
It will be possible for those unable to travel to join these meetings remotely. Online-only registration will open closer to the date of the Conference. Registrations for all on-site events will close on 8 October.
Share your ideas for achieving Agenda 2030! 📩
Got a best-practice on one of the Sustainable Development Goals you want to share? Contact us with articles and videos from your region! We'll give them pride of place on our Agenda 2030 Website and dedicated Twitter page — and don't forget to follow. Find out all the ways you can get involved HERE.
COVID-19 Rules & Requirements 🔍📝
Please note that all attendees on-site must comply with COVID-19 rules and regulations in France. At the entrance, participants will present a valid health pass, alongside proof of identity (national ID, passport…). Failure to provide the aforementioned documents will prevent the attendees from entering the venue or participating in the events, with no liability to the AER, the Region of Grand Est or its partners.
The rules and regulations can be consulted in English on the French Government's regularly updated website HERE. In line with these rules, attendees will be required to present an EU-valid COVID-19 pass that provides one of the following:
a completed vaccination certificate;
a negative PCR or antigen test no more than 48 hours old;
proof of recovery from COVID-19: a positive PCR or antigen test result taken at least 15 days prior to and not longer than six months before the Conference.
Attendees are obliged to abide by the sanitary rules and requirements at all times while in attendance on-site. The AER or Grand Est Region cannot be held responsible for any expenses incurred by persons denied entry or ejected for failure to produce valid COVID-19 documents and/or to adhere to sanitary rules.

We look forward to welcoming you to the Agenda 2030 Conference.

Follow AER!

Share this!