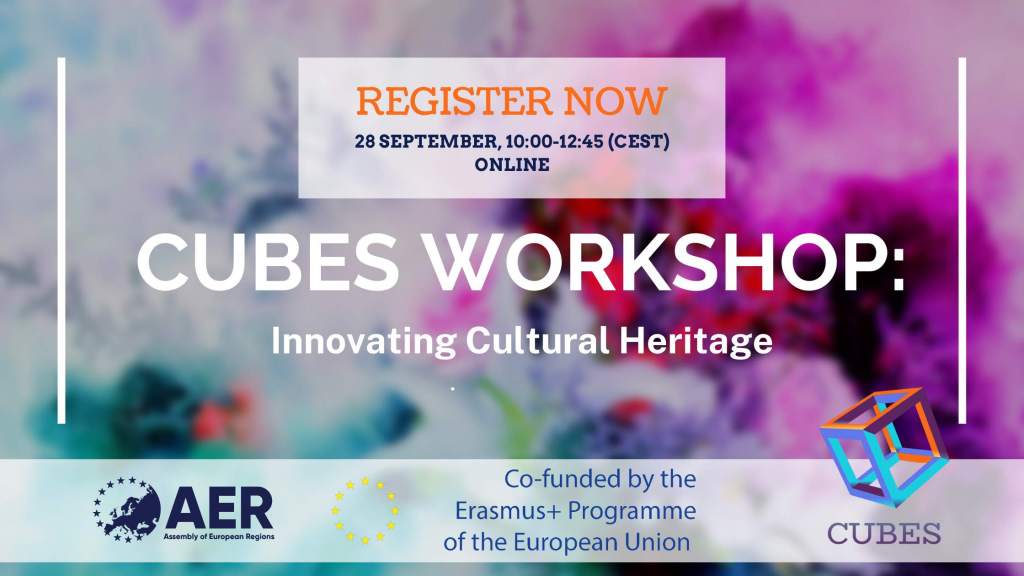 Cultural heritage has an inspiring and creative role in present European societies and communities. It has a positive impact on social cohesion as well as regional development and sustainable tourism. In the context of cultural heritage, innovation has a key role to play in the field of technology, social impact, policymaking, administration, and entrepreneurship.
The workshop "Innovating Cultural Heritage", jointly organised by the AER working group on culture and the CUBES Project, brings together practitioners, policymakers and experts. It will discuss current challenges and opportunities for European regions to invest in cultural heritage innovation and learn about sustainable and participatory cultural management practices. The workshop will be an opportunity to showcase and guide participants through the new digital platform produced by CUBES and invite stakeholders to get involved in the project.
Speakers include:
Snezhina Petrova, Member of Gabriel's Cabinet, European Commissioner for Innovation, Research, Culture, Education, and Youth;
Viktor Negrescu, Vice-chair, CULT Committee, European Parliament;
Anne Grady, Cultural Heritage National Expert, European Commission;
Patrick Torrent, President, NECSTouR: The Voice of European Regions for Sustainable Tourism;
Fereshteh Jalayer Hess, Regional Council Member, Värmland (SE);
Chiara Dall'Aglio, Responsible for EU projects and Pl Interreg Europe SHARE, Sviluppumbria;
Maria Kouri, Lecturer in Cultural Management & Local Community Development, University of Peloponnese, and CUBES Project Manager.
---
Regions and Cultural Heritage
AER Member regions are committed to promoting democracy and good governance, nurturing territorial cohesion, ensuring a liveable future for citizens, and fostering a Europe of equality. Culture is inherent and an enabler of all of the above priorities, if optimized as a driver for sustainable development. Regions are often called to implement or co-design policies in this field and it is therefore paramount to understand their needs in order to advocate at national and European level. AER Secretariat involvement in CUBES project resulted in acknowledging the below considerations:
Heritage covers a broad range of occupations with a variety of roles and levels of skills and qualifications. It creates many cross sectoral jobs, especially related to tourism, trade, research and education, in the public, private and voluntary spheres.
In relation to skills and lifelong learning: it is necessary to move to a greater degree of convergence at European scale, based on the analysis of its best practices and contextualizing the different strategies in each local and disciplinary ambit, in order.
Digitisation and ICT skills complement the traditional skills essential to care for cultural heritage. In line with the EU priority on advancing cooperation on digitising cultural heritage, skills and creation of training modules need to include core and transversal digitisation and digital preservation skills.
If you have any questions or would like to be involved in the event, please contact our Project and Policy Officer, Anna Comacchio ([email protected])
---


Follow AER!

Share this!