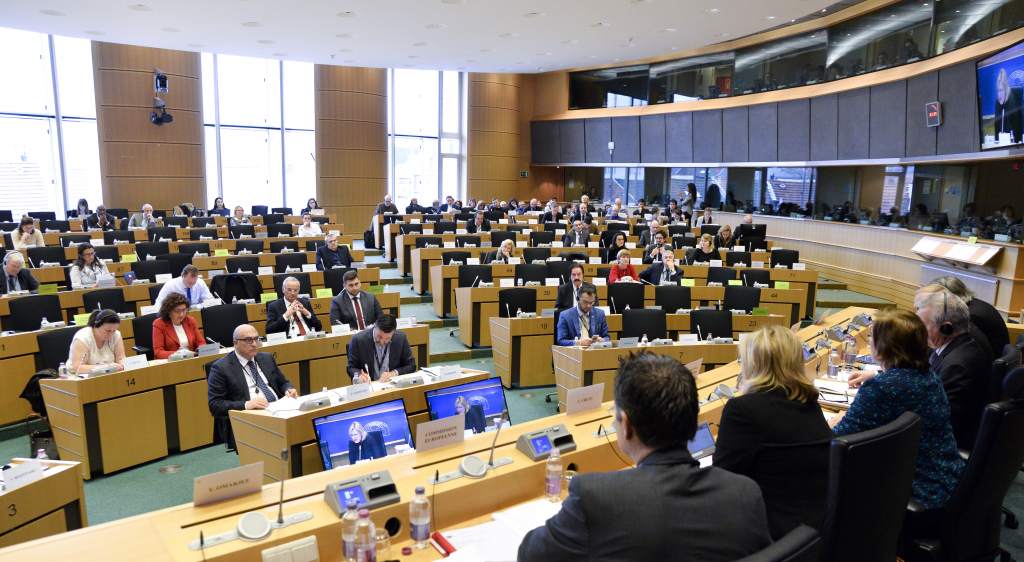 Share this!
On 1 February 2018 Mathieu Mori, AER Secretary-General, participated in the European Parliament's Regional Development Committee meeting at the request of Chair Iskra Mihaylova (ALDE, BG) to present AER's views on the future of Cohesion Policy.
The meeting brought together European associations of cities, municipalities and regions to present their views on the future of EU Cohesion Policy. AER adopted its position on Cohesion Policy post-2020 at its Bureau Meeting in Sankt-Pölten (AT) in June 2017.
Mr Mori's speech is available at 02h:23m:00s HERE.
Mr Mori said that "The achievements and additionality of Cohesion Policy are beyond dispute. Evidence is clear: cohesion policy has played a fundamental role in supporting regions in promoting job creation, business competitiveness and sustainable economic growth; and in improving citizen's quality of life. The future cohesion policy must keep its integrity post 2020. We would not accept a fragmented cohesion."
Mr Mori Highlighted AER's priorities and main messages on the future of Cohesion Policy, insisting on the 10 mains points outlined in AER's position paper on the future of Cohesion Policy.
The #CoRplenary has adopted a resolution rejecting a @EU_Commission's proposal to divert resources from the #CohesionPolicy to support structural reforms in the Member States. #CohesionAlliance
Reado more 👉https://t.co/PT7J6JKw6P pic.twitter.com/LSjaAxvOeu

— CoR (@EU_CoR) February 1, 2018
Cohesion Alliance
Currently worth one third of the EU budget, the EU's cohesion policy reduces regional disparities, creates jobs, opens new business opportunities and addresses major global issues such as climate change and migration.
The #CohesionAlliance is a coalition of those who believe that EU cohesion policy must continue to be a pillar of the EU's future. The Alliance was created through cooperation between the leading European associations of cities and regions and the European Committee of the Regions. It demands that the EU budget after 2020 makes cohesion policy stronger, more effective, visible and available for every region in the European Union.
See more on the #cohesionalliance website!
Tweets
What a week it has been at the Assembly of @europeanregions! A new executive board + an adopted position on #CohesionPolicy #AER2017GA pic.twitter.com/CMWUtpWPhP

— AER (@europeanregions) June 3, 2017
AER rapporteur @rijsberman preparing for discussion on #cohesionpolicy with Vania Freitas @europeanregions #AER2017GA pic.twitter.com/oz9hbzto4M

— Céline Dawans (@CelineDawans) June 1, 2017
Photo credit: European Parliament Press Service
Follow AER!