We are a network
Multiple times per year, AER brings together regions, so that they may stand stronger together, and grow in a space of best practice exchange.


Regional Business Forum in Novi Sad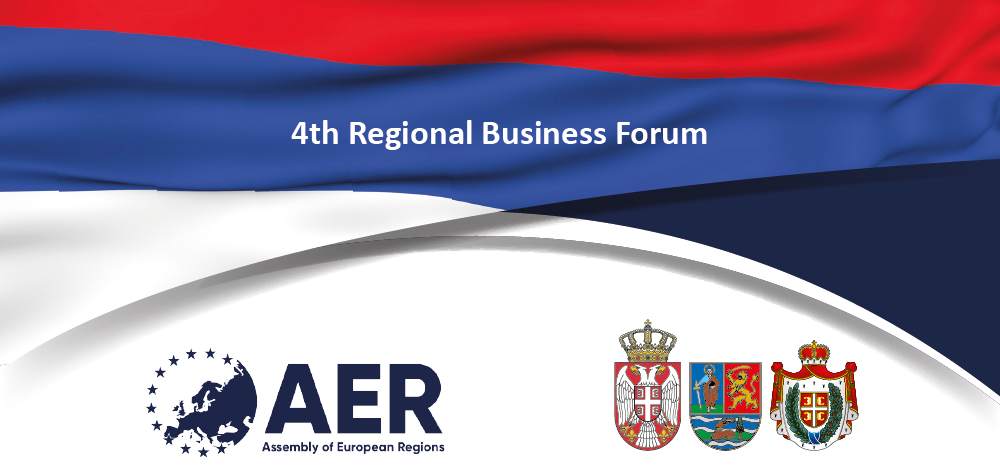 It is our pleasure to invite you to the fourth edition of the Regional Business Forum (RBF), taking place in for form of a hybrid event. You are most welcome to join us online and in Novi Sad, Vojvodina on 25 November 2021, with special B2B 1-on-1 online session possibilities until 10 December, 2021.
The Regional Business Forum is an annual international forum to exchange ideas on support for SMEs, promote business and commerce, incentive the possibility to collaborate and share best practices between regions.
Following the success of the previous events, this year's Regional Business Forum will again be organised in partnership with the Autonomous Province of Vojvodina, Enterprise Europe Network, Chamber of Commerce and Industry of Vojvodina, Business Incubator Novi Sad and the Vojvodina Development Agency. The physical event will take place on the 25th of November, 2021 in Novi Sad, while the possibility of online B2B meetings will run until 10 December, 2021.
The international forum provides additional support to companies to find international partners. The participants will have an opportunity to schedule and hold B2B meetings with companies and institutions participating in the Forum based on the information about the registered participants.
Following the success of last year's edition, this year's Regional Business Forum will focus on three main sectors:
Information, Communication Technology and Creative Industry
The Metal sector
The Food Processing Industry
The invitation is addressed, in particular, to regional chambers of commerce, regional development agencies and institutions supporting SMEs development.
Our list of speakers include the following:
Olivér Várhelyi, Commissioner for Neighbourhood and Enlargement (Video message).
István Pásztor, President of the Assembly of the Autonomous Province of Vojvodina.
Magnus Berntsson, President of the Assembly of European Regions.
Boško Vučurević, President of the Chamber of Commerce of Vojvodina.
We therefore invite you to register as soon as possible. There will also be a presentation by each of the four regions of Vojvodina afterwards. You may found our invitation letter for members here.
For further information, please consult the RBF website. Should you have any questions, please do not hesitate to contact Sanja Siflis at: shiflish@skupstinavojvodine.gov.rs .