We are a network
Multiple times per year, AER brings together regions, so that they may stand stronger together, and grow in a space of best practice exchange.


Skillman International Forum Webinar: Capacity Building in Higher Education II- A European Strategy for Universities
17 November 2021 14:00

-

15:30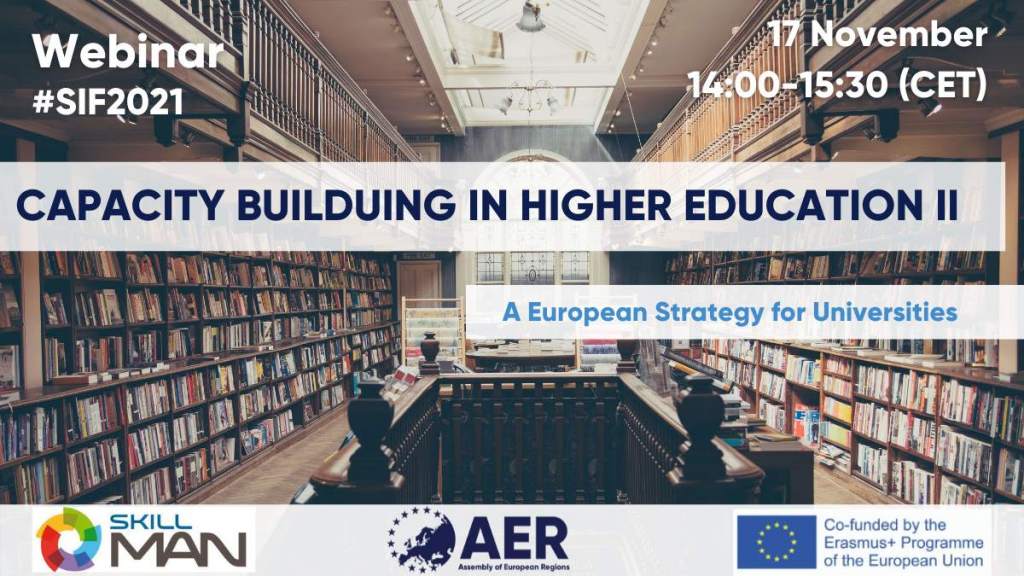 As part of the Skillman International Forum 2021, the AER is delighted to bring you a webinar on capacity building in higher education. 
Date: 17 November 2021
Time: 14:00-15:30 CET
Venue: Online


---
Skillman International Forum 2021
The Skillman International Forum 2021 is taking place from 15-18 November 2021 and plans to redefine the future of learning in the advanced manufacturing sector. This year the forum addresses three main topics: Digital and green revolution, Micro-credentials and Sharing is caring.
About the webinar 
How can the EU further support the higher education sector to contribute to the twin digital and green transitions?
The higher education sector is key for finding solutions towards a sustainable and more digital Europe, as well as for equipping students (and professors) with the competences that our fast-changing society and economy need. 
The webinar will look at digital capacity building opportunities, ensuring it is reinforced and made more resilient, especially considering the COVID-19 impact on learning. Next to the digital aspect, we will also discuss green and sustainable capacity building solutions for higher education.
Moderated by Johanna Pacevicius, AER Policy & Knowledge Transfer Coordinator.


---
For more information contact:
---
This webinar is organised as part of the SKILLMAN series of webinars on redefining the future of learning in the advanced manufacturing sector.
SKILLMAN is a partner of the SKILLNET project, funded by the Erasmus+ Programme of the European Commission aiming to strengthen the Vocational Education and Training (VET) system's role and capacity to design high-quality VET programmes tailored to current societal needs through enhanced transnational and cross-sectoral partnerships.