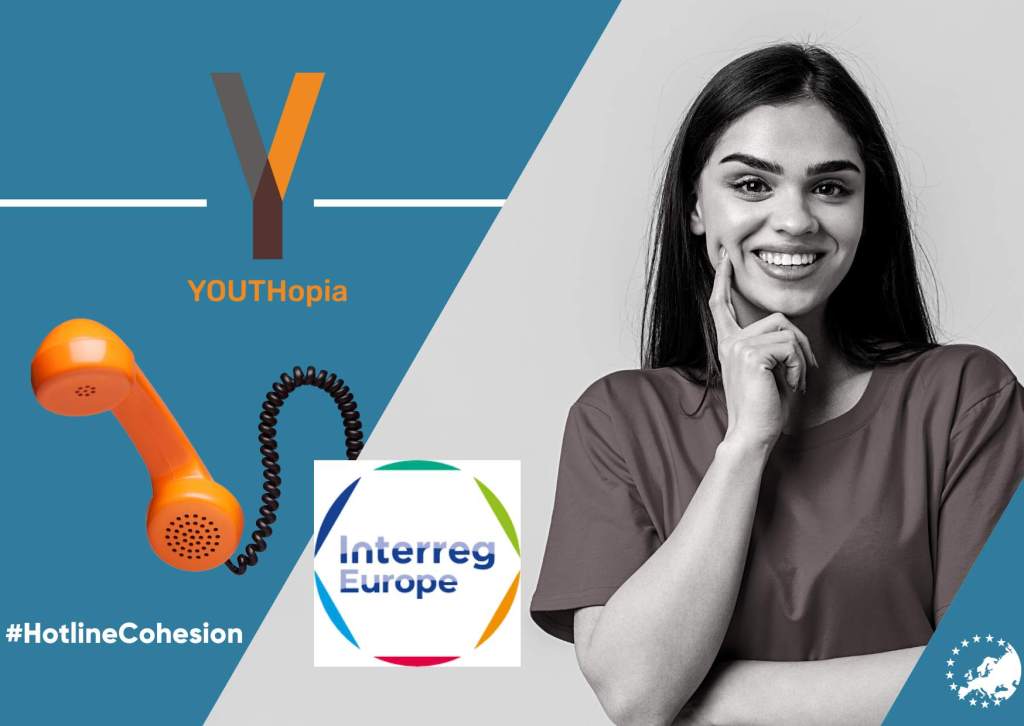 Share this!
Local, but European. Practical, but inspiring. #HotlineCohesion brings you the most interesting youth opportunities linked to EU Cohesion Policy.
Are you looking to team up with similar regions across Europe as a way to boost the development of your own region? The next Interreg Europe call, open from 15 March to 9 June 2023, could be the answer you are looking for!
Cooperation Strengthens Cohesion
The Interreg Europe programme, financed by the Cohesion policy's European Regional Development Fund (ERDF), is designed to support interregional learning among regions across Europe.
The aim of this programme is to facilitate knowledge-sharing between public authorities and learn from positive existing practices of other regions. By joining a project, for four years regions learn from each other and work together on a shared policy issue. Although direct beneficiaries are regional and public authorities, ultimately, young people, citizens and groups impacted by these policies (e.g., SMEs) benefit from more effective public intervention as a result.
The programme was launched in 2014, and since then it has provided over €1 billion to over 1000 projects. The funding is allocated on a competitive basis, based on the quality of the proposed project and its potential impact. Projects must have a focus on policy learning and innovation and involve partners from at least three participating countries.
Why reinvent the wheel if the wheel can travel to your region?
Many of these projects achieved excellent results. For example, thanks to the project "Inkrease" and an inspiring and instrumental practice from France, Lower Austria has opened a 'House of Digitalisation' for local companies, which provides a service to help them with their digital innovation needs.
Likewise, as a result of the "Regional Creative Industries Alliance' and inspired by ideas from Latvia and Spain, in Wallonia, Belgium, creative industry SMEs can now count on support from a new incubator, which provides a portfolio of services, including access to the leaders in their field.
These and other projects demonstrate that Interreg brings "clear European added value by helping to ensure that borders are not barriers, bringing Europeans closer together, helping to solve common problems, facilitating the sharing of ideas and assets (knowledge, skills, infrastructure, etc.), and encouraging strategic work towards common goals." (Programme Manual)
Longing to apply? Next Steps and Dates to Remember
You have a project idea and you are looking for more partners around Europe to cover specific expertise or reach the geographical balance?
Contact the AER Project Unit –

[email protected]

/

[email protected]
You don't have a project idea but would like to explore the possibility to join a consortium? Contact the AER Project Unit and let us know your availability and interest.
15 March: The call opens at a launch event in Sweden The "Europe, let's cooperate! interregional cooperation forum" in Stockholm, Sweden, will open the second call for project proposals. Registrations will close on 3 March 2023.
15 March: Project application opensConnect to the Interreg Europe Portal and start creating your project application.
24-27 April: Project development week – Join four project development webinars on 24-27 April 2023. Interreg Europe will guide you through the steps to relevant partnership, good project methodology, project management and finances, as well as project communication.
March – June: Q&A sessions Join online every second week a call at 10am to get immediate answers to your questions about your project development from the Interreg Europe team. The sessions are planned on: 24 Mar | 5 Apr | 21 Apr | 5 May | 19 May | 2 June.
---
See you next week with a new episode of #HotlineCohesion series
#HotlineCohesion is part of the YOUTHopia project, co-funded by the Directorate General for Regional and Urban Policy (DG REGIO).


Discover more about #HotlineCohesion and YOUTHopia!
Follow AER!