The Eurodyssey programme has benefited many young people since 1985, not only by providing quality traineeship opportunities, but also by creating a supportive environment and fostering sense of belonging, where young people are empowered and supported.
Our two interviewees, Gaëlle and Cinta, represent Eurodyssey's past and present, and their testimonies are interlinked: Gaëlle was a Eurodyssey trainee in the Valencian Community back in 2012, and is now Cinta's tutor, working together for the Surfrider Foundation in Brussels.
What is the Surfrider Foundation?
The Surfrider Foundation is an environmental organisation that has been fighting to protect the world's oceans for more than 30 years. It is a grassroots community that brings together people from very different backgrounds, including volunteers who take action to protect the ocean in different parts of Europe. Their most important battles are associated with marine litter, plastic pollution, work on water quality and health, and climate change and coastal management.
Cinta's Eurodyssey traineeship in Brussels
"I am expecting that Eurodyssey gives me enough knowledge and experience to be able to start my professional career (..), and I don't think it will disappoint me."
Cinta is a Catalan trainee who decided to apply for Eurodyssey after finishing her postgraduate degree in 2022. She came across Eurodyssey after searching for opportunities to work in Brussels.
"I wanted to come to Brussels and live the Brussels bubble experience, see how the European institutions work, more from the inside".
For Cinta, applying for Eurodyssey was ideal:
"It's been a good opportunity to put into practice all the knowledge that I've been gaining in my postgraduate studies, and it was actually what I was looking for with a traineeship, so it was kind of a perfect match when I saw the offer."
Not only that, she was also impressed to find how easy the whole process was:
"I just had to do the interview with Eurodyssey and then with the Surfrider Foundation, and when everything was ok, it was literally buying a ticket, coming here and I had two addresses: one for work and one for the apartment. Everything was done! I didn't have to think about looking for an apartment, paying for expenses or any kind of things, and everything works very easily".
By the end of her traineeship, Cinta expects to have enough knowledge and experience to start her professional career and stay in Brussels. A few weeks after the interview, Cinta was informed that she was going to be offered a contract at the Surfrider Foundation.
Gaëlle: a Eurodyssey tutor, and former trainee
"With Eurodyssey, you gain experience and skills, and that is what really makes a difference when you apply for a job."
Gaëlle is from the Rhône-Alpes region of France. In 2012, she applied to a Eurodyssey traineeship in the Valencian Community, in Spain. At the time, she found it hard for youngsters to find their first job:
"When I was in Eurodyssey, the situation was also very difficult for youngsters, you apply for a first job and they ask you to master three languages, to have five year experience and being able to do plenty of things, so it is high competition and it's very hard to enter and to have a first foot in the professional world, so Eurodyssey helped me a lot."
Eurodyssey gave Gaëlle a unique opportunity to enhance her skills and get a hands-on experience, while being abroad, discovering another culture, and improving her Spanish.
After her traineeship in an international environment, she got hired at the Surfrider Foundation, and believes her Eurodyssey experience played a crucial role in it:
"Eurodyssey was very decisive and helped me also being here today […] working with the institutions and trying to have more actions done on environmental issues".
Eurodyssey is a renowned programme with a reputation for finding highly motivated youngsters
When Gaëlle needed to find a trainee to help her, she did not think twice and looked for a Eurodyssey trainee:
"I needed support to carry out an important campaign, I needed support from someone with a different background, so not a French person for example, because this is a European campaign and also because we have some key countries we target."
With Eurodyssey, she was confident that the process would be fast and straightforward and that she would find a suitable applicant to join her team:
"I participated in Eurodyssey, so I knew the programme was excellent. From my experience in Valencia, we were super motivated, so I knew I was going to have an excellent applicant… and I wasn't disappointed!"
From previous experiences, Gaëlle knew that Eurodyssey was able to guide and support young people who had no or little professional experience. Now, 10 years later, Gaëlle has not forgotten how important Eurodyssey was for her, and she therefore became a Eurodyssey tutor:
"I am so grateful for the programme and for having benefited from Eurodyssey, so it's kind of giving my part (being a Eurodyssey tutor) and saying thanks to the programme as well".
Ten years apart, a common conclusion: Eurodyssey brings concrete benefits to its participants
Ten years apart, it might be expected that Gaëlle and Cinta's experiences would show certain differences, but they both coincide in stating that most of their time as Eurodyssey trainees was very well spent, and that the programme benefited them, although they participated in different cities and at different times.
Eurodyssey provides support and fosters social inclusion for youngsters
One point that does not seem to have varied is the simplicity of enrolling in the programme. As Gaëlle said: "I only had to apply, and it was so easy, and so well organised!". She particularly remembers her first month in Valencia, calling her friends and parents and telling them: "I don't understand this. They are giving me free Spanish lessons, I am going to start an internship, and everything is well prepared and it's so easy!".
The main goal of the programme is to help young trainees to get (first) professional experience, adapt to working life, undergo a high-quality traineeship, while providing them with a stipend to cover their living costs.
Gaëlle also flagged that Eurodyssey would benefit from being known more broadly, by a more diverse range of young people:
"I also feel privileged because, you know, my parents were always behind me. But I think that there are a lot of people who have fewer opportunities and don't know about Eurodyssey, and I think it's a pity".
By stating that, Gaëlle actually addressed one of the main historical reasons for the creation of Eurodyssey. Edgar Faure, Founding President of both Eurodyssey and the Assembly of European Regions in 1985, was driven to establish this programme because:
"He didn't want that only children from privileged social and intellectual backgrounds could have the opportunity to discover Europe. He wished for working-class children, trained for manual jobs, to benefit from the opportunity too."

Source: "Le Tour de la France par deux enfants avait inspiré Edgar Faure", L'Est Républicain, 15 April 2019.
Eurodyssey connects youngsters to the regional and cultural diversity that Europe has to offer, without them having to worry about other problems that could potentially affect their training period.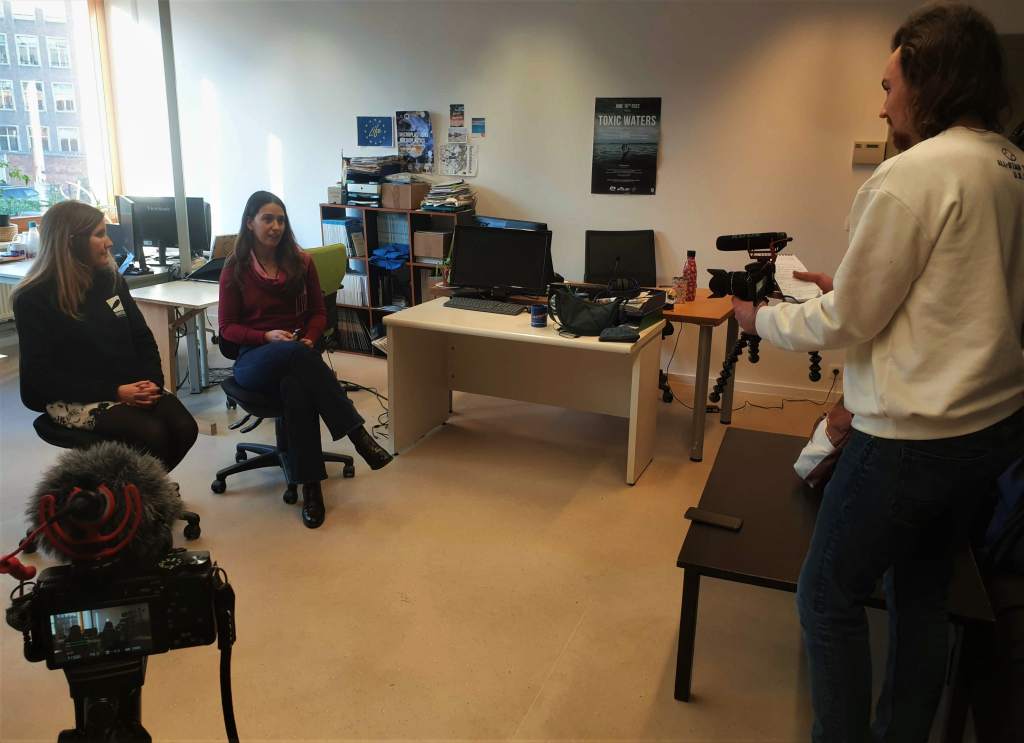 Eurodyssey faces a visibility challenge
At a time when people can search for almost anything on the Internet and can connect with people easily, Eurodyssey seems to struggle to find its way into web searches. A lot of young people are not aware about the programme and about this unique opportunity that the regions are providing to their youth.
Gaëlle observed: "I am surprised it isn't that well-known. I would encourage local authorities to spread the word and to share more information about the Eurodyssey programme".
From her experience, most trainees discovered Eurodyssey through youth centres or by word of mouth, hearing about it from other young people who had participated in the programme. In fact, finding out about Eurodyssey without previous knowledge of the programme can be quite challenging:
"Why didn't I know about Eurodyssey before? It was not until I decided that I wanted to come to Brussels that I found this programme and what it offers. I was surprised that, even at university, no-one used to talk about it".
It appears that students and young graduates rarely hear about Eurodyssey in their universities, educational and (vocational) training institutions. Increasing Eurodyssey's visibility in such institutions would support these young people into finding a paid, quality traineeship, within a programme which proved to increase their skills and employability.
Hearing this feedback encouraged the Eurodyssey team at the AER to upgrade its social media strategy, for information about the programme to reach out to more (diverse) young people, and to support the communication efforts already conducted by the Eurodyssey participating regions. The regions often communicate about Eurodyssey through their employment agencies and youth centres, in the local press and radio, in their social media and websites, and by advertising the programme at youth mobility and employment fairs.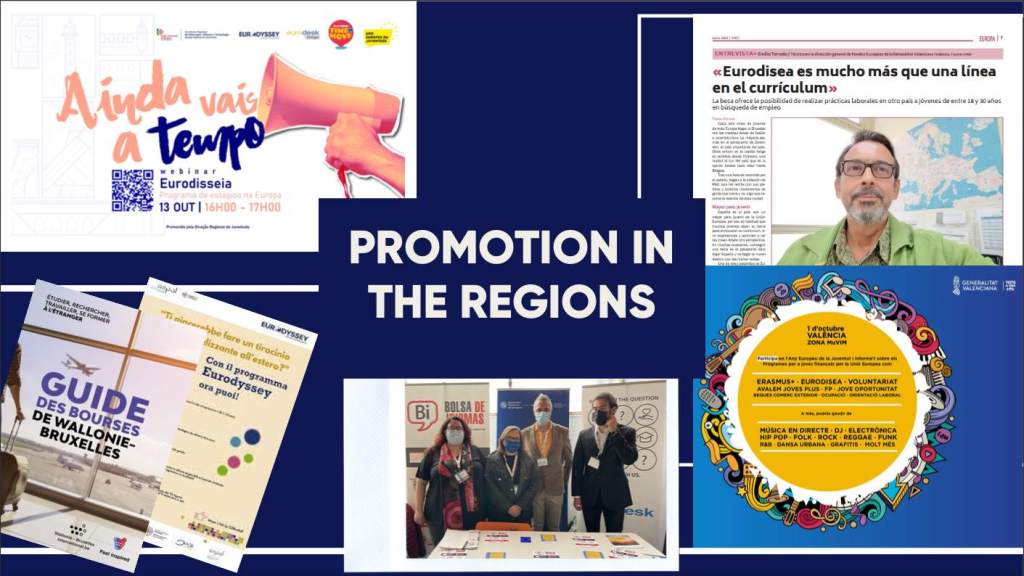 As the saying goes: "If the mountain doesn't come to Mohammed, Mohammed will go to the mountain". So, if its target audience sometimes struggles to find Eurodyssey, Eurodyssey and its regions will reach out to them.
It's Bluedy Time Europe
This interview was made possible thanks to the Surfrider Foundation. At the time of the interview, they were working on a consultation campaign, "It's Bluedy time, Europe!":

"It is a campaign aimed at putting ocean protection at the centre of the agenda, ahead of the European elections of 2024. There is a blue coalition of NGOs behind it. We are giving the opportunity to European citizens to raise their voice on ocean issues, and to participate in a consultation, called it's Bluedy Time Europe! The idea is for European citizens participate in this consultation and give their ideas and thoughts about what the EU should be doing on these issues".

Check out the campaign HERE.

Follow AER!

Share this!