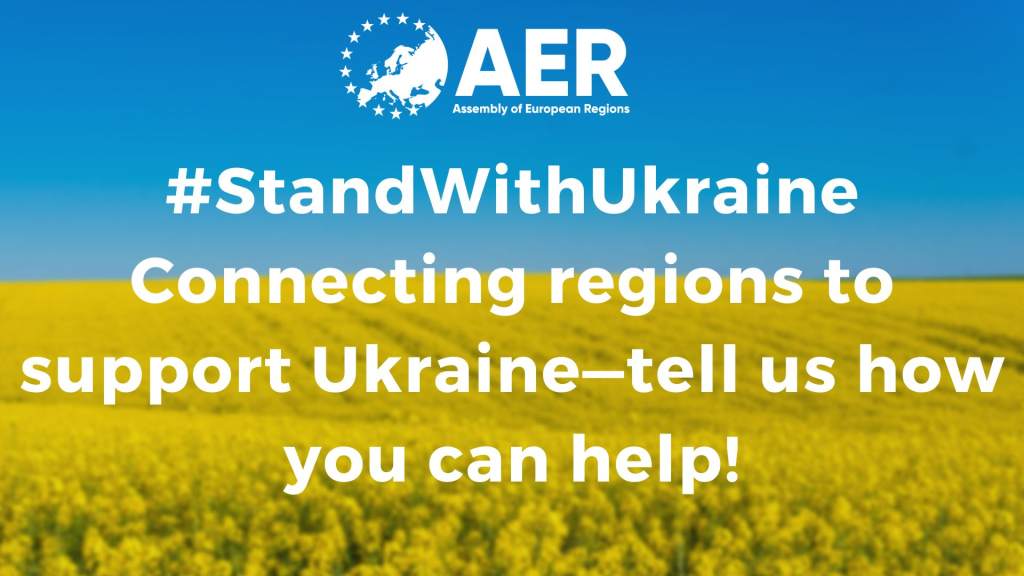 Share this!
AER Focus Group coordinates support for Ukraine
On the one year anniversary of Russia's unprovoked war of aggression against of Ukraine, the Assembly of European Regions is bringing our members together to coordinate support towards our twelve Ukrainian members.
On 7 February, the AER's Executive Board adopted a proposal to create a dedicated Ukraine Focus Group, for tailored, region-to-region cooperation to support Ukraine in the short and and longer-term.
AER Secretary General, Christian Spahr, welcomed the adoption of the proposal as a focal point for support initiatives within AER, saying "Multi-stakeholder platforms of regions, institutions and NGOs are an effective instrument of support and capacity-building. Through this Focus Group, the AER, our regions and partners will collaborate directly with our Ukrainian members, laying a strong foundation for effective, ongoing mutual support".
The first, hybrid meeting of the Focus Group on Ukraine will take place on Tuesday, 28 March in Cluj-Napoca, Romania from 10:00-12:30 local time, alongside our Includ-EU Workshop on Inclusion.
How can you help?
In advance of this first meeting, the AER Secretariat has started mapping the support that our members and partners can offer Ukrainian regions. The goal is to facilitate direct contact and get help where it is needed.
If you are interested in taking part in the new Focus Group, please send an email to Member Relations Coordinator, Justin Sammon at [email protected], answering the following questions (as best as possible) with the subject header: AER Ukraine Focus Group + (your region's name).
What initiatives is your organisation running to support Ukrainians in your region?
Is your region in a position to offer placements for students from Ukraine in educational institutions, or medical training in hospitals?
Is your region/organisation able to procure humanitarian aid, shelters, or energy generators that can be shipped to Ukraine?
Is your region/organisation a member of other multi-stakeholder groups or initiatives to support Ukrainian regions? Is your region interested in twinning initiatives with our Ukrainian members?
Are there particular areas/industries of expertise where your region can support private sector development in Ukraine, share best-practices, or find markets for Ukrainian products?
Are you interested in joining the meetings of the Ukraine Focus Group, and receiving updates on priority requests, share networks and best practices with Ukrainian members by email?
Join the first meeting of the Ukraine Focus Group :
The first meeting will take place on 28 March at 10:00 local time in Cluj-Napoca, Romania. On-site registration is possible HERE. Online registrations will open closer to the date.
Find here more information on AER support for Ukraine:
Follow AER!