We are a network
Multiple times per year, AER brings together regions, so that they may stand stronger together, and grow in a space of best practice exchange.


Last chance to Register! – AER Bureau Debate: The Future of Democracy in the Hands of Regions
12 May 2021 16:00

-

18:00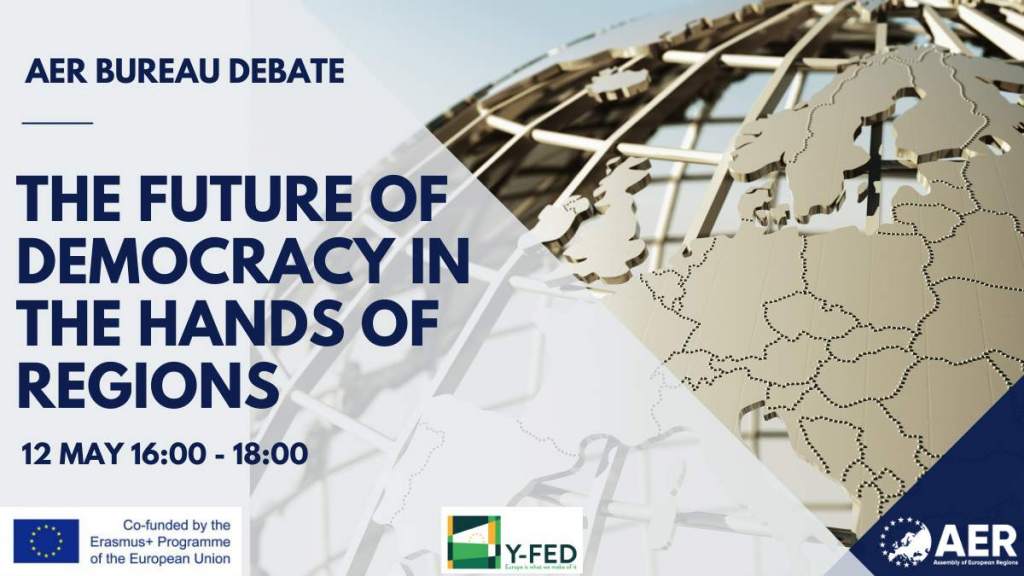 Date: 12 May
Time: 16:00 – 18:00 CEST
Rising populism, widespread misinformation, and a loss of trust in governments and institutions. Add a global pandemic to that list of ailments, and it's clear that democracy in Europe is not in the best shape. 
But what is the best course of treatment to restore Europe's democratic health? The answer is a wholesale 'lifestyle change' for our democratic system, starting at local level. The Conference on the Future of Europe is a unique opportunity to rebuild trust with citizens and reform our democratic architecture. Only through real dialogue with citizens all across Europe's regions can we create a truly 'participative' democratic model fit for the post-pandemic world.
Local and regional authorities have a key part to play in making sure citizens have their say on Europe's future. As the level of government closest to our citizens, they are the bridge linking the ambitions of ordinary Europeans with the Institutions that govern them.  That's why the AER Taskforce on Democracy, led by the region of Örebro (SE) and chaired by Irén Lejegren, are bringing together representatives from regional authorities, civil society organisations, along with European representatives to address the following questions:
How can democracy be strengthened at regional level?
How can regional authorities promote democratic governance in Europe?
How can youth be meaningfully involved in decision-making processes and discussions related to the future of Europe, for instance, the CoFoE?
How can we enhance participatory governance in Europe, in order to achieve a stronger multi-actor and multi-level participatory democracy?
What will be the consequences of not delivering on the outcomes and recommendations put forward by the citizens, in particular youth, during the Conference on the Future of Europe?
On this occasion, regional youth representatives from AER member regions and youth advocators from the project Y-FED: Europe is what we make of it, will be invited to join the debate and engage in a discussion with AER regional policy-makers. This will be a unique opportunity for ensuring the voices of young generations are heard at EU and regional level in order to shape altogether a future Europe that is more sustainable, fair, prosperous and democratic. Check our our panel below and…

Programme Overview:
16:00-16:05 
 Welcome & Introduction

Nina Björby, AER Vice President for Democracy

 16:05 -16:45
Panel discussion: Enhancing multi-level and multi-stakeholder participatory democracy

Ms Irén Lejegren, Chair AER Taskforce on Democracy
Mr Karl-Heinz Lambertz, Rapporteur on Deliberative Democracy; Congress of Local and Regional Authorities of the Council of Europe
Mr Toma Šutić, Member of Cabinet, Vice President for Democracy and Demography; European Commission
Mr

Simon Lindkær

, Board member; European Youth Forum

 16:45 -17:55
  Open discussion – Connecting youth with regions

Magnus Berntsson, President AER
Rune Fredriksen, President AER Summer Academy
AER Taskforce on Democracy & Bureau members
Regional youth representatives

 17:55 -18:00
  Concluding remarks

Magnus Berntsson, President AER