We are a network
Multiple times per year, AER brings together regions, so that they may stand stronger together, and grow in a space of best practice exchange.


BRIGHT IDEAS – The Role of Regions in Improving Energy Efficiency
19 May 2021 13:00

-

14:30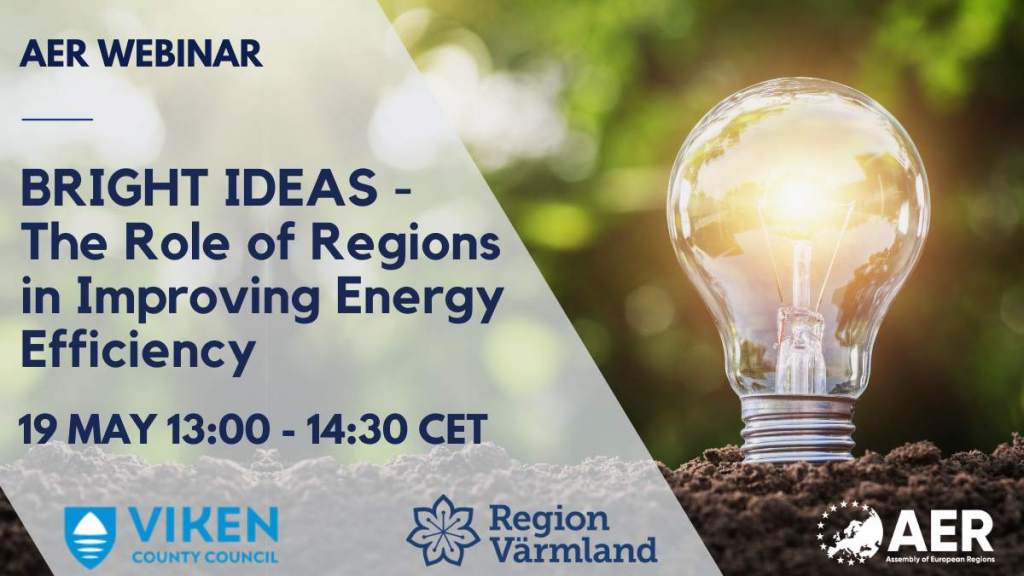 Eva Hallström, Chair of the AER Working Group on Energy and Climate Change invites all AER members and friends to join an event on the role of regions in improving energy efficiency. Regions will share their experience, challenges, and enablers. This event is co-organised by Värmland (SE) and Viken (NO)
Energy Efficiency: how to achieve the transition in the industry?
This webinar aims to build a platform for discussions regarding the EU's work on energy efficiency, focusing on the green transition within the industry. It will be an opportunity to share ideas, experiences, and best practices.
Experiences from the Bioeconomy Region
Värmland and Viken are both members of the "Bioeconomy Region", a leading region of the forest bioeconomy.
To achieve climate goals while making use of the full potential of the forest bioeconomy, the rate of development and innovation needs to be faster. This is why the Interreg project «The Bioeconomy Region» was created in 2017 by a number of actors in inner Scandinavia
Both regions will share how they support improved energy efficiency in fields as diverse as production, construction or logistics.
Synergies with the Green Deal
The industry will play a central role in the transition to improved energy efficiency and carbon neutrality in Värmland, Viken, and in Europe as a whole. this is why synergies between the European Green Deal and the EU's Industrial Strategy are needed.
This webinar on energy efficiency will also be an opportunity to gather inputs and testimonies, which will contribute to the work being developed by the AER Task Force on Climate.


Programme:
13:00
Welcome by Eva Hallström, Chair WG on Energy and Climate change, AER
13:10
Regional perspectives on Energy Efficiency

 

Stina Höök, Regional Councillor, Region Värmland, SE

Johan Edvard Grimstad, Regional Councillor Region Viken, NO

13:30
Projekt BIS – Climate measures and energy efficiency through Regional cooperation and innovation 

Sandra Svennberg, Head of Unit, Department of regional development, Region Värmland, SE

Janne Buhaug, Head of rural and regional business development Region Viken, NO

13:50
Digitisation as method to achieve Energy Efficiency

 

Charlotta Kullander Hedbom, Energy and Climate Advisor

14:00
Panel discussion
14:20
The AER Task Force on Climate: how the findings of this webinar will be used for joint advocacy work

 

Magnus Berntsson, AER President, Chair of the AER Task Force on Climate

14:30
Conclusion