We are a network
Multiple times per year, AER brings together regions, so that they may stand stronger together, and grow in a space of best practice exchange.


Cluny Training Seminar: Local democracy & European citizenship
27 April 2021

-

29 April 2021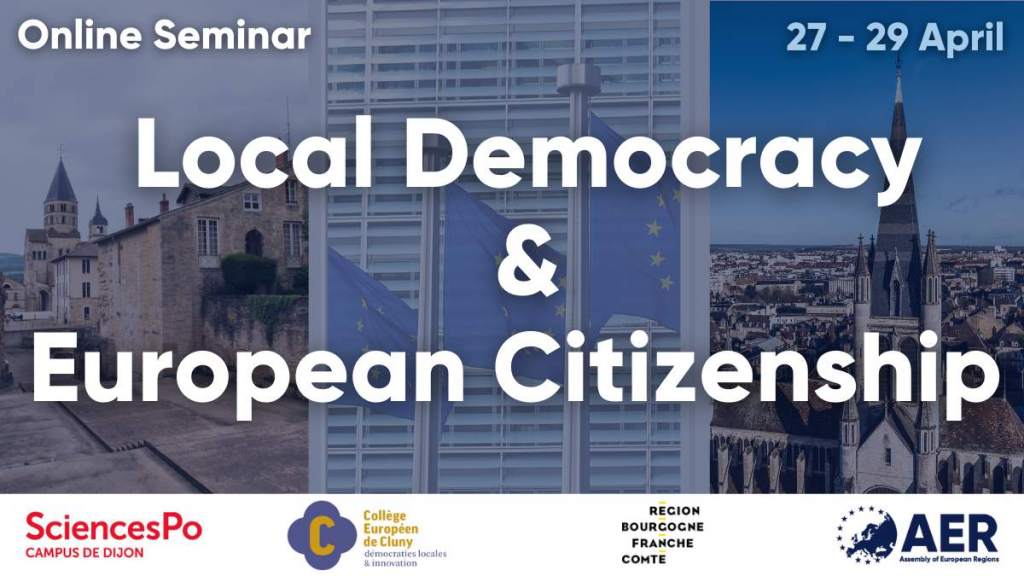 How to build a European grassroots democracy?
Is the European Union irremediably riddled with the distrust of citizens and the rise of Euroscepticism? Although quite common, this dire depiction is neither accurate nor a fatality. And what if a reinvigoration of the European project could come from the local level?
This seminar aims to discuss and brainstorm around this intuition that underlies the very purpose of the European College of Cluny.
Content of the Training Seminar:
• Lectures and discussion with researchers specialised in political science and the EU affairs
• Brainstorming workshops and discussions with practitioners focused on concrete projects, the exchange of good practices, etc..
Learning Objectives:

• Consolidating and enriching participants' knowledge of the latest developments of the EU
• Enhancing their understanding of the political dimension of the European integration process, with an emphasis on issues related to the EU-citizens relationship, i.e. the question of Democracy     and Legitimacy within the EU
• Reflecting on the ways in which local authorities can contribute to the development of a"European grassroots democracy" and a genuine European citizenship
• Enlarging participants' network on the European scale
About Sciences Po – The European campus in Dijon:
The European campus of Sciences Po Paris in Dijon hosts about 180 students coming from more than 30 different countries (mostly from France and from Central and Eastern Europe), who follow a multidisciplinary curriculum in social sciences and humanities, with a focus on the EU and the specificities of Central and Eastern Europe.
About the European College of Cluny:
A higher education and research institution of excellence, strongly European in its spirit, oriented towards the training of future decision-makers who will work within or collaborate with local authorities.  It is oriented towards concrete and practical solutions, emphasising the exchange of good practices, vocational training, and the network effect.
Programme
Tuesday 27th of April
9.00 am -10.15 am: Introductory World café
10.45 am – 12.15 am: Lecture 1
Bruno Cautrès: State of public opinion in the European Union
2.00 pm – 3 pm: Debate and exchange of good practices among participants
Citizens' attitude toward the European Union: handling citizens' (mis)trust in the EU, interacting with EU institutions, implementing EU projects or policies, etc.
5.00 pm – 6.30 pm: Lecture 2
Christian Lequesne: Main challenges of the post-Brexit European Union
Wednesday 28th of April
9.00 am – 10.30 am : Lecture 3
Yves Bertoncini : Recent political developments in the European Union from the democratic legitimacy perspective
11.00 am – 12.30 am: Discussion with practitioners
Presentation of recent projects led in Europe aiming at involving citizens in the debate on the EU and its future.
2.30 pm – 3.30 pm: Brainstorming among participants
Exchange of ideas on possible innovative projects led by local authorities aiming at raising awareness on European citizenship.
Thursday 29th of April
11.00 am – 12.30 am: Discussion with practitioners 2
Local and regional authorities' representation in the EU
14.30 pm – 16.00 pm: Closing World café
What local agenda(s) for promoting European citizenship? How can the European College of Cluny help?
Registrations
The registration form should be filled out, signed, and returned to the organisers at your earliest convenience.
The fee for this online workshop is 200€. AER has 15 free passes for its members. Please contact AER Coordinator for Policy & Knowledge Transfer Johanna Pacevicius to get a free pass for this training seminar.
the European College of Cluny is an initiative supported by the Region Bourgogne Franche Comté