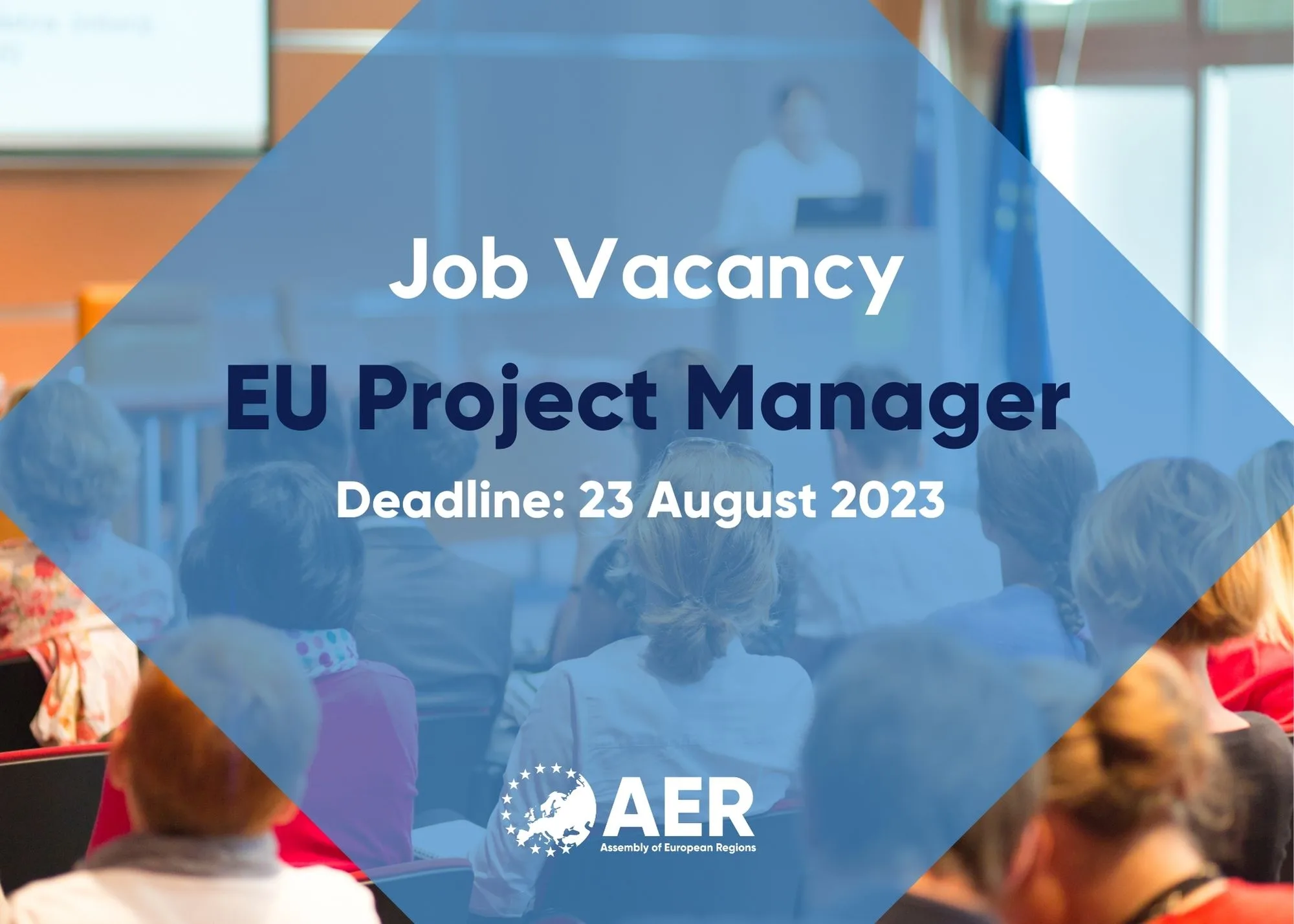 Share this!
AER IS HIRING AN EU PROJECT MANAGER
We are looking for a colleague to help us in managing the implementation of EU funded projects, joining the AER Project Unit and being able to collaborate closely with colleagues in other workstreams of the AER Secretariat, member regions, and project partners. If you like to work for liveable, prosperous regions and a sustainable European future and you wish to be part of an international and motivated team, apply now!
You must have the right to live and work in Belgium. This position is to be based in Brussels. 
This is who we are 
We're a small team, so everybody is really important
We're also a great, proactive and imaginative team, with awesome people on board
The aim we work for is instantly convincing: bringing together politicians, experts and citizens across Europe to work better together to improve prospects for all
It is a place for personal growth, as you get to work with many people with very different backgrounds and will be able to widen your horizon and develop professionally and personally
We use cloud-based team collaboration tools, which allows us to keep in close contact despite travels and different locations – and, it helps us for community building.
Role and responsibilities 
We need someone who is open-minded, a team player, able to be operational from day one, with a strong project management attitude and skills, who enjoys the European spirit. Our new colleague will be in charge of ensuring the proper implementation of our biggest project EU-Belong in the field of inclusion that is coordinated by the AER. You will work in our Project Unit under the guidance of the European Projects Coordinator and you would need to cooperate and liaise with other AER workstreams, specifically knowledge transfer, advocacy, and communication.
Project management "EU-Belong" (80%)
EU-Belong is a 3-year project run by the Assembly of European Regions (AER) and 13 partners, and co-funded by the AMIF Programme (AMIF-2020-AG-CALL) of the European Union. The project's general objective is to improve the socio-economic inclusion and the sense of belonging for migrants through the development and implementation of integration strategies in European regions with a strong intercultural approach, focusing on the principles of equality, diversity, and positive interaction. You will be the person responsible for the overall coordination of the EU-Belong project, having these main tasks:
Overall responsibility for the management of the project in close cooperation with the European Projects Coordinator, the EU Finance and Administration Manager, as well as the Project and Communication Officer working on the same project, the Policy & Knowledge Transfer Coordinator, and other colleagues if needed
Implementation of project activities according to the grant agreement, AER's political priorities, and membership needs
Preparation of project deliverables
Daily communication and coordination with project partners, stakeholders, and member regions
Organisation and participation in video conferences, project meetings, workshops, conferences, etc
Supporting the project progress monitoring and evaluation
Preparation and processing of technical and financial reports
Other Tasks (20%)
In this role, you will:
Support the AER team in scouting funding opportunities, including in other thematic areas, and establishing partnerships for AER member regions
Contribute to writing new project proposals within EU-funded programmes
Liaise with our members, participate in meetings, webinars, and workshops and support ad-hoc the rest of the Secretariat team
Being a small team, all staff members are asked to perform additional transversal tasks and some secretarial work
Your profile
Our new colleague should have:
University degree (MA or higher; or BA with additional academic qualification) in relevant subjects (e.g. Political Science, European Studies, International Relations, Cultural Studies, Economics, Management, or other courses related to this profile)
3+ years of proven working experience in the drafting and management of EU funded projects – proven track record of relevant projects is a prerequisite
Sound knowledge of EU funding programmes 
Good understanding of several topical EU policy priorities (examples: sustainable economic development, innovation and digitalisation, social and territorial cohesion, public services and good governance, culture and inclusion).
Beneficial: relevant experience in the field of migrants integration and/or social inclusion will be an asset
Beneficial: experience in associations, non-profit work, or the public sector 
Self-motivated and self-starter
Autonomous and independent in task accomplishment, with good organisational and time-management skills
Ability to prioritise and multitask
Excellent organisational skills and record-keeping
Strong team spirit and a positive attitude;  eager to contribute to common objectives
Excellent interpersonal skills coupled with well-honed verbal and written communication skills
Good working knowledge of modern channels of communication (Office suite, Mailchimp, WordPress, Slack, etc.)
Fluent English (both oral and written)
Readiness to occasionally travel between Brussels and Strasbourg, and AER events elsewhere
What we offer
A one-year, fixed-term contract with the possibility of extension
A monthly gross salary between €2,750 and €2,900 depending on experience and relevant education, plus benefits worth up to €340 per month (excellent top-up health insurance, teleworking allowance, meal vouchers, public transport expenses, and more)
13.92 monthly salaries per year within the framework of Belgian legislation
Automatic inflation adjustment of the gross salary as per Belgian legislation
14 extra holidays on top of the legal holiday rights, as well as additional collective days off
Training and professional development opportunities within the AER
Possibility to combine work at the AER Brussels office with teleworking
Being part of a small and dynamic team, which means the contribution of every person is important
Apply
If this piques your interest, here's how you can apply:
Please send a cover letter with your CV in English to [email protected]  with "[Your name] + AER EU Project Manager" as the subject line.
Please include references of EU projects you managed with relevant links. Please also include a written reference by a former employer, and a copy of your university or other academic diploma.
Please label any attachments as follows "FirstName_Surname_FileName" and send them in PDF format.
Deadline for application: 23 August 2023 – 23:59 CET
Due to the large number of applications, only shortlisted candidates will be notified.
Anticipated Interviews: 30 August – 4 September 2023 (TBC)
Interviews will be held at the AER Office in Brussels and online where this is not possible.
Starting date: As soon as possible during September or early October 2023.
The Assembly of European Regions (AER) is an equal opportunity employer – our membership is diverse and so is our team. In line with our political priorities, we are an organisation committed to fostering inclusion and embracing diversity, including in our recruitment process. We therefore guarantee equal treatment of all applications regardless of sex or gender identity, ethnic, national or social background, political or religious belief, sexual orientation, age, or disability.
Follow AER!