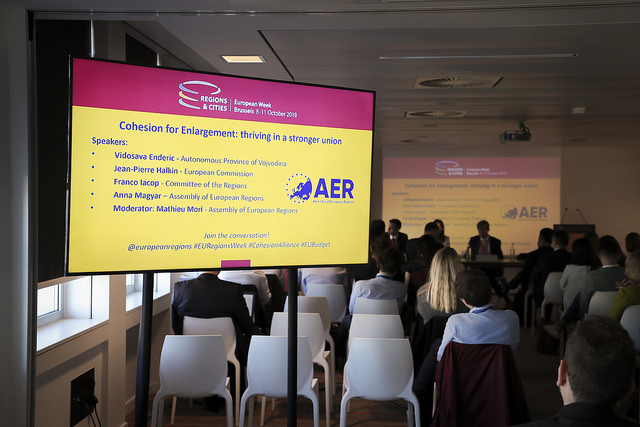 Share this!
The AER took part in the annual European Week of Regions and Cities, organised by the Committee of the Regions. From 8 – 12 October representatives from all across Europe came to Brussels to discuss best practices and share experiences.
The AER organised a workshop on Cohesion for Enlargement: Thriving in a Stronger Union. The workshop brought together experts to look at the role cohesion policy plays in strengthening the enlargement process for the Western Balkans. There was also a discussion on how the forthcoming legislative proposals for the renewed cohesion policy framework and instruments can deliver the best outcomes for social, economic and territorial cohesion in the view of a stronger and enlarged Union.
Panellists:
Vidosava Enderic –

Director, European Affairs Fund, Autonomous Province of Vojvodina;

Jean-Pierre Halkin –

Head of Unit, Macro-regions, Transnational/Interregional Cooperation, IPA, Enlargement, European Commission Directorate-General for Regional and Urban Policy;

Franco Iacop

– Member of the European Committee of the Regions, Regional Councillor and President of the Friuli Venezia Giulia Regional Council'

Anna Magyar

– Vice-President of the Assembly of European Regions, Member of the European Committee of the Regions, Vice-President of County Council of Csongrád Megye; and

Moderator:

Mathieu Mori

– Secretary General, Assembly of European Regions
Follow AER!