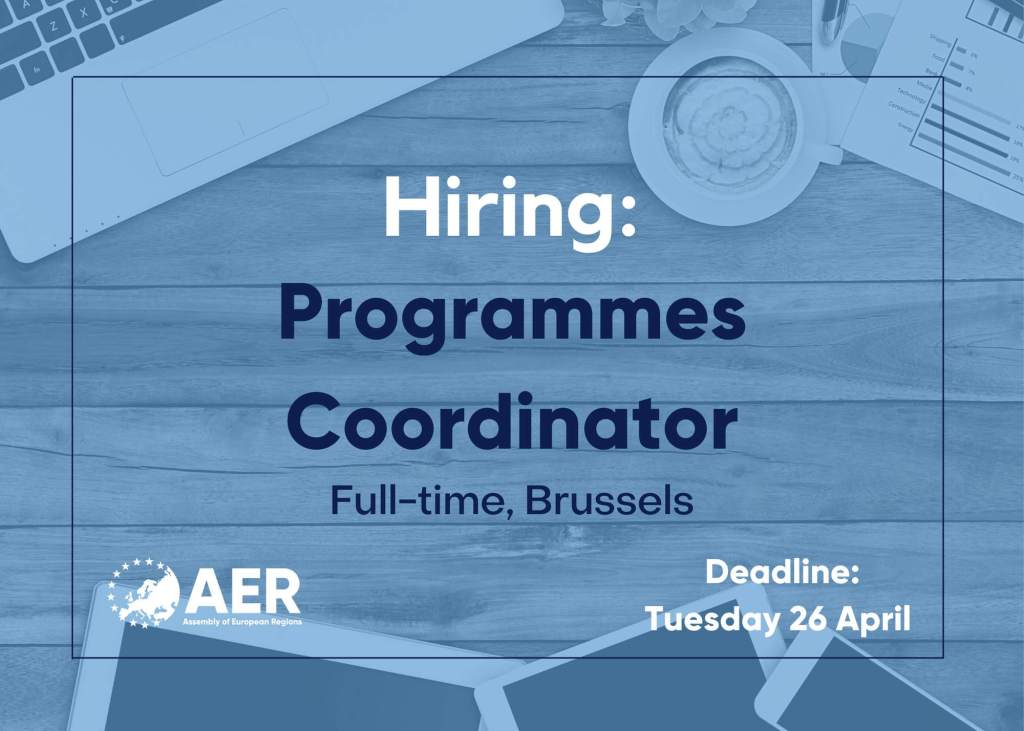 Share this!
Do you have experience in a member-based organisation? Do you have work experience in a European/international environment, interested in the European regional dimension and youth policies? If this sounds like you, you might be our new Programmes Coordinator.
We are looking for an experienced colleague who is pro-active, collaborative, organised and with a problem-solving attitude to manage three regional networks covering youth mobility, youth participation, and intergenerational programmes.
You will be reporting directly to the Secretary-General and will be based in Brussels.
You must have the right to live and work in Belgium.
Key Responsibilities
Programme Management – 50%
Acting as the main point of contact for the AER programmes: Eurodyssey, Summer Academy and the Youth Regional Network.
Building and maintaining close relations with the member regions of the AER programmes and providing assistance to meet their needs.
Setting up yearly work plans and overseeing the budget and the statutory & quality standards of the programmes.
Planning and implementing programmes' events and meetings (i.e., Eurodyssey coordination meetings, the annual Eurodyssey Forum, and the Summer Academy)
Collecting and analysing relevant data to produce statistics reports for the Eurodyssey programme.
Carrying out research on topics related to the programmes (youth inclusion, employment, learning mobility, regional development, the Future of Europe, etc.)
Writing articles for the AER website, drafting reports, and preparing working documents and concept notes for meetings and events.
Managing Eurodyssey's social media channels and the Eurodyssey website on WordPress.
Working closely internally (with projects, member relations, communications, knowledge sharing and advocacy colleagues) to identify needs, services and funding opportunities that can be shared to the benefit of members.
Programme promotion – 25%
Developing membership and outreach strategies to promote the AER programmes.
Identifying and setting up meetings with potential new members and partners.
Building alliances with relevant European stakeholders in programme-related areas.
Preparing and making sales presentations.
Taking part in events and panel discussions to promote the AER programmes.
Other – 25%
Contributing to the implementation of the AER action plan as well as, to some extent, to policy-advocacy monitoring and analysis in selected areas.
Assisting in the organisation of statutory meetings in collaboration with other colleagues.
Preparing briefing documents for high-level politicians in the Executive Board.
Recruitment and training of young professionals under the Eurodyssey traineeship programme.
Being a small team all staff members are asked to perform additional transversal tasks and some secretarial work (e.g. Event Calendar, online user accounts)
Your Profile
At minimum 2-4 years of experience in a similar role with at least 3 years of full-time professional experience
Experience in or with member-driven organisations
University degree (MA or higher; or BA with additional academic qualification) in relevant subjects (e.g. Political Science, European Studies, International Relations, Economics, Public Administration, or similar courses related to this profile)
Experience in project or programme management, member relationship management, and event/meeting management.
Excellent command of English, both oral and written, is required, and knowledge of French or other European languages would be an asset.
Excellent computer skills in MS Office (Microsoft Powerpoint, Word and Excel)
Familiarity with WordPress and a website content management system.
Familiarity with cloud-based computing, collaborative document editing and working in business communication platforms, such as Slack.
Excellent organizational and interpersonal skills with the ability to function in a multicultural environment.
In short: promote the benefits of the AER programmes within and outside the AER, create new links and partnerships across Europe, and meet the needs of our members.
What we offer
Working for togetherness, solidarity, good governance, and innovation
Promoting values and sharing best practices across Europe
Being part of a small team, which means the contribution of every person on the team is important
Using cloud-based team collaboration tools, which help us for community building
Opportunities for personal growth and widening your horizon
Attractive employee benefits and 14 extra holidays next to the legal holiday rights
Or, in short, being part of the coolest network in wider Europe!
How to Apply
Please send a cover letter (max. one page) along with your CV in English and one reference letter or recommendation letter by a previous employer to [email protected] with "AER Programmes Coordinator" as the subject line.
Deadline for application: Tuesday 26 April – midnight CET.

Anticipated interviews (indicative days):
Round 1: 2-5 May (TBC)
Round 2: 9-10 May (TBC)
Desired start date: June 2022
Due to the large number of applications, only shortlisted candidates will be notified.
——–
Founded in 1985, the Assembly of European Regions is the political platform of regional governments in wider Europe, with direct membership of public authorities from 30 countries – from Norway to Turkey and from Portugal to Georgia. As the largest independent network of its kind, AER promotes the regions as key players in the European project, as well as democracy and good governance. AER has offices in Brussels (BE), Strasbourg (FR), and a Southeast Europe Hub in Alba Iulia (RO).
The Assembly of European Regions (AER) is an equal opportunity employer – our membership is diverse and so is our team. In line with our political priorities, we are an organisation committed to fostering inclusion and embracing diversity, including in our recruitment process. We therefore guarantee equal treatment of all applications regardless of sex or gender identity, ethnic, national or social background, political or religious belief, sexual orientation, age, or disability.
Follow AER!