We are a network
Multiple times per year, AER brings together regions, so that they may stand stronger together, and grow in a space of best practice exchange.

YRN Autumn Plenary 16 – 18 November, Cascais
16 November 2018 14:00

-

18 November 2018 13:00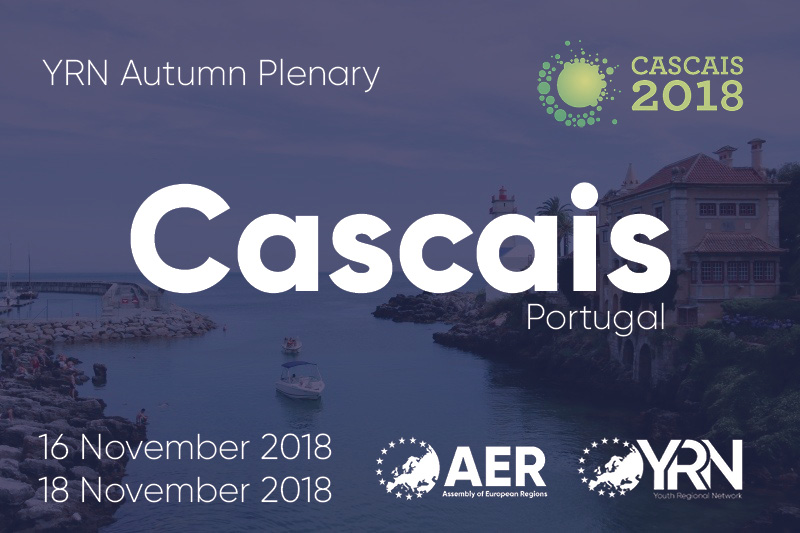 On the occasion of its hosting of the 2018 European Youth Capital, we are very pleased to
announce that the YRN Autumn Plenary themed "Glocal Youth" will take place in Cascais, Portugal from the 16 – 18 November 2018.
REGISTER HERE (CLOSED)
Deadline for registrations: 6 November 2018
Programme
European Youth Capital 2018: Cascais
Working documents
Minutes from last Spring Plenary Meeting
Draft Agenda Committee 1 for Economy and Regional Development.
Draft Agenda Committee 2 for Social Policy and Public Health.
Draft Agenda Committee 3 for Culture and Education.
Report on Artificial Intelligence, Science and Technology
Report on the Norwegian Youth Festivals of Arts
Statement on SDG 4 – quality education
Statement on Youth Involvement
Concept note – Democracy in the digital era
Concept note – Youth and Agenda 2030 
Presentations
AER Sales Presentation, Elin Berglie
Workshop Debate 1 – João Simões, JEF
Workshop Debate 2 – Marco Espinheira, Municipality of Cascais
Workshop Debate 3 – Fernando Santomauro, UCLG
Workshop Debate 3- Soraia Carvalho, Municipality of Cascais
Pictures
Click here to download the pictures of the YRN 2018 Autumn Plenary! Photo credits: @ Alexander Eriksson / Eriksson Media
Useful Links