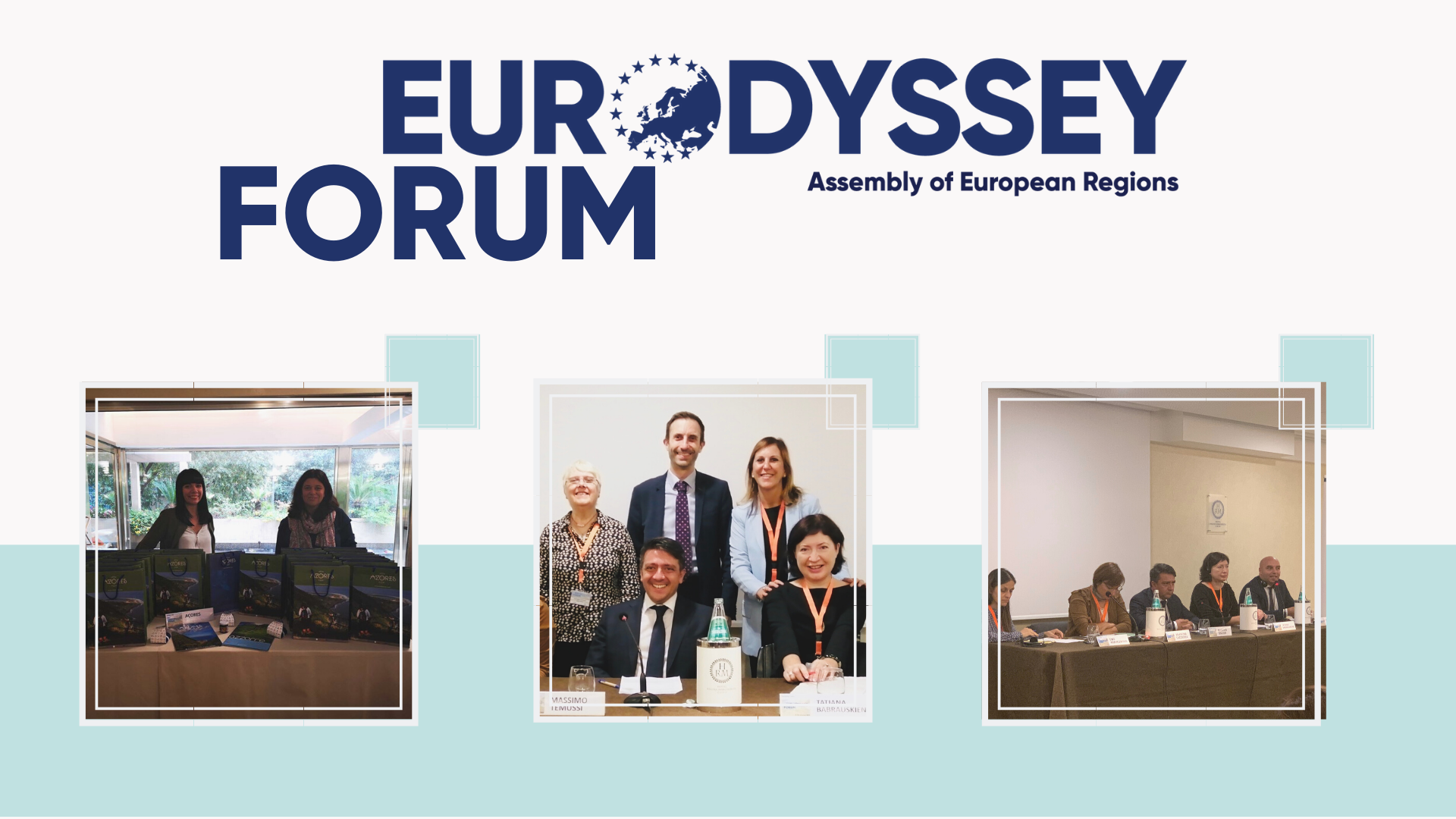 Share this!
The experience of living in another country impacts a young person's personal and professional development, increases independence and responsibility, helps improve knowledge of foreign languages and develops other valuable social skills and professional competences. Youth mobility can also indirectly contribute to dismantling certain prejudices or social constructs in times of political disaffection, radicalisation and economic recession across Europe. Most importantly, mobility is how young people develop a new viewpoint about their own reality, systems and culture. As a result of this mobility, and by gaining varied learning experiences, young people increase their chances for employment and in this way influence their own position in the labour market.
The Eurodyssey Forum, a yearly event gathering representatives of all the regions that participate in this regional mobility scheme, was the perfect venue for discussions on this topic. Over the course of two days, more than 50 participants, came together to discuss the merits of, and challenges to, the exchange of young people among the regions of Europe.
Alessandra Zedda, AER Vice President for Employment & Skills, and Rita Dedola, Regional Councillor for Youth Policies, opened the 2019 Eurodyssey Forum by giving a warm welcome to all the participants and expressing gratitude to AER for the close and fruitful cooperation as regards Eurodyssey, which both of them praised for being a very valuable tool for the regions to deliver on youth employment and internationalization policies.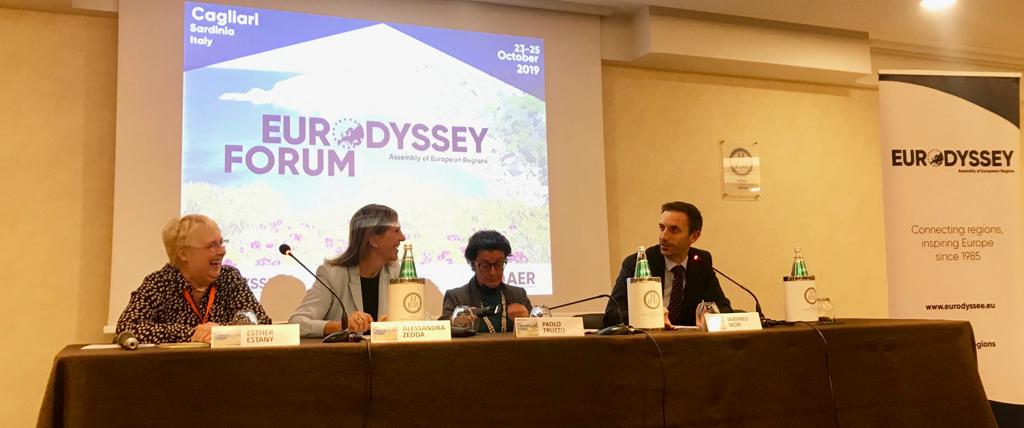 ---
Two high-level discussions were open to the public as part of the Forum, the first on "Youth Mobility for empowerment and professional growth", moderated by AER Secretary-General, Mathieu Mori, featured a panel of experts from Italy and wider Europe.
Massimo Temussi, Managing Director Sardinian Agency for Active Labour Policies (ASPAL) opened the discussion by bringing a regional perspective and shedding light on the situation of young people in the labour market in Sardinia. He noted, in particular, that there is an increasing mismatch of skills and opportunities for young people, concluding that more needs to be done to provide specific training that will enable young people to make the transition from vocational or higher education into the workforce. Going abroad to learn new in-demand skills through the Eurodyssey programme is one way to achieve this.
Domenico De Maio, Managing Director of the National Agency for Youth of the Italian Republic, spoke about how young people from other parts of Europe can breathe life into declining rural villages. In turn, he also praised the many young Italians who go abroad to gain professional experience before returning home with new and innovative visions for their home regions.
Valentina Cuzzocrea and Ewa Krzaklewska, members of the Council of Europe Pool of European Youth Researchers (PEYR) delved further into the policy context and elaborated on their work as part of the PEYR.
Valentina Cuzzocrea spoke of the significance of 'Brain Circulation', where young people are free to move, to shape their own experiences and bring their skills and ideas with them wherever they like. This undoubtedly opens new perspectives, not just in terms of finding a job or starting a business, but also in terms of personal development, learning about themselves, what they like and dislike, and ultimately how they want to live their lives.
Ewa Krzaklewska stressed the importance of European mobility programmes such as Eurodyssey as a means of integrating Europeans and strengthening democracy because, at the end of the day, Europe is a human project.
Tatjana Babrauskienė, Member of the European Economic and Social Committee, added that when we think about the European project and the role of youth mobility we must think about the sustainable aspect, focusing on social growth, not just economic growth. She stated also that European mobility programmes like Eurodyssey foster a balancing of European, national and regional identities, which, in a time of polarising world views is a welcome development.
---
A second roundtable discussion provided food for thought as well as concrete examples from Eurodyssey members of how youth mobility can contribute to regional development.
Esther Estany, President of Eurodyssey, Catalonia (ES).
Arlette Brone, Head of Actiris International, Brussels-Capital (BE)
Miriana Bucalossi, Training policies and EU projects, Tuscany (IT)
Denis Lamard, President of the Burgundy-Franche-Comté (FR) Youth Information Center (CRIJ)
Michele Demontis: Cooperation for mobility in Sardinia, CASMI Committee of Sardinian Associations for Youth Mobility
Moderated by Luca Spissu, ASPAL, Sardinia (IT)
Esther Estany, Eurodyssey President, has been involved in the programmes since its inception. She opened the discussion by sharing her experience over the last 35 years and expressing the concern of the employment service of Catalonia regarding the 'brain drain' which has come about in the wake of the economic crisis. On a positive note, she noted that this trend is diminishing with more Catalans who leave the region for work coming back home again with new skills and experiences under their belts.
The discussion, moderated by Luca Spissu from the Sardinian Agency for Active Labour Policies (ASPAL), shed light on the regional realities of youth mobility in Brussels-Capital (BE), Tuscany (IT), Bourgogne-Franche-Comté (FR), Catalonia (ES) and Sardinia (IT).
Each of these regions has its own specific employment situation as regards young people & benefits from youth mobility schemes such as the Eurodyssey programme by welcoming young Europeans from other regions as well as sending their young people abroad, many of whom return home with innovative new ideas and perspectives on life in their home regions.
More on the 2019 Eurodyssey Forum…
You can find out in this article the main outcomes and conclusions from the Eurodyssey Assembly.
Visit the 2019 Eurodyssey Forum event page to download all the working documents, presentations, pictures and other takeaways…
Photo by Resi Kling on Unsplash
Follow AER!