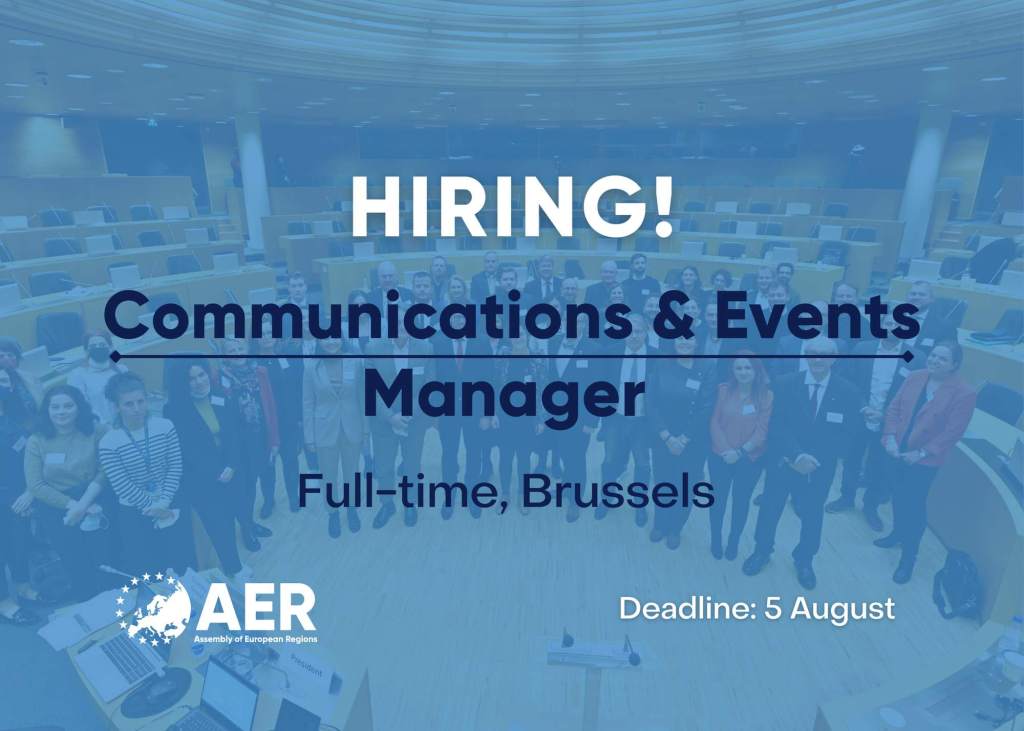 Share this!
We are looking for a colleague to build on a renewed brand identity and to continue innovating our communications, taking AER to the next level.
Are you our next colleague?
We need someone who is creative, results-oriented and driven. In this position, you will be expected to constantly strive to improve AER's visibility, recognition and image, to use your insights in a proactive manner, delivering results in a smart, politically sensitive way.
Our new colleague should have:
native-level English: editorial/copy editing experience in English will be considered an asset;
a minimum of a Bachelor's degree in a relevant discipline (communications, journalism, EU public affairs, or similar). Additional relevant qualifications such as, but not limited to PR or journalism training will be an asset;
a minimum of two years, full-time professional experience in a communications/PR position alongside event organisation experience. Additional relevant experience will be an asset;
a demonstrable interest in the regional dimension of Europe, and ready to travel across the continent;
a good working knowledge of all modern channels of communication (Hootsuite, WordPress, Slack, Mailchimp, social networks, etc … );
a knack for graphic design (in Canva) and a keen eye for detail.
Role and Responsibilities:
Leading AER's communications & community interaction (45%)
As Communication & Events Manager in our Brussels office, you will be responsible for "telling the story" of AER. You will disseminate results of our day-to-day activities, contribute to branding AER as the place to be for regions, and bring visibility to our regions and politicians via our channels.
Some examples of how you will do this include:
Building the AER's new communications strategy for members, media engagement and community development;
reaching out to AER's audience via social media;
developing and managing our main communication channel (our website) with our IT consultant;
managing our mass mailings, publications and other communications, especially when it comes to promoting events;
live-tweeting our events and writing summary articles;
writing press releases in coordination with our Secretary General;
liaising with the Member Relations Coordinator to promote regions and their success stories, as well as other AER colleagues (projects, programmes, advocacy, knowledge transfer) to plan communication measures with them and implement them jointly;
preparing the annual Activity Report with input by the team;
preparing other promotional materials where necessary;
proofreading and editing texts produced by colleagues;
ensuring our brand identity is consistently used across all our communications.
Managing the delivery of AER Events (45%)
The Communication & Events Manager will be responsible for coordinating the organisation of all our major events, hybrid and virtual meetings (with colleagues). We have statutory events all around Europe, and each of them requires the development of a format that suits our members and partner organisations.
In this role, you will:
coordinate the sourcing of hosts (member regions) for all of our statutory events and other AER events with the Secretary General;
coordinate the organisation of the AER General Assembly;
create concept notes, catchy titles, visuals and panels for our events with colleagues;
coordinate the organisation of the bi-annual AER Bureau & Working Group Meetings;
lead the promotion of our annual Eurodyssey Forum and Youth Summer Academy.
Other Tasks (10%)
As a small team, all colleagues do more than just their main tasks. As a computer whiz, you will liaise with our IT consultant keep our website up and running smoothly, as well as handling google accounts and setting up computers (Mac OS) for new colleagues, alongside other ad hoc tasks.
What we offer:
A one-year, fixed-term contract with the possibility of extension by mutual agreement;
A starting salary of between €2,600 and €2,800, depending on experience and qualifications, along with other benefits (health insurance, meal vouchers, public transport expenses, and more) worth up to €340 per month;
Training and professional development opportunities within AER;
14 extra holidays on top of legal holiday rights;
Working for togetherness, solidarity, good governance, and innovation;
Promoting values and sharing best practices across Europe;
Being part of a small team, which means the contribution of every person is important;
Or, in short, being part of the coolest network in wider Europe!
Apply:
If this piques your interest, here's how you can apply:
Please send a short cover letter with your CV in English to [email protected] with "[Your name] + AER Communications & Events Manager" as the subject line.
Please include examples of your related communications work (campaigns/website/articles) and the types of events that you have organised (workshops/conferences/trainings). Please also include a written reference by a former employer, if available, and a copy of your university or other academic diploma.
Please label any attachments as follows "FirstName_Surname_FileName" and send in PDF format.
Deadline for application: Friday, 5th August – close of business CET.
Anticipated Interviews:
10, 11 and 12 August. Interviews will be held at the AER Offices in Brussels and online where this is not possible.
Starting date: September 2022
Due to the large number of applications, only shortlisted candidates will be notified.
——–
Founded in 1985, the Assembly of European Regions is the political platform of regional governments in wider Europe, with direct membership of public authorities from 30 countries – from Norway to Turkey and from Portugal to Georgia. As the largest independent network of its kind, AER promotes the regions as key players in the European project, as well as democracy and good governance. AER has offices in Brussels (BE), Strasbourg (FR), and a Southeast Europe Hub in Alba Iulia (RO).
The Assembly of European Regions (AER) is an equal opportunity employer – our membership is diverse and so is our team. In line with our political priorities, we are an organisation committed to fostering inclusion and embracing diversity, including in our recruitment process. We therefore guarantee equal treatment of all applications regardless of sex or gender identity, ethnic, national or social background, political or religious belief, sexual orientation, age, or disability.
Follow AER!