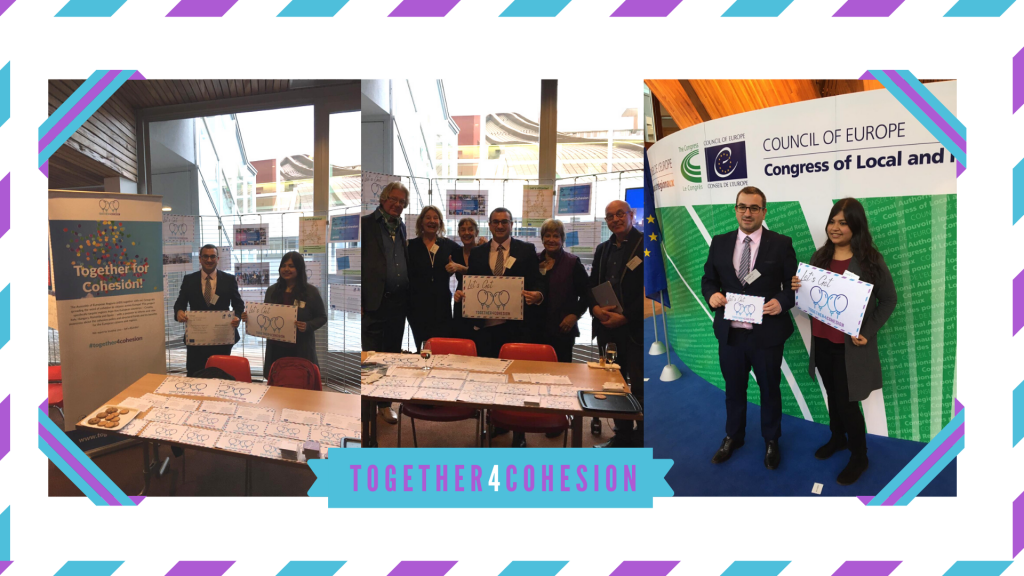 Share this!
The Together for Cohesion project has been represented at the 37th session of the Local and Regional Authorities Congress, led by the Council of Europe and held in Strasbourg on 28-31 October 2019.
At our dedicated stand, project representatives promoted and advertised the project mission and activities to the interested participants attending the congress. Thanks to this event, the project information reached out to many different stakeholders from all over Europe, mostly regional and local civil servants, governmental representatives, politicians and NGOs. Indeed, more than 300 participants took part in the congress and had the opportunity to get insights and Marketing materials from our project, either for information purposes or for getting somehow involved in the project activities. The project's mission is now in the phase of being spread and disseminated all over Europe.
Being also a member of the European Cohesion Alliance and linked to this year congress's theme "Mayors safeguarding democracy", project representatives mentioned to the participants who passed by our information desk the importance of EU cohesion policy and funds as a channel to implement social and economic investments at the grassroots level with the view to fostering better and enhanced growth among the regions. In this sense, AER considers EU cohesion policy and funds as an opportunity to help reduce (territorial) disparities and inequalities across the regions and therefore contribute to the respect of principles of solidarity, equity and good public governance – essential for achieving strong regional and local democracies. Indeed, our project is also touching upon this democratic dimension and is contributing somehow towards sustainable developments goals 8 (economic growth), 10 (reduced inequalities) and 16 (strong institutions).
More precisely, attendees who were interested in our information desk received a showcase on how to use the project website, how to handle the online database of good practices and learn/share about communication campaigns and reflect on examples from other regions for mutual learning. In addition, participants were invited to propose events or activities – within their regions – that can be linked to cohesion and structural funds directly or indirectly. These events are to be included in the so-called "European cohesion calendar of local events" – which is envisaged to provide an overview of the key regional events and activities on the topic of EU cohesion and structural funds, focused on the partner regions. This activity is one of the central hubs of the project implementation and will garner interest not only from the European institutions but also from the regions and citizens themselves!
In conclusion … attendees had the opportunity to learn more about the project either for dissemination purposes or for getting engaged somehow. Our project representation through the dedicated and well-organised stand in such an important event has given a strong visibility boost and political attention – not only from the Council of Europe representatives but also from key regional and local institutions across Europe.
Next Together for Cohesion project visibility activity will take place on 5 December at the AER Bureau meeting in Brussels.
Keen to learn more about this project?
Please contact Eduardo Nadal – EU Projects Manager [email protected] (+32 2 400 10 12)
Follow AER!