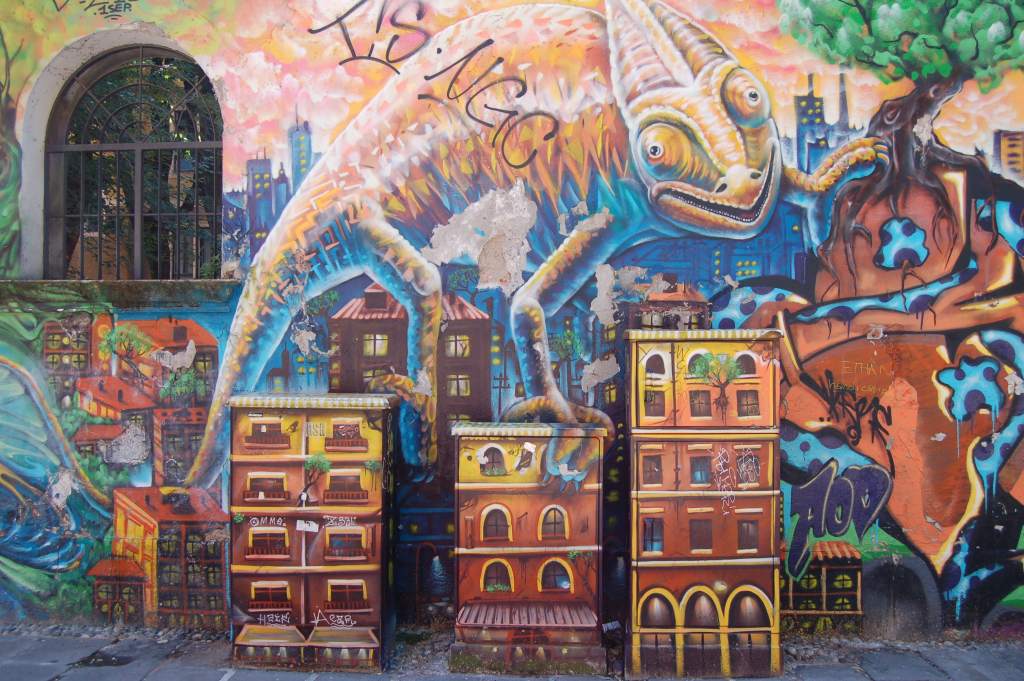 Share this!
At AER's 2018 Summer Academy in Maramures, attendees will partake in a series of exciting, cutting-edge workshops planned by Brussels International. In the first workshop focused on graffiti, delegates will investigate 'how regions can develop city-marketing tools through street art'. During a related workshop, participants will be able to observe and explore a wall painting created by a collaboration between Belgian and Romanian artists on a representative building wall in Baia Mare to commemorate the Summer Academy. Both workshops will be run by artists from Strokar, a Brussels based interdisciplinary creation label dedicated to street art.
The Evolution of Street Art
Originally popularised in the 1970s as forms of advocacy and protest, street art was long tainted by its reputation for defacing public and private spaces. However, over the years as street artists continued to expand into public space graffiti gradually gained acceptance as a form of art that often highlights social and political issues. Today the work of muralists and graffiti writers is an inseparable part of the cultural identity of many cities, with artists using brick walls as their canvases. In recent years due to the rise of social media, street art has begun to move beyond the confines of alleyways and can be seen populating the fronts of stores and bars. With members of Millennials and Gen Z hunting for hip 'Instagramable' shots, cities and businesses have looked to leverage street art as a draw for these demographics. An early pioneer in Europe in turning street art into a public attraction was Berlin whose East Side Gallery –the largest open air gallery of murals in the world– is visited by thousands of tourists every year. BPRS' workshops on street art will give delegates the chance to learn how cities are continuing to utilise modern art forms to increase regional attractiveness.
Events Planned By Brussels International
The upcoming events on urban art are the last in a series of interactive workshops planned by Brussels International. On 7th August, delegates will see first hand a refurbished building of cultural heritage in Baia Mare where Brussels International will conduct a theory based seminar on urban art. Seeing this restored building will enable youth to reflect on the importance of preserving historical sites for future generations, so that they too can celebrate their region's cultural heritage. Additionally, on 7th August, Brussels International will organise a practical seminar on urban art developed in cooperation with Romanian Artists. This seminar will take place over two days, concluding on 9th August with with a unique inauguration ceremony incorporating activities planned with "Baia Mare cultural capital of Romania".
Take-Away
The events planned by Brussels International coincide with the European Year of Cultural Heritage and have been designed to reflect its aims. As a forum for intercultural exchange, the workshops will allow citizens to explore Europe's cultural diversity and the role of cultural heritage in promoting the European identity. Moreover, the events will encourage youth to remain open minded towards other cultures while emphasising the importance of culture as vehicle for the promotion of social inclusion and quality. Participants can also expect to learn about how street art can be used as a tool to increase regional attractiveness and facilitate regional development.
Registrations open!
If you want to participate in this workshop and in many others, just check the Summer Academy practical information and then fill in the registration form available at the AER event page for the 2018 Summer Academy in Maramures (RO).
Check every detail of the event by clicking on the link below!
Follow AER!