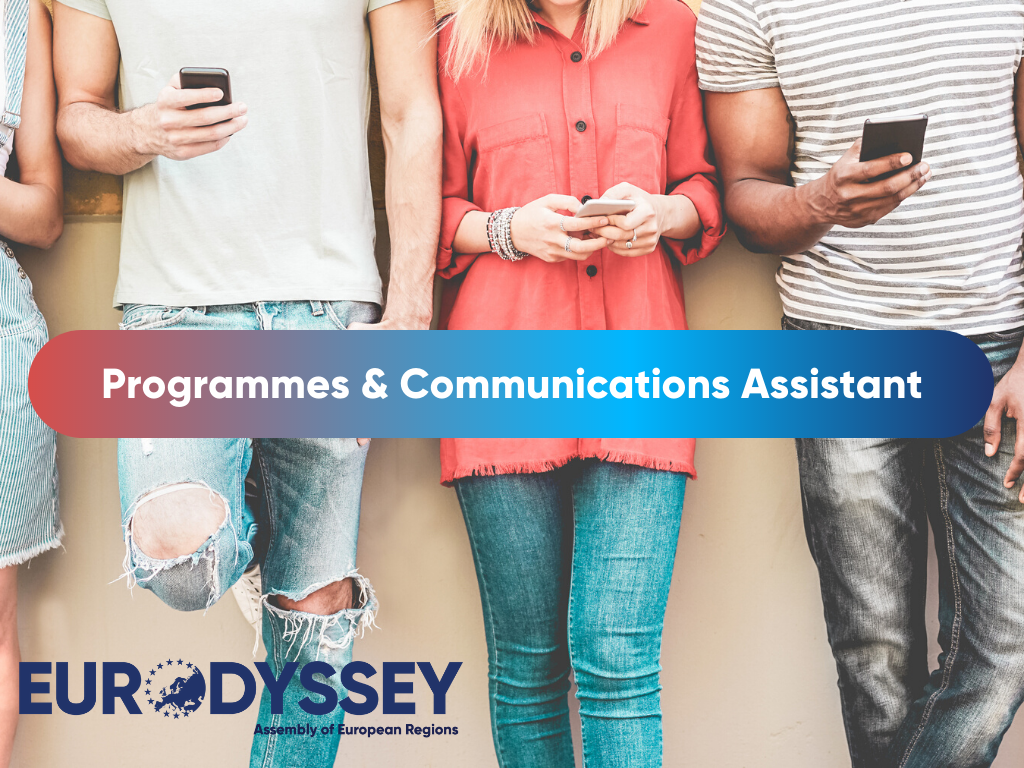 Share this!
AER has a vacancy for a Eurodyssey Trainee to join our team in Brussels as a Programmes & Communications Assistant.
The role is perfect for an outgoing young person who is engaged in youth activism & interested in honing the communications skills.
Eligible trainees should be resident in one of the Eurodyssey member regions.
Description of tasks to be undertaken by the trainee(s)
1) Support the work of AER Programmes coordinator in the field of youth policies.
Supervise and update the statutory quality standards of the AER programmes: Eurodyssey, Summer Academy and the Youth Regional Network (YRN).
Support the organisation of AER's contribution to the European Youth Event 2020.
Contribute to building up AER programmes' membership: updating contact lists, retaining and activating members, attracting new members.
Contribute to the planning and management of programmes' events (e.g. European Youth Event 2020, Eurodyssey Forum, and the 2020 Summer Academy)
Contribute to developing a communication strategy to make Eurodyssey more visible on social media and through the new website.
Collect and curate data to elaborate dynamic graphics and statistics reports for the Eurodyssey programme.
Assist in the preparation of the Eurodyssey Steering Committee meetings and other programme meetings.
Write articles for the AER website, draft reports, take minutes and prepare any pertinent working documents for meetings.
Carry out research activities on topics related to the programmes (e.g. youth mobility and employment, brain drain, "Glocalising" SDGs, the Future of Europe)
2) Support the work of AER in communications management.
Contribute to the communications strategy of AER
Assist in the development and management of our main communication channels (our website, newsletters and social media);
Support the preparation of the annual activity report
Come up with innovative ways of keeping in touch with our members and growing our impact.
Profile of Trainee
Qualification: Educational Qualifications/Vocational Training
We are looking for an intern with knowledge of international and European institutions and decision-making or any previous experience in a European network, interregional cooperation projects or cross-border cooperation. An interest in and understanding of the challenges for youth employment and mobility is important as well as any other socio-economic issues at stake for young people, including the 2030 Agenda for Sustainable Development. The candidates should also prove their competencies in events & communications management.
Personal and Social Skills
We are looking for someone creative, curious, independent and pro-active, self-motivated, full of energy, with a problem-solving attitude and eager to work in an international and multicultural environment.
Language Skills
Excellent command of English, both oral and written, is required and we consider the knowledge of French or other European languages a very relevant asset.
Information Technology (IT) Skills
Highly computer literate
Mac OS
MS Office
WordPress is desirable
Other Prerequisites/Skills
Team-working spirit
---
How to Apply?
Visit the Eurodyssey website and fill out the application form!
---
Follow AER!