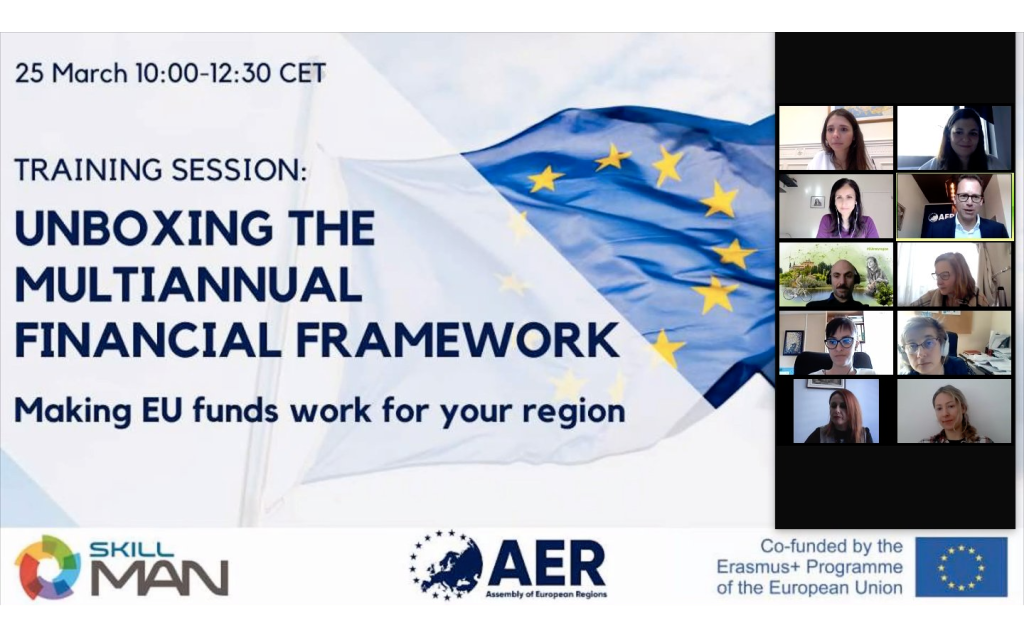 Share this!
Implementing European programmes is often complex. The current programming period contains new rules, instruments and processes that might result difficult for the beneficiaries to fully understand and consequently to put in place the right actions to access them. Additionally, the management and the proper reporting of the use of these funds might be an additional challenge for them that leads to some gaps in how the funds are used.
The implementation and the management of significant projects for the regions, especially after the effects of the pandemic on many sectors, are more necessary than ever. This is why accessing this knowledge will enable many regions in our network to bounce back from the pandemic.
This is a sensitive matter that also the European Commission is committed to address by providing tools and instruments for beneficiaries to strengthen their administrative capacity to access and manage EU funds. This is why the third, and last session of the 'Unboxing the Multiannual Financial Framework' in relation to the SKILLNET project focused this time on EU tools to support administrative capacity building to access EU funds.
Thematically, the webinar gave a comprehensive overview of different typologies of tools and training designed to support regional and national administrations to strengthen their administrative capacity to manage EU funds, prevent mismanagement, fraud and corruption while using the EU funds, and increase their knowledge through mutual learning programmes and exchange of practices.
Administrative and operational capacity building
First of all, Bruno Mola from Directorate-General for Regional and Urban Policy at the European Commission introduced a number of tools developed and already available in order to support your region's administrative capacity-building strategy.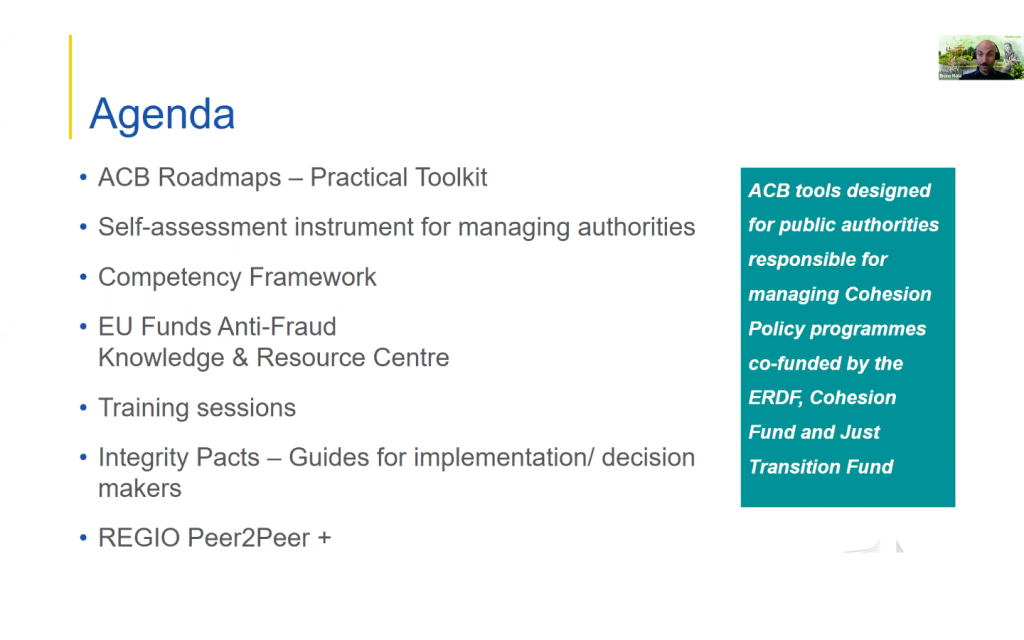 Administrative Capacity Building Roadmap toolkit – This practical toolkit aims to provide inspiration for Member State administrations seeking to develop roadmaps for building their own administrative capacities in order to facilitate programme implementation and encourage good practices. It builds on experiences from the Pilot action on frontloading administrative capacity building to prepare for the post-2020 programming period. In this pilot, five managing authorities and one intermediate body in Bulgaria, Croatia, Greece, Poland and Spain received expertise from the OECD to develop roadmaps to address their administrative capacity-building needs. The OECD has drafted a report, 'Strengthening Governance of EU Funds under Cohesion Policy', on phase 1 of the pilot action which includes key findings and recommendations for managing authorities, national authorities and the European Commission. In phase 2 the OECD has also developed a Self-Assessment Instrument to support managing authorities to assess their strengths and weakness, and then implement selected actions to address their capacity gaps.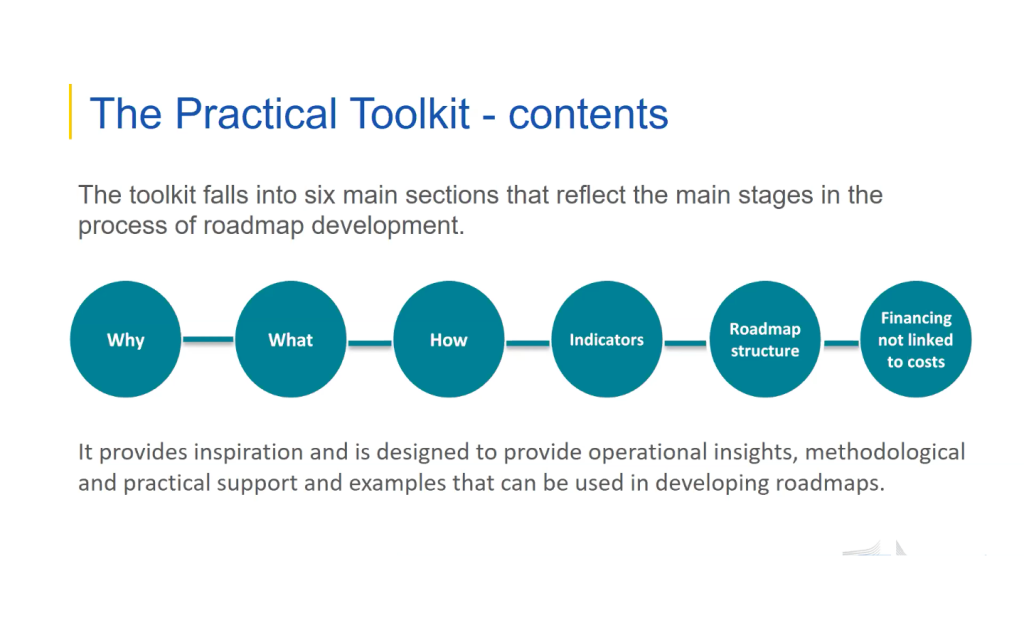 Competency Framework – The Commission is making available an EU Competency Framework for management and implementation of the ERDF and Cohesion Fund and an accompanying web-based Self-Assessment Tool for national coordinating bodies, managing, certifying and audit authorities, joint secretariats and intermediate bodies. These instruments will support administrations in their efforts to improve their administrative capacity for management of the funds by helping them to identify and address potential competency gaps. The EU Competency Framework is a set of excel files that identify the competencies that employees of administrations should possess. It covers all types of administrations that manage or implement the ERDF and Cohesion Fund. The web-based Self-Assessment Tool allows employees to rate their proficiency level for each competency and compare it with their supervisors' assessment and a medium-term development goal set in the EU Competency Framework to provide an overview of the administration as a whole in order to identify competency gaps.
You can get more information by contacting: 👇
Or at
REGIO Peer2Peer+ – TAIEX is the Technical Assistance and Information Exchange instrument of the European Commission. The TAIEX-REGIO PEER 2 PEER expert exchange system was created in cooperation with the Directorate-General for Regional and Urban Policy. It facilitates short-term exchange of know-how between cohesion policy experts and administrations involved in the management of the European Regional Development Fund (ERDF) and the Cohesion Fund in all Member States. It is part of the Commission's broader effort to help Member States strengthen their administrative capacity, thereby improving EU investment outcomes. Public sector institutions involved in the management of the ERDF or Cohesion Fund can request support. Under the TAIEX instrument, three types of exchanges can be provided: short-term expert missions, study visits and workshops.
"To be genuinely effective, the fight against fraud must take a holistic and comprehensive approach and include all the steps in the anti-fraud cycle." 31st Annual PIF Report (published 2020)
Antifraud Knowledge & Resource Centre – Fraud is a big issue, especially when it comes to public money, and especially considering that EU funds are an important part of the public budget in many regions, so it needs to be protected very well. It is also important because this money is intended for people to develop their regions and improve the well-being of their societies in general. So any funding that goes to fraud detracts from the well-being of the people of our regions. For this reason, fraud is something we really need to focus on. But fighting against fraud is a really complex domain made of 4 different steps:
Anti-Fraud cycle:
Prevention
Detection
Reparation
Investigation
They are providing Member States' authorities and anti-fraud practitioners with new tools and materials that will make it easier for them to prevent, detect, report and prosecute fraud and corruption in relation to EU funds. They offer access to videos, good practice examples, case studies, links to relevant legislation and other material on fraud prevention and detection in several languages.
Integrity Pacts – The Directorate General for Regional and Urban Policy of the European Commission is committed to looking for and testing new ways of safeguarding EU funds from the risks of mismanagement, fraud and corruption and increasing transparency in how the funds are used. As one of the initiatives in this field, they have launched a pilot project "Integrity Pacts – Civil Control Mechanism for Safeguarding EU Funds Against Fraud and Corruption". The project is implemented in cooperation with Transparency International and seeks to pilot Integrity Pacts in a number of projects co-financed by the EU Structural and Cohesion Funds in the Member States.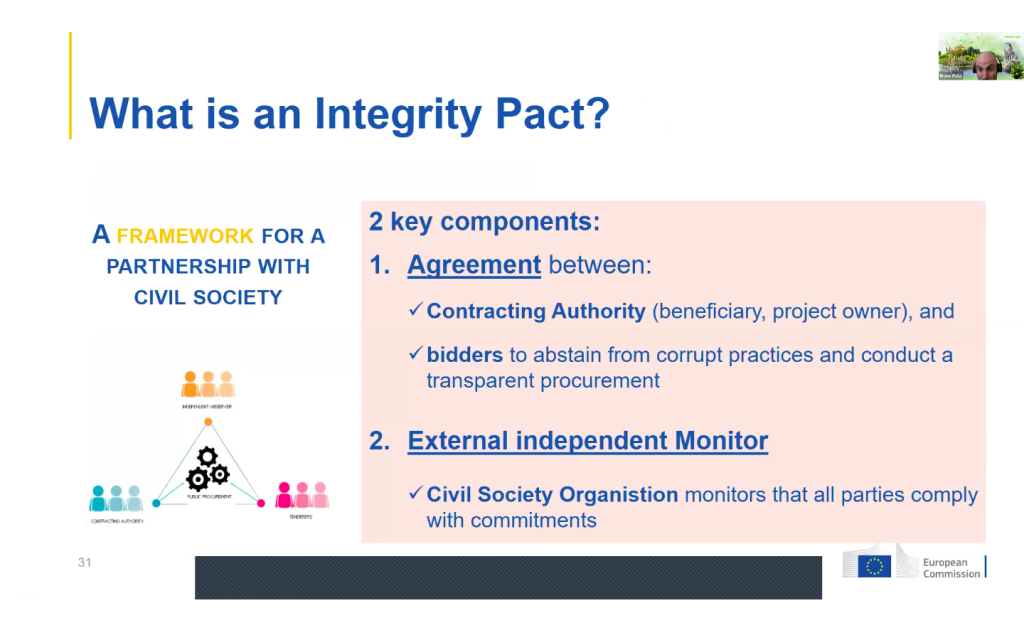 Training – In order to support national and regional authorities managing EU funds in strengthening their work to identify and prevent fraud and corruption in ESI funds, the European Commission is organising a series of hands-on training targeting national and regional authorities responsible for the management of the Structural and Cohesion Funds. The training is designed for participants from ESI Funds managing authorities/ intermediate bodies/ audit authorities and is provided free of charge. Authorities in each Member State are kindly invited to nominate technical level experts, having at least 2 years of experience in ESI Funds, to participate in the training.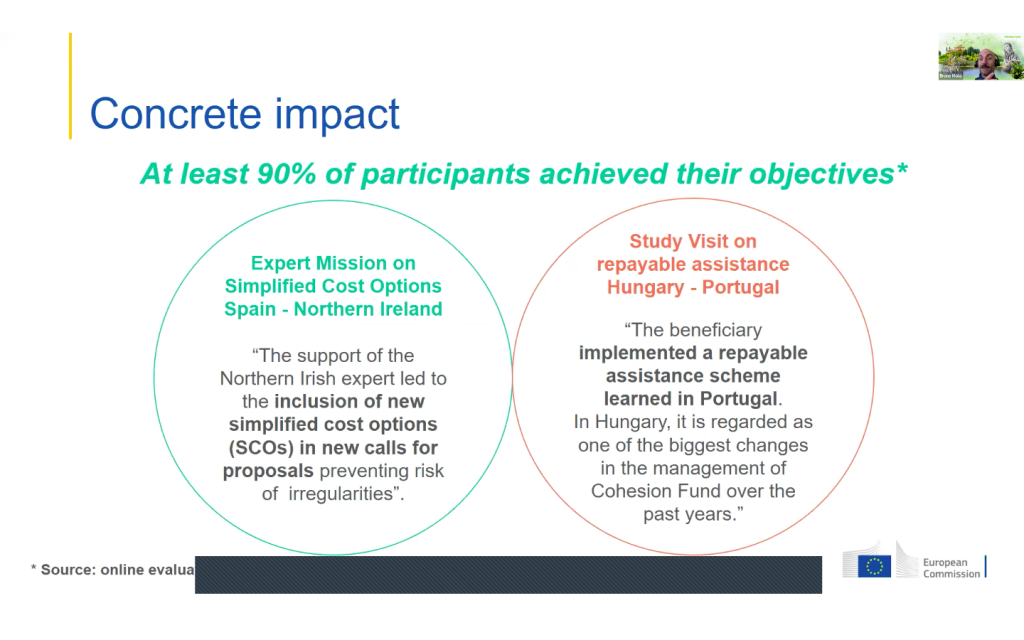 Transnational Cooperation under European Social Fund
Our second speaker, Ms Marianne Doyen from DG EMPL gave insights on the ESF Transnational Cooperation Platform launched by European Commission in 2020, to foster transnational cooperation. The platform builds on work conducted by nine thematic networks operating between 2015 and 2019. It aims to:
Improve cooperation between stakeholders in all Member States – sharing information, knowledge, and experience with the aim to develop joint solutions to common challenges
Build the capacity, skills, and confidence of managing authorities and other stakeholders to apply new knowledge and transfer practices with the support of peers from other countries
Inform EU and national employment policies and reforms, harnessing experiences from the ground
The ESF Transnational Cooperation Platform has an essential aim: mutual learning. It provides the possibility to actively participate in study visits, peer reviews, peer-to-peer trainings, workshops, webinars, and EU-level conferences tailored to the interests and needs.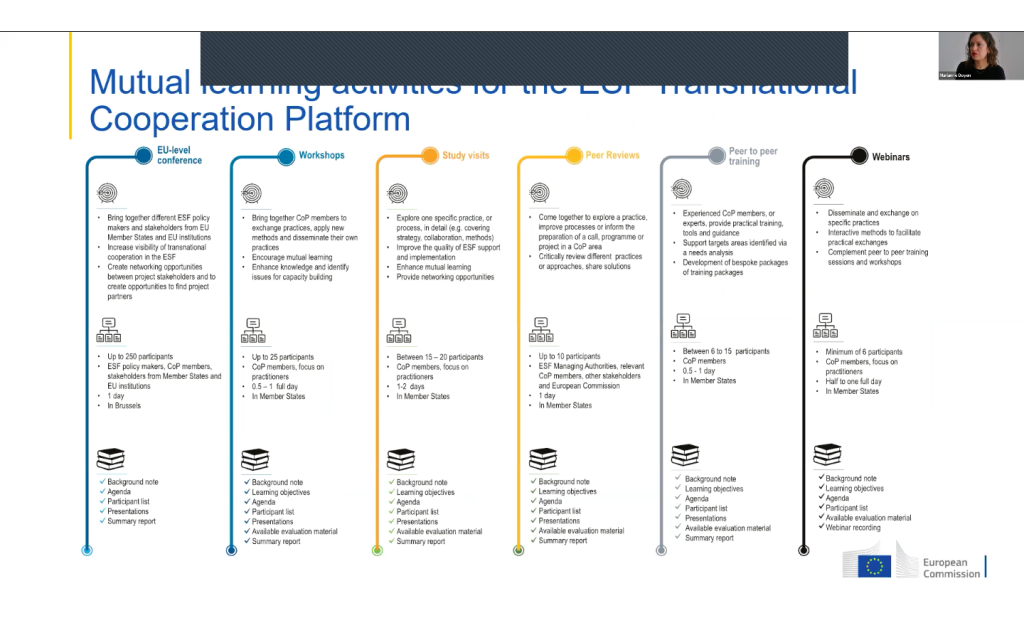 An Anti-Fraud tool in the area of Structural Funds: ARACHNE
"We always pay attention to the fact that EU funds should be used in a correct and proper way" – This is how Christian Spahr, AER Secretary General introduced our two last speakers Mr Luc Molemans consultant and IT Project from the DG EMPL and Mr Luca Baldin external auditor from the DG for Regional and Urban Policy.
ARACHNE is an integrated IT tool for data mining and data enrichment developed by the European Commission. Its objective is to support managing authorities in their administrative controls and management checks in the area of Structural Funds (European Social Fund and European Regional Development Fund).
It establishes a comprehensive database of projects, implemented under the Structural Funds in the EU and enriches the data with publicly available information in order to identify, based on a set of risk indicators, the projects, beneficiaries, contracts and contractors which might be susceptible to risks of fraud, conflict of interest and irregularities. However, it does not aim at assessing the particular individual conduct of fund recipients and does not as such serve to exclude automatically any beneficiaries from the Funds. The tool provides highly valuable risk alerts to enrich management verifications, but it does not supply any proof of error, irregularity or fraud. Furthermore, it can increase the efficiency of project selection, management verifications and further strengthen fraud identification, prevention and detection.
Key takeaways – what advice would our expert panel give to regions?
So what parting advice did our expert panel have for applicants? Their 'top tips' were:
Improve cooperation between stakeholder in different region, to share information, knowledge and experience
Use the training tool provided
Do not hesitate to contact the people in charge of the tools at the European Commission for more information
The AER still on-hand to give one-to-one guidance on how to make the most of EU Funding opportunities. For more information, please contact our European Projects Coordinator, Ms Agnese Pantaloni. In the meantime, you can find our speakers' slides at this link.
***
This training session was organised as part of the Skillnet Project, which is funded by the Erasmus+ Programme of the European Commission. Skillnet aims to strengthen the Vocational Education and Training (VET) system's role and capacity to design high-quality VET programmes tailored to current societal needs through enhanced transnational and cross-sectoral partnerships. To learn more about funding opportunities within the Skillnet Project, visit our dedicated Partnerships in Focus Hub.


Follow AER!