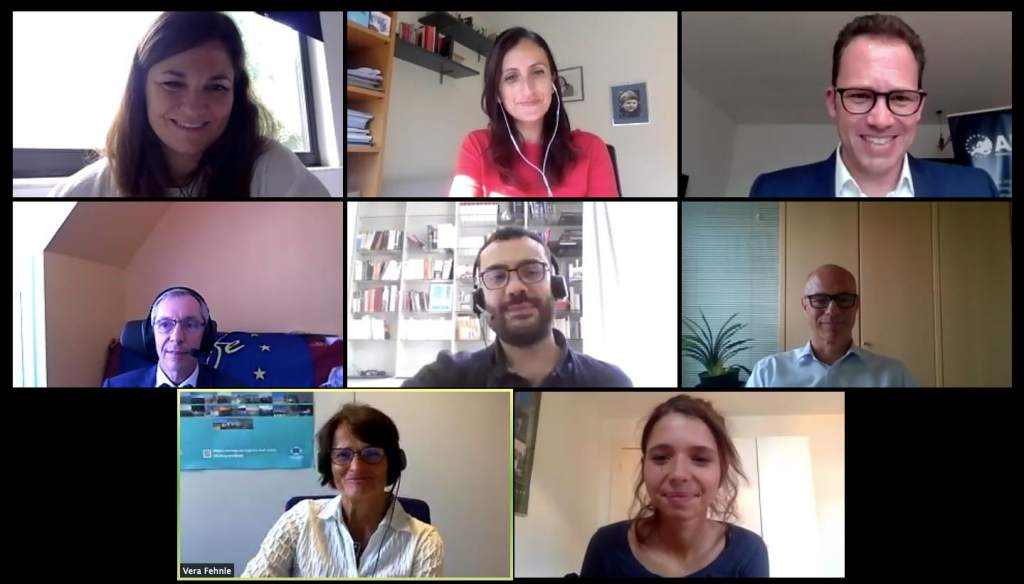 Share this!
"Accessing European funding is often complex. We want to help our nearly 140 members in 30 countries make the best of these possibilities."
This is how Christian Spahr, AER Secretary General opened our second webinar on EU funding opportunities for regions, "Unboxing the MFF – Accessing Direct Grant Funding Programmes".
The programmes under discussion: Erasmus Plus, Creative Europe, LIFE, Horizon and Digital Europe are core building blocks of the Multiannual Financial Framework (MFF), the EU's €2.018 trillion long-term budget.
These programmes will be a crucial source of source of funding for regions in areas as diverse as skill development, technological innovation, the green transition and promoting our cultural heritage into the future. As Christian Spahr put it, "These programmes are essential for a sustainable recovery and to create better living conditions for the citizens in our regions."
So how can regions make the best of the updated programmes? We invited experts from the European Commission to give regions an overview of funding opportunities in the Autumn edition of 'Unboxing the MFF'.
Our wrap-up below gives a flavour of what is on offer to regions. More detailed information is available through the AER Project Unit. You can check out our speakers' presentations here.
Erasmus+
Erasmus+ is perhaps the best-known of the EU's programmes. Supporting education, training, youth and sport across Europe, it has seen its budget nearly double to €26.2 billion in the new MFF, meaning there are significant opportunities for regions within it. But how can regions tap into the substantial resources available to support their communities?
The first thing is understanding the new "horizontal priorities" for the programme, and coming forward with proposals that are a good match for at least one of them. For the new programme, these are 'Greening' the programme to make mobility more sustainable, 'Digitalising' it through increasing access to digital learning tools, and enhancing 'Inclusion & Diversity', i.e. making the programme more accessible to groups that have not been able to benefit from Erasmus+ before. Our first speaker from the Erasmus+ Coordination Unit, Mr Dario Nicolella stressed that these elements "should really be reflected in project proposals" to improve the odds of being selected.
One novelty he noted that will be of interest to regional and local authorities are the Cooperation Partnerships. Among these, the small scale projects are geared towards "participants with less experience and grassroots organisations." They have smaller budgets and have simplified rules, with lump sums of either €30,000 or €60,000 available. Those wishing to apply should form a consortium made up of at least three EU or partner countries, and address one of the horizontal priorities mentioned above. For larger activities, the new 'lump sum' model will also be applied to projects from 2022, with budgets of €120,000, €250,000 or €400,000 available. The ultimate aim, he explained, is to "transition to a simpler and more flexible budget model." The AER Project Unit is available to provide further guidance on accessing these funding opportunities.
Creative Europe
Creative Europe provides support to the culture and audiovisual sectors across and beyond Europe. Similar to Erasmus+, Creative Europe has cross-cutting priorities to be addressed by all projects: inclusion, diversity, gender equality and greening.
With an increased budget of €2.4 billion, this programme will finance actions in the cultural and creative sectors to promote European cultural and linguistic diversity and heritage. The programme is divided into three strands:
Culture: covering actions in the cultural and creative sectors (except the audiovisual sector)
Media: covering activities in the audiovisual sector
Cross-sectoral: covering actions across all cultural and creative sectors.
So what's in it for regions? Ms Kastner said that the supports available under the European cooperation projects are an area "where regions can have a big impact", including in identifying micro-organisations that might be interested in the programme. The cooperation projects also support cross-border cooperation, and provide higher pre-financing and co-financing rates. There is also greater flexibility on the number of partners in each consortium, with the European Commission adding a new "medium scale" category for consortiums of five partners in five countries. To find out more about these calls, Ms Kastner advised interested parties to contact the Creative Europe Desks in their country.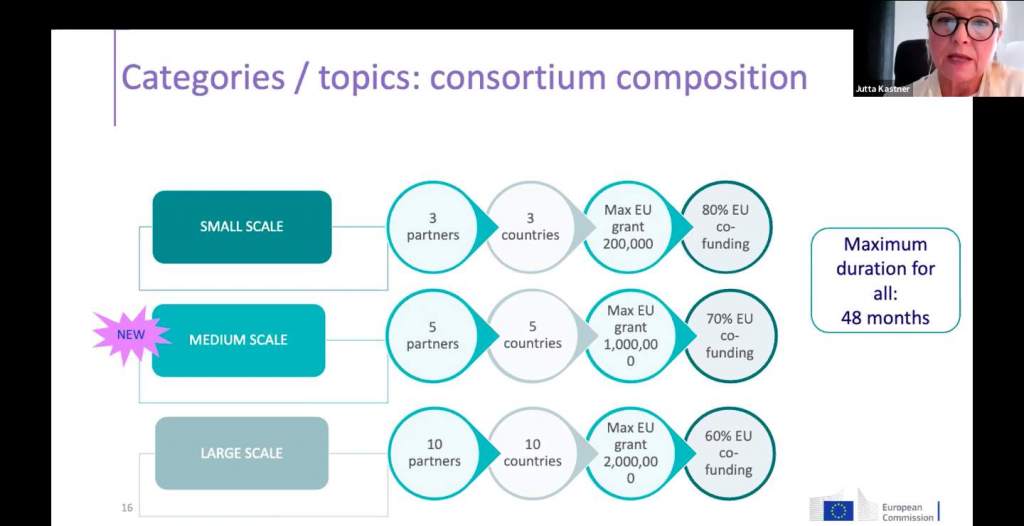 Are associate countries eligible for calls under Creative Europe programme? Ms Kastner advised regions from these areas to "check how far the accession to the programme has advanced" in their country, and that "it is a good idea to start looking for partners" if they are interested in joining a consortium to join a project.
Digital Europe & Horizon Europe
Our next expert speaker from the European Commission, Mr Andreas Geiss took us through Digital Europe, which is focused on bringing digital technology to businesses, citizens and public administrations, and has a budget of €7.58 billion to spent over the life of the programme.
The aim of Digital Europe, Mr Geiss explained, "is to accelerate best use of digital technologies; increasing digital innovation hubs and focusing on high-impact digital technologies: high-performance computing, Artificial Intelligence, cybersecurity and advanced digital skills." Through this, the goal is for Europe "to become less dependent on systems and solutions coming from other parts of the world."
There are funding instruments available through Digital Europe that regions can avail of. For example, grants for capacity building and deployment, grants for support and coordination, single entity procurement and joint procurement (you can view the sub-actions below). Of particular interest will be the support action of between 50% and 70% for SMEs. The first set of calls in digital tech and the European Digital Innovation Hubs have already been launched, and you can find out more about the conditions for the calls in the tender opportunities portal.
Next up was the Horizon Europe programme, which aims to boost European research and innovation through its substantial budget of €95.5 billion. Our two experts, Mr Clement Evroux and Ms Vera Fehnle pointed to areas within Horizon that can make a big difference for regions. "Under Pillar 2," Mr Evroux explained, regions and local authorities "play an active role in a high number of work programmes".
Pillar II (see chart below) is clustered into an array of areas, including 'Health', 'Culture', 'Creativity & Inclusive Society', 'Digital, Industry & Space', and 'Climate, Energy & Mobility.'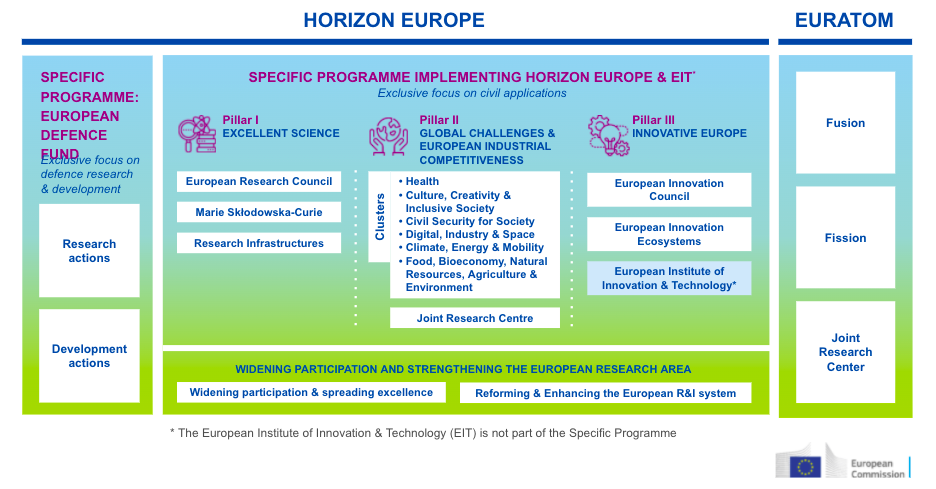 Ms Fehnle highlighted that Horizon's co-funded partnerships offer national and regional public authorities the possibility of participating as partners. She noted that some co-funded partnerships should include "a geographically representative distribution of national and regional research and innovation authorities and funding agencies from EU Member States."
Co-funded partnerships are included in Cluster 1 (Health), Cluster 5 (Climate, Energy & Mobility) and Cluster 6 (Food, Bio Economy, Natural Resources, Agriculture and Environment). Participation of regions is also encouraged in Cluster 2 (under 'Safeguarding Endangered Languages in Europe, Coordination and Support action') and Cluster 3 (Civil Security for Society, Disaster-resilient society for Europe and one topic on Resilient Infrastructure). More details of actions targeting regions can be found in the presentation slides.
The subsection of the programme dedicated to 'Widening Participation and Strengthening the European Research area' is "also of particular relevance to regions."
The LIFE Programme
We closed the session with an overview of the LIFE Programme from our final European Commission presenters, Mr Jean-Claude Merciol and Mr Pierluca Merola. The LIFE programme, worth €5.4 billion, supports projects related to environment and climate action. LIFE's budget has increased by €2 billion for the 2020-2027 period. Mr Merciol noted there has also been "a shift in priorities towards the circular economy", and the new programme "has a greater focus on nature and biodiversity."
The good news for regions, according to Mr Merciol, is that "smaller projects at regional level can make a big impact," and most projects take "a bottom up approach". Indeed, outermost regions, for example, can avail of small scale grants under LIFE for projects that make a contribution to halting and reversing biodiversity loss "up to 100%."
Mr Merola went into more depth on the sub-programme clean energy transition, which contributes "to creating market and regulatory conditions enabling the green transition in the EU's territories." He noted two areas of particular interest to regions: the development of local and regional investment projects and the another aimed at involving citizens in the clean energy transition.
Key takeaways — what advice would our expert panel give to regions?
So what parting advice did our expert panel have for applicants? Their 'top tips' were:
Keep an eye on the portals for open calls
Have a clear idea of what you want to do
Look for consortiums and find partners as early as possible
Still not sure where to start? Want a more detailed briefing on this Training Session and other funding opportunities? The AER is on-hand to give one-to-one guidance on how to make the most of EU Funding opportunities. For more information, please contact our European Projects Coordinator, Ms Agnese Pantaloni.
In the meantime, you can find our speakers' slides at this link. Make sure to keep an eye on our website to find out when the final webinar in our "Unboxing the MFF" series is announced!
***
This training session was organised as part of the Skillnet Project, which is funded by the Erasmus+ Programme of the European Commission. Skillnet aims to strengthen the Vocational Education and Training (VET) system's role and capacity to design high-quality VET programmes tailored to current societal needs through enhanced transnational and cross-sectoral partnerships. To learn more about funding opportunities within the Skillnet Project, visit our dedicated Partnerships in Focus Hub.


Follow AER!