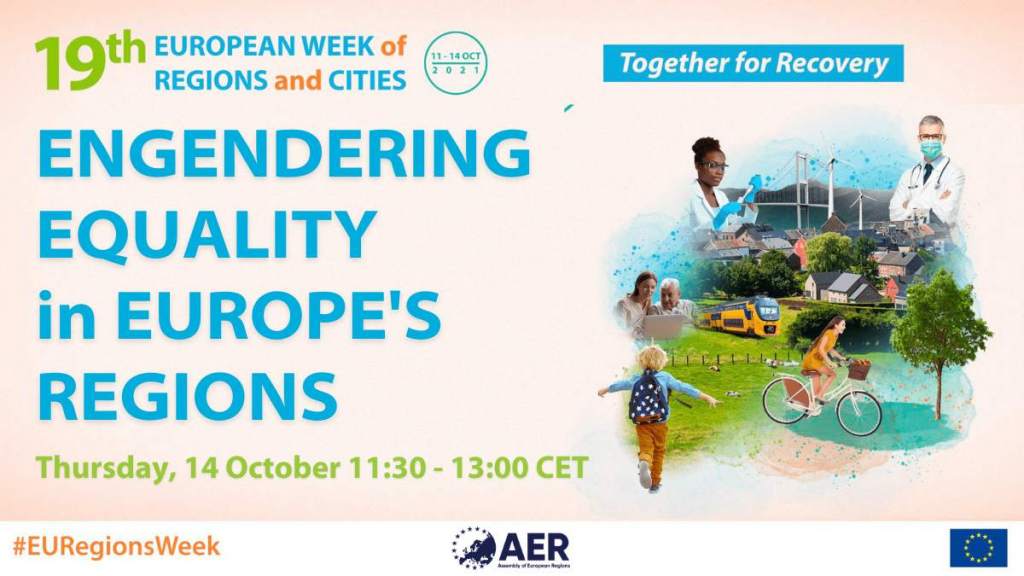 Share this!
We are delighted to announce that the AER is once again a partner for the annual European Week of Regions & Cities. The 2021 edition of #EURegionsWeek will continue in an online format, and it is our pleasure to invite you to our virtual workshop on…
An Equal Europe?
A truly democratic Europe demands an equal voice for all. Indeed, making "significant progress" towards a gender-equal Europe by 2025 is a key objective of the European Union, while 'achieving gender equality and empowering all women and girls' is enshrined as goal number five of the United Nations' Sustainable Development Goals (SDGs). Yet, at the current rate of progress, the World Economic Forum estimates that it will take 107 years to achieve equal representation of men and women. This issue has a strong regional and local dimension, with women making up only 30% of locally elected representatives. What can be done to accelerate this process of equalisation and overcome this persistent democratic deficit?
Share your ideas for achieving Equality!
This #EURegionsWeek, the AER is delighted to bring you 'Engendering Equality in Europe's Regions.' This interactive citizens' debate will bring together the audience, politicians and civil society to share ideas on how regions can help bring about a truly equal Europe.
Speaking at our workshop will be:
Helena Dalli, European Commissioner for Equality
Cllr Andrew Gibson, AER Vice President for Inclusion, Diversity & Equal Opportunities
Cllr Alison Gilliland, Lord Mayor of Dublin (IE), Member of the European Committee of the Regions
Robert Biedroń, Member of the European Parliament, Vice-Chair of the Committee on Women's Rights and Gender Equality
Our moderator will be Dr Angela-Unufe Kennedy, CEO of the Migrant & Minority Disability Network Europe.
During the debate, AER Secretary General, Christian Spahr will present fresh data from an opinion poll gathering the views of citizens across seven European countries. Their responses will shed new light on the barriers to entry young women face in our regions. You are invited to join our panellists for what promises to be a lively discussion on how to make our democratic systems more accessible and representative, starting at the regional level.
How can I join?
This workshop will take place via Zoom. Registrations will open on Monday, 30 August, so keep an eye on our event page!


Follow AER!