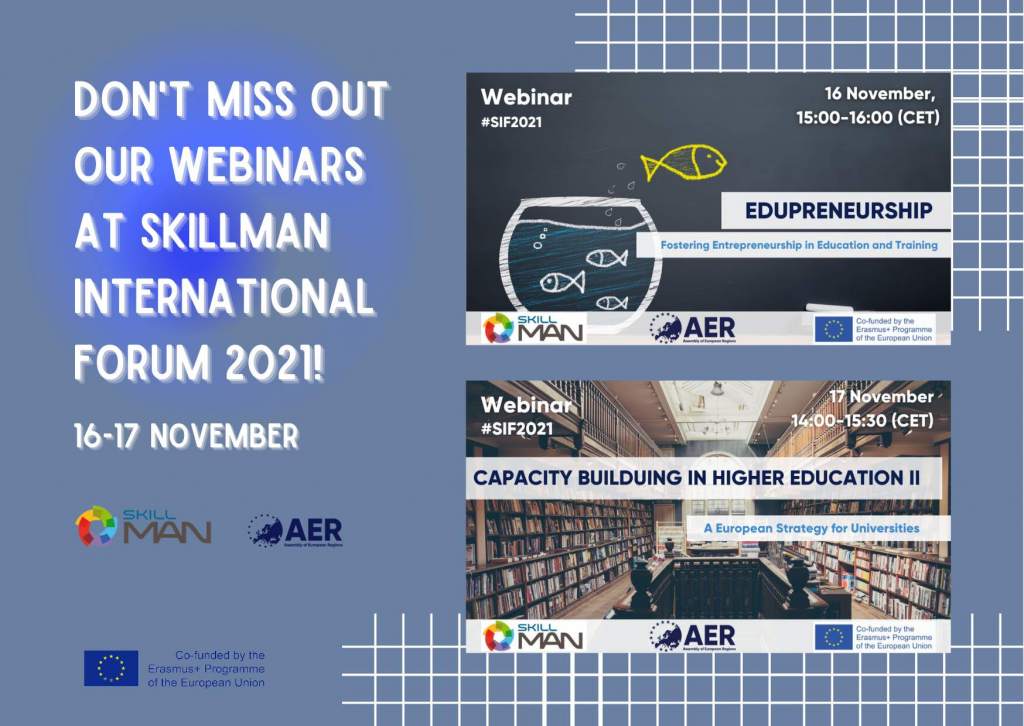 Share this!
About Skillman International Forum 2021
The 7th edition of the Skillman International Forum (SIF) 2021 is taking place online from 15-18 November 2021 and plans to discuss how to redefine the future of learning with a focus on the advanced manufacturing sector but not exclusively. This year the forum addresses three main topics: Digital and green revolution, Micro-credentials and Sharing is Caring.
Join AER at SIF 2021!
As a proud partner of the SIF 2021, organised within the Skillnet project, the Assembly of European Regions will contribute in manifold ways. During the opening on 15 November, AER President Magnus Berntsson will give a keynote speech on AER vision on society and education. On the afternoon of the same day, the Project and Advocacy Unit represented by Birgit Sandu and Anna Comacchio, will present AER role, work and results during the project and a plan for the advocacy campaign to be led by the Skillnet consortium in the months to come.
In addition, AER will host two online webinars on 16 and 17 of November entitled 'Fostering Entrepreneurship in Education' and 'Training and Capacity Building in Higher Education II- A European Strategy for Universities'.
16 November: Fostering Entrepreneurship in Education and Training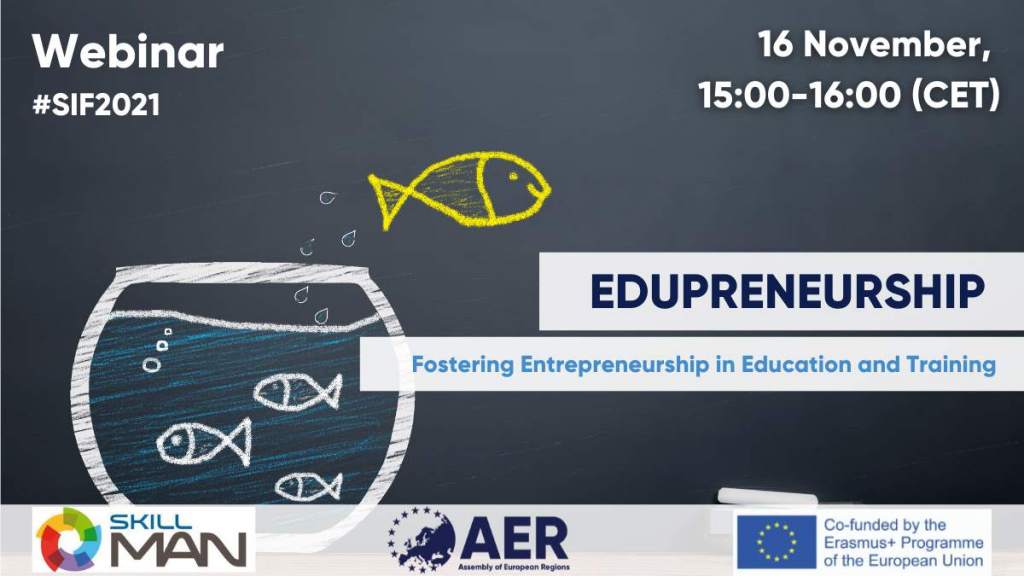 The global pandemic has left many freelancers and entrepreneurs without income for months, which imposes an incoming challenge to stimulating entrepreneurship. If we want Europe to continue to nurture talent, create great startups and compete on a global scale we need to teach entrepreneurship. This will require joint efforts from the public and private sectors, as well as regional, national governments and European Institutions.
In this webinar, we will have a glimpse of different actions needed at different levels to foster an inclusive entrepreneurial mindset and discuss local challenges for their implementation and applicability.
Speakers include:
Kristina Detelj, Zagreb University, Faculty of Organisation and Informatics Varazdin, "WeRin: Women Entrepreneurs in Regional Inclusive Entrepreneurial Ecosystems" (Croatia);
Richard Tunstall, Associate Professor of Enterprise, Entrepreneurship Education, Leeds University Business School;
Annabelle Favreau, EU project manager – DG Entreprise (Extremadura – Spain)
Minna Melleri, Director of Advocacy & Growth, JA Europe, "Entrepreneurial Skills Pass".
Moderator: Manos Andreadis, Responsible for the Erasmus for Young Entrepreneurs Programme as National Contact Point in Greece.
17 November: Capacity Building in Higher Education II- A European Strategy for Universities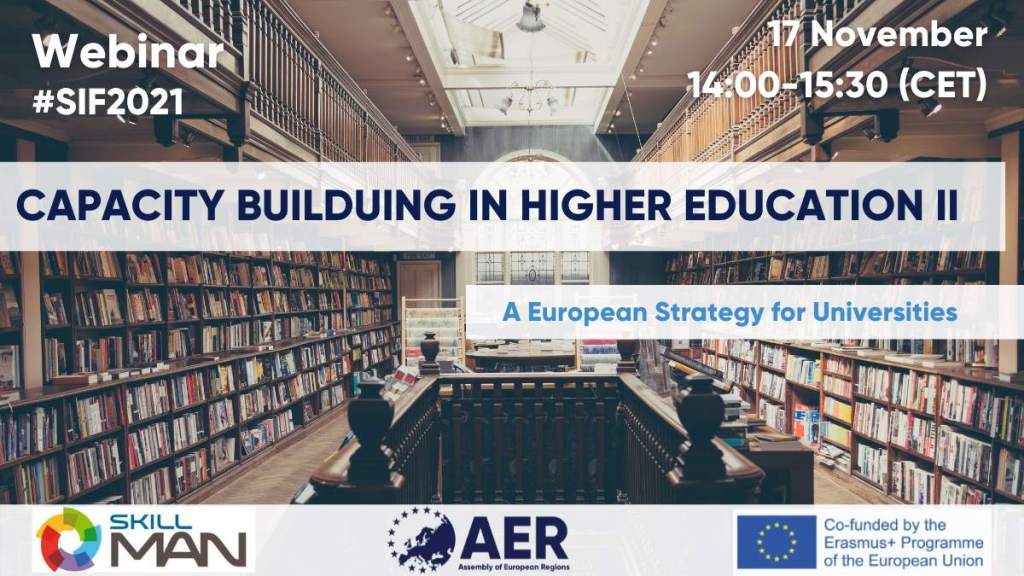 The higher education sector is key for finding solutions towards a sustainable and more digital Europe, as well as for equipping students (and professors) with the competences that our fast-changing society and economy need.
The webinar will look at digital capacity building opportunities, ensuring it is reinforced and made more resilient, especially considering the COVID-19 impact on learning. Next to the digital aspect, we will also discuss green and sustainable capacity building solutions for higher education.
Speakers include:
Dr. Thrasyvoulos Tsiatsos, Project Manager EPICUR Inter-University Campus;
Armando Pires, President of EURASHE;
Brikena Xhomaqi, Director of the Lifelong Learning Platform (Video message).
Moderator: Johanna Pacevicius, AER Coordinator for Policy and Knowledge Sharing.
---
Stay tuned on our social channels for the latest updates and follow the hashtag #SIF2021! For other questions, don't hesitate to contact: [email protected]




Follow AER!