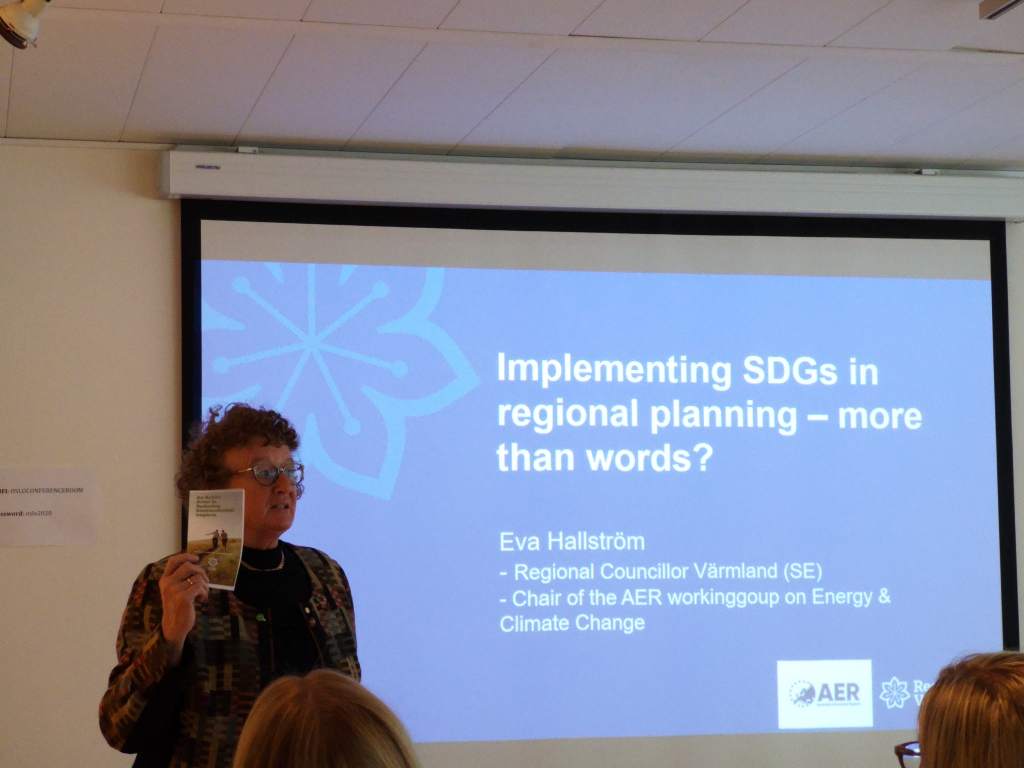 Share this!
On the morning of 15 May 2019, AER and Oppland (NO) co-organised a Breakfast Seminar entitled "The Sustainable Development Goals and regional growth – Is it possible?", which took place at Oslo Region European Office in Brussels
The sustainable development goals (SGD) call upon governments, businesses and civil society to come together and work towards a sustainable planet, leaving no one behind. Many, if not all regions, are working towards this in one form or another.
The discussion, moderated by Turid Wulff Knutssen from Oppland County, featured input from Oppland County, (NO), Region Värmland (SE), Flanders (BE) and the OECD Centre for Entrepreneurship, SMEs, Regions and Cities.
After some warm words of welcome by Even A. Hagen, County Mayor, Oppland, the discussion turned to the subject of how to build a new region in the light of Sustainable Development Goals? Erik Lagethon, Advisor on Regional Development for Oppland County Authority shared his views on how the SDGs can be framework or roadmap for regional planning and the upcoming merger of the Oppland and Hedmark regions in Norway.
Stina Heikkila, Consultant on Territorial Approaches for the SDGs at the OECD, spoke about the OECD's work on a Territorial Approach to the Sustainable Development Goals.
AER Working Group on Climate Change and Energy Chairperson, Eva Hallström, took the floor to present her view on "Implementing SDGs in regional planning – more than words?" and to give examples from her region, Värmland (SE) before being joined by Ine Baetens, Expert on Sustainable Development for Flanders (BE), who presented "Vision 2050: a long-term strategy for Flanders" linked to the SDGs.
Is the question really Growth vs Sustainability?
Many of the speakers highlighted that the paradigm needn't be so black and white. Regions, national governments and international organisations are looking beyond economic growth alone for indicators for progress. Social and environmental factors, as well as happiness indices, can also be used as measures that we are moving in the right direction.
How best should regions approach the SDGs?
Whether undergoing regional restructuring or simply reflecting on how to move forward on the Global Goals the consensus was that regions need to anchor the #SDGs in an interdisciplinary way, taking a whole of government approach, involving all stakeholders and avoiding that the Goals are siloed into the work of the regional department for the environment, for example.
Additionally, when looking at the 17 Sustainable Development Goals, regions need to go 'all-in' rather than focusing on one or two goals that suit their current work plans or are likely to lead to successful outcomes.
An integrated approach is fundamental to ensuring progress made has the widest possible impact. As such, comprehensive implementation is therefore essential to ensuring success.
Emphasis needs to be placed on including reporting and evaluation into a regional SDG strategy to avoid 'greenwashing'.
It may be demanding & time-consuming to implement SDG's into regional planning but the consensus at this widely-attended event was that the effort is undoubtedly worthwhile.
What can be done? And where do we start?
This event jointly organised by AER and Oppland County is a direct result of the 2019 AER Committee Plenaries in Örebro, Sweden, where sharing best practices and knowledge exchange takes centre stage.
In this spirit, the breakfast seminar afforded the regions present to exchange on concrete actions they have undertaken to inspire others to do the same.
One such example is the Oppland County Bioeconomy Strategy and the integrated approach taken in this work. In a similar vein, Värmland County Council shared its experience as Swedens most sustainable County Council. Citing the award it received for Europe's first LEED Healthcare Gold-certified hospital, Värmland showed how its active efforts for a sustainable environment have yielded positive results.
The Flanders region in Belgium also shared its experience of how it has grown to change the way we perceive what it means to evolve in the right direction. The wide-ranged efforts untaken have covered everything from Blue Growth (moving from subsidising fossil fuels to subsidising waste removal from the seas) through to Industry 4.0 & the circular and sharing economies.
Erik Lagethon, Oppland County

Stina Heikkilä, OECD

Ine Baetens, Flanders

Eva Hallström, Region Värmland
Follow AER!