Share this!
Following the meeting on 20 May between AER President Dr Hande Özsan Bozatli, Secretary General Mathieu Mori and the new politicians from the Ile-de-France region, three more French regions have been visited from 25th to 27th of May by the AER. After the regional elections that took place in France a few months ago and the reform of French regions, AER wanted to meet the new executives of the regions and show its solidarity with its members at a challenging institutional times which has seen many regions merge.
Mr Magnus Berntsson, AER Vice-President, SG Mathieu Mori and officer Mikael Appelqvist have visited the new regions of Aquitaine-Limousin-Poitou-Charentes ; Bourgogne-Franche-Comté and Auvergne-Rhône-Alpes.

Wednesday 25 May – Aquitaine-Limousin-Poitou-Charentes
Mr Mori met in Bordeaux with Ms Isabelle Boudineau, Vice President for European and International affairs in Aquitaine Limousin Poitou-Charentes. Youth mobility through Eurodyssey, e-health and green energy are topics which have been identified during the meeting, where work with AER could be envisaged. The new region will need time to adjust to its new institutional framework but the dialogue will continue in order to hopefully see a revitalised partnership in the forthcoming months.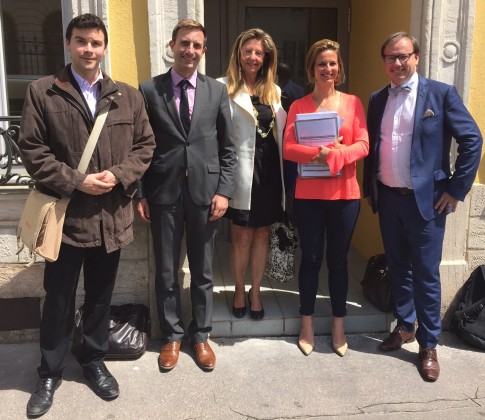 Thursday 26 May – Bourgogne-Franche-Comté
AER met in Dijon with Ms Océane Charret Godard, Vice-President in charge of research, higher education and university and her team in the newly created region. The newly elected representative of the region has confirmed the continuation of the regional engagement in the Eurodyssey programme and its enlargement to the youth of Burgundy. Apart from the obvious advantage for youth, the programme was also praised for giving the opportunity to regional SMEs to welcome foreign young people, which is less the case with other European mobility programmes. The region would like to use Eurodyssey to go further in welcoming young people in the specific field of expertise of their regional companies in order to promote their very specific skills. After the region settles into its new ways of working, Ms Charret Godard would like to widen the involvement of the region in AER on the topics of education, innovation and research. AER and its regions look forward and stay ready for this further commitment.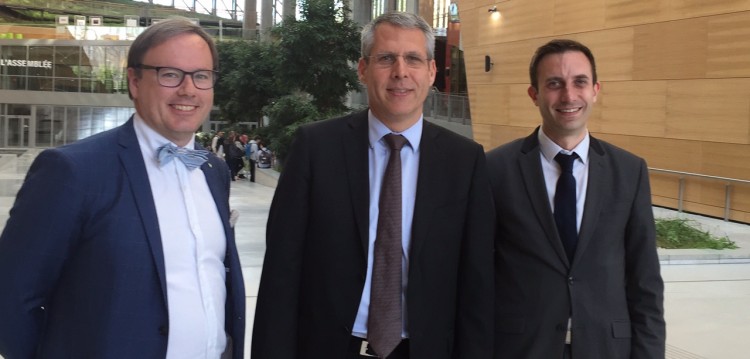 Friday 27 May – Auvergne-Rhône-Alpes
A new executive in a new region, represented by Mr Philippe Meunier, Vice-President for international partnerships welcomed in Lyon the AER delegation. The emphasis of their mandate is put on economic growth, developing business links with investors from other regions and promoting youth employment. The fact that AER covers much more than the EU member states is a great asset for the region. Particularly interested in developing links with Eastern Europe, Russia, the Balkans, the Black Sea area, AER will work at developing the links between its members from this geography and this highly dynamic and innovative region. The Eurodyssey programme will remain a key involvement of the region especially for the young persons with a more technical profile.
With a highly recognised cluster on e-health, the region would also be welcomed to join our work in this area.
With bigger regions and new politicians in many regions, AER looks forward to strengthening its partnership with French regions and will continue to meet with them throughout the year. If all French regions we met ask for some more time to be again 100% operational in international networks, time to organise the new way regions work and, in some cases time for newly elected politicians to settle down in their new positions, they know that AER is ready to help them in any way it can and is eagerly looking forward to having them on board as soon as they can.
Follow AER!