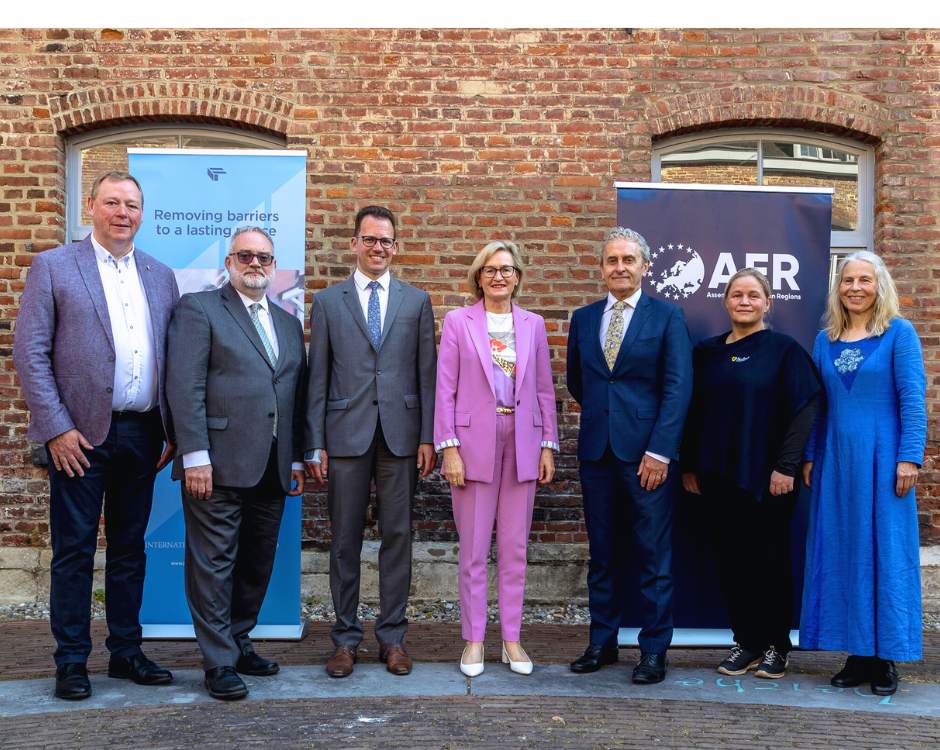 Share this!
On the 7th of June, the International Fund for Ireland (IFI) and the Irish College of Leuven organised a study trip in Messines, Flanders, to commemorate the fallen Irish soldiers in the Flanders fields, during World War I.
The following day opening the Conference, AER's Vice-President for Interregional and Global Cooperation Jean-Luc Vanraes, originally from Ypres, Flanders, joined IFI Chair Paddy Harte to reflect on the collective trauma of war in Europe and the creation of the European Economic Community thereafter.
The catastrophic legacy of war in Europe was a catalyst for a European idea of democracy and the Peace Process in Ireland; where human rights and dignity, social justice, the rule of law and active citizenship at all levels of government form the bedrock of peace and stability. So while we might come from different backgrounds, these values bind us together, and underpin the decades of work undertaken by AER and IFI to promote lasting peace.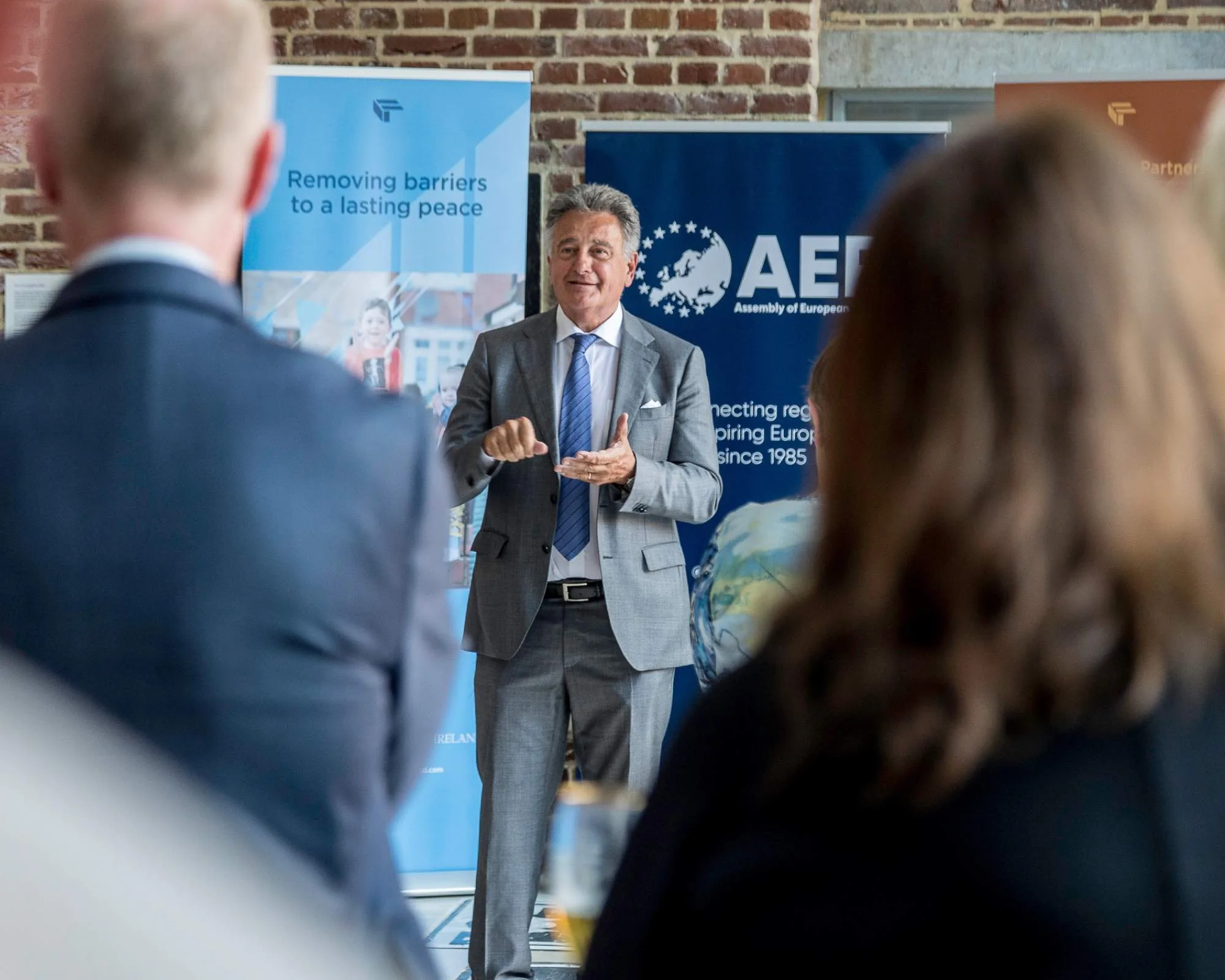 This starts with reflecting on how far we have come by exploring our shared historical experience of war and the human cost. Vice President Vanraes talked about his family's experience of the First World War, and importance of commemorative work carried out in the city and region. Representatives from Donegal County Council presented the participation of Donegal soldiers in Belgian battlefields during WWI, and launched the First World War Donegal Book of Honour digital database, remembering and paying tribute to the stories and identity of Irish soldiers from Donegal. In a coincidence that shows how our closely our histories can be linked, it emerged from those discussions that Donegal soldiers and medical personnel were based in the Flemish city of Poperinge—where Vice President Vanraes' grandmother was from lived through the First World War.
Turning from reflection on the legacy of war to the work of building peace, to mark the 25th anniversary of the Belfast / Good Friday Agreement, the Assembly of European Regions (AER) and the IFI held the "PEACE25: Everyday peacemakers" Conference, hosted in the Irish College Leuven, in Flanders, Belgium.
Building from the AER Summer Academy 2022 in Donegal County and Derry City, the PEACE25 Conference allowed to hear from high-level stakeholders and practitioners about the peace and reconciliation process, and the role of local and regional "everyday peacemakers" to preserve it and to pass on the learnings to the younger generations.
Remembering the past, preserving peace
"The past needs to be recalled", European Commissioner Mairead McGuinness emphasised as she was delivering her keynote address at the PEACE25 Conference, "not as a burden, but actually as a reminder of how people can sometimes have such disputes and differences and fears and traumas that violence prevails".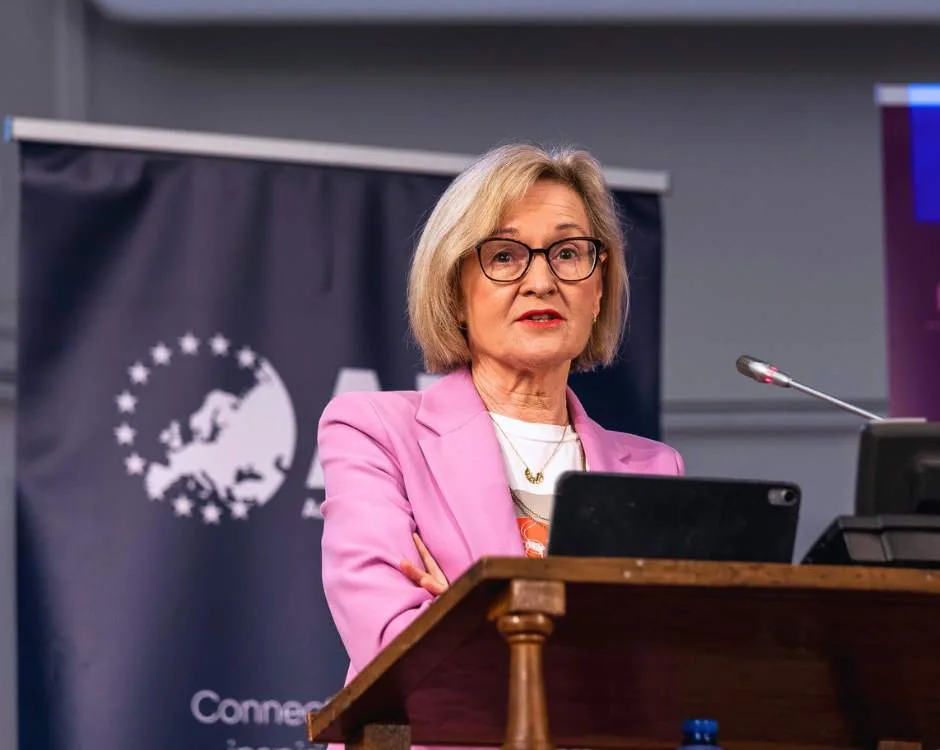 Achieving peace was a hard-won process in Ireland, and preserving peace and reconciliation on the island is at the core of the IFI and PEACEPLUS programmes. The Troubles lasted 30 years, throughout which 3,720 people were killed, and more than 47,000 people were injured, as a result of more than 36,000 shootings and 16,000 bombings. Then came the Belfast / Good Friday Agreement, achieving peace understood as "the absence of violence", what Kyra Reynolds, from the IFI Peace Barriers Programme, referred to as "negative peace". If "negative peace" was achieved, "positive peace" Ms Reynolds touched upon, is still an ongoing, complex process, which encompasses respecting diversity, accepting differences, building relationships between different identities, and restoring trust.
Preserving "negative peace" on the one hand, and building "positive peace" on the other, is a process that needs to be provided with adequate resources, and protected against unforeseen circumstances that might jeopardise it. Gina McIntyre, CEO of the Special EU Programmes Body (SEUPB) in charge of managing PEACEPLUS funding, flagged the "fundamental" importance of EU membership, both for reaching the Good Friday Agreement and for building and preserving peace in Ireland. Brexit for example, was cited by several speakers as posing a real threat to this fragile, hard-won peace and still ongoing reconciliation. "Thank goodness that the EU and the Irish government have worked together to protect the Good Friday Agreement" in the Brexit context, Ms McIntyre emphasised.

Another circumstantial hindrance was the COVID-19 pandemic. With people having to stay home and limit contacts, communities were not mixing or meeting anymore, and this represented a "setback", Gina McIntyre regretted. "Extremism festers through isolation", Justin Sammon (AER) warned. Hence why crossborder programmes and dedicated funding such as the ones provided by the EU, the SEUPB and the IFI are of utmost importance to tackle these issues, protect peace, and pass on the message to the younger generations.
Working with young people, passing on to the next generations
"I grew up in the 1990s", Justin Sammon, originally from Mayo County said. He "enjoyed what peace brought" as a result of the Good Friday Agreement, as his generation and the next ones did. But they did not experience the Troubles directly, and could take this peace for granted if remembrance and cross-community, intergenerational dialogue were not preserved. This is one of the challenges to keep in mind, especially as we mark the 25th anniversary of the Good Friday Agreement, one generation later, to ensure that young people realise the importance of this process, and "never take it for granted", Paddy Harte flagged.
Speaking to young people, making children and young people from different communities meet, passing on the history and learnings of the peace process, and making young people feel ownership of this ongoing process is what the PEACE programme was also built for. "Everyday Peacemakers recognises the importance of empowering young women and young men in consolidating peace processes", Teresa Lennon, Head of the Irish Regions European Office (IREO), stated.
In this regard, Jackie Redpath, CEO of Greater Shankill Partnership, seconded the utmost importance of education, and to intentionally create spaces for cross-community dialogue, while Derek Moore, from the IFI Peace Impact Programme, emphasised the importance of "going to schools and working with young people" directly.
Damien McKenna, from the IFI Personal Youth Development Programme, would also seize the 25th anniversary of the Good Friday Agreement as "a reminder for the new generation of what happened, the traumas, and that peace can be built on". Mr McKenna insisted on the "transfer of ownership" when working with younger generations, and making young people understand that "they can be the change".
Young people represent the future, and bear hope in the continuation of the peace and reconciliation process. To the question "what gives you hope?", Anne Carr, dialogue practitioner and peace building facilitator, answered unhesitatingly "the younger generation", who inspires her every day.
The everyday peacemakers: building bridges across communities
Justin Sammon recalled seeing in his childhood "pictures of politicians at the beginning of the Peace process", but what was "missing in the picture, is the concrete work of people in their communities", to preserve and keep building peace. These "everyday peacemakers", often invisible, represent the hard core of the peace process, and their actions within and across communities are of utmost importance to maintain and develop mutual learning, understanding and acceptance.
Building peace starts with something "as complicated and as simple" as building dialogue between communities, and getting people to talk to each other, Paddy Harte stated. Because it is about speaking to people whose trust has been broken, about finding places where people feel comfortable and safe enough to speak to each other, about finding people skilled and trusted enough in their communities to build such bridges. It is about finding the everyday peacemakers, who can be found in various places, from the business sector to the civil society, from elected politicians to community groups and volunteers, Gina McIntyre said.
Such processes go beyond the Irish border, AER Secretary General Christian Spahr noted, as he recalled similar community work in Serbia, Albania or Kosovo, creating space for dialogue and mutual understanding between the different ethnicities.
Peace building and "a shared vision of the future can only come from speaking together, hearing, understanding the other's perspective", Anne Carr testified, recalling in particular the role of women in creating networks and spaces for dialogue across communities.
The role of women as everyday peacemakers
Everyday peacemakers are often invisible, and this is especially true for women. The Conference dedicated a panel session to "Womens' Leadership in the Peace Process and in Peace Building", where Dr Christina Bache started by recalling women's meaningful participation to build inclusive, democratic societies, and their contribution to peace-building processes. Involving women in peace negotiation processes has actually proved to increase the durability of the reached peace agreements.
Anne Carr pointed out the essential role of women during the Troubles, who were not only supporting their own families, but were also working to keep other women and children safe, when men and boys were sent to prison, were injured, or died. They created women's networks of solidarity and support in their communities, and across communities. They became leaders, although they did not see themselves as leaders, rather as "protectors", and were reluctant to get involved in policy-making.
When it comes to their role in conflict resolution and peace building, Avila Kilmurray and Debbie Waters shared that women would have rather talked about "survival", being faced with daily violence, poverty and the daily struggle of "putting food on the table". In this context, faced with similar issues, they developed grassroots actions, cross-community women's networks, and created spaces for dialogue – a core element of peace and reconciliation processes and of what "everyday peacemakers" are about. While, at the same time, women's own issues, such as domestic violence, were being silenced when the political emphasis was put on constitutional issues, and while women were not or barely represented in the decision-making process.
"The real question is not who is in the room, but who is not in the room. Look around you and see who is not here. This makes one think about the inclusion of marginalised communities", Debbie Waters said.
The inclusion of marginalised groups and/or people who have experienced violence, discrimination and were not given a voice, is also at the core of art and culture-led initiatives in peace building.
Using art and culture to release traumas, build peace and co-create between communities
Catrine Gangstø, CEO of the Norwegian Peacepainting NGO, works with children and teenagers who have experienced violence, have been affected by wars and conflicts. In the Peacepainting workshops, they use painting to express and release their traumas, and can also see the impact their work can have, as it is showcased in exhibitions in various public spaces, and reaches out to decision-makers. These workshops also allow groups from different communities to meet and paint together, and it makes them "realise that they have more in common than they thought", Ms Gangstø noticed. Kari Anne Bøkestad Andreassen, Mayor of Nordland County, wishes for a Peacepainting workshop to be included in AER's Summer Academy in 2024 in Bodø, European Capital of Culture 2024.
Gina McIntyre and Paddy Harte recalled similar community initiatives and IFI programmes, such as the new cross-border creative arts programme:
"Connection and community building lies at the heart of a new cross border creative arts programme with communities in Donegal and Londonderry/Derry combining artistic and creative talent (…). The Amharclann Ghaoth Dobhair Theatre in the Donegal Gaeltacht is partnering with the Waterside Theatre on the new cross border creative arts programme connecting people within Gaeltacht, Nationalist and Unionist communities on each side of the border."
Áine Ní Churrain, representing the Amharclann Ghaoth Dobhair and RTÉ Raidió na Gaeltachta, emphasised her experience of how such creative arts and theatre projects have the power to bring together children of different communities, for a greater inclusion and enhanced mutual understanding.
The use of arts and crafts and language are also about "giving a voice to the voiceless", Barbara Polin (AER) emphasised. A statement shared by Áine Ní Churrain as she recalled that for a long time, Irish-speaking people had no voice and were almost not represented in the public space (radio or television). Although the language was here, was spoken, and the Irish-speaking community was strong, it was not heard. Giving both representation and means of expression to the different identities matter in peace building and reconciliation processes.
"The PEACE25 Everyday Peacemakers Conference built on an inspiring excursion during the AER Summer Academy 2022 in Ireland. On a trip to Derry/Londonderry last September, young people and regional policymakers from nineteen European countries learned first-hand the role of local communities in laying the groundwork for the Peace Process from Paddy Harte at the Guildhall, and fantastic local tour guides. One generation on from the Good Friday Agreement, PEACE25 allowed to share insights and inspiration from everyday peacemakers. Complementing this were contributions from experts and practitioners from the AER and IFI's wider network to bring European and global perspectives, learn together, and shed light on what is needed for the next generation of peacemakers."
– Justin Sammon, AER Member Relations Coordinator
The Assembly of European Regions thanks all speakers and moderators to the PEACE25 Conference for their valuable contribution and enriching, eye-opening discussions. The comprehensive list of speakers can be found on the PEACE25 event page on AER's website HERE.
Many thanks as well to AER Vice-President for Youth, Culture & Tourism Mícheál Ó hÉanaigh, to the International Fund for Ireland and to the Irish College Leuven for partnering at this occasion.
Photos by Omar Havana Photography courtesy of the International Fund for Ireland.
Follow AER!