Share this!
The upcoming AER Committees' Autumn Plenaries will feature a workshop on  life cycle approaches for renewable energy, circular economy and regional development. Its main objective will be the identification of opportunities for life cycle approaches to regional sustainable development.
Most regions have sustainability policies and programmes of various sorts, trying as best as they can to meet the many challenges in implementation.  While a holistic approach seems too complex to many administrators, a series of simpler piecemeal actions often just solve one problem at the expense of another, as for example when production of biofuel occurs at the expense of biodiversity, water consumption and pesticide use.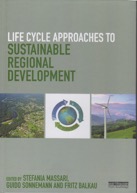 These problems can be overcome by a greater use of "life cycle tools" that substantially improve the sustainability performance of regions.  The relevant procedures were usefully outlined in 2017 in a book published by the LCASRD Group, titled "Life cycle Approaches for Sustainable Regional Development".  Over 40 authors contributed to the book.
Life cycle thinking is not an 'additional' programme for regions, instead it is a way of re-appraising existing management procedures to achieve better sustainability outcomes.
Sustainability is evaluating economic & environmental costs
For example, the purchase of regional goods and services according to sustainability criteria is a fine ideal. But without an appreciation of the actual life cycle impacts and costs, it is difficult to select appropriate products. International advice is now to focus on lowest economic and environmental cost over the entire service life (cycle) of goods rather than on the cheapest purchase price.  The practice of 'Life Cycle Costing' greatly assists such choices.
Regional sustainability depends on also appropriate infrastructure choice by factoring in end-of-life dismantling, rehabilitation or replacement of installations and equipment. This applies to renewable as well as conventional energy installations, and to many other items of regional infrastructure. Our society is already suffering from the damage from abandoned installations and polluted lands whose remediation was never included  in the original purchase costs. We have the life cycle tools now to do better.
Features of Life cycle management
For these and many other examples, the current set of sustainability assessment procedures gives valuable information to decision-makers.  Subsequently, the use of life cycle management procedures as already used by many industries makes it easier to attain the sustainability objectives that have been fixed by the region.
The book observed that a major barrier to life cycle management was the lack of familiarity of regional managers and politicians with life cycle procedures.
A series of conferences, meetings and workshops, some at regional level, is now underway to encourage greater use of the life cycle tool box for regional use.
Fritz Balkau is an international advisor on sustainable development for national government and the United Nations. He has both worked as part of the OECD and UNEP. He recently supervised the edition of "Life cycle Approaches for Sustainable Regional Development", published in 2016. F. Balkau is taking part in organising the next AER workshop on energy, waste & regional economy: life-cycle approaches. 
For more information, please contact:  [email protected] or [email protected]
Register here for the AER Committees' Autumn Plenary (12 September 14:00 – 14 September 18:00).
Follow AER!