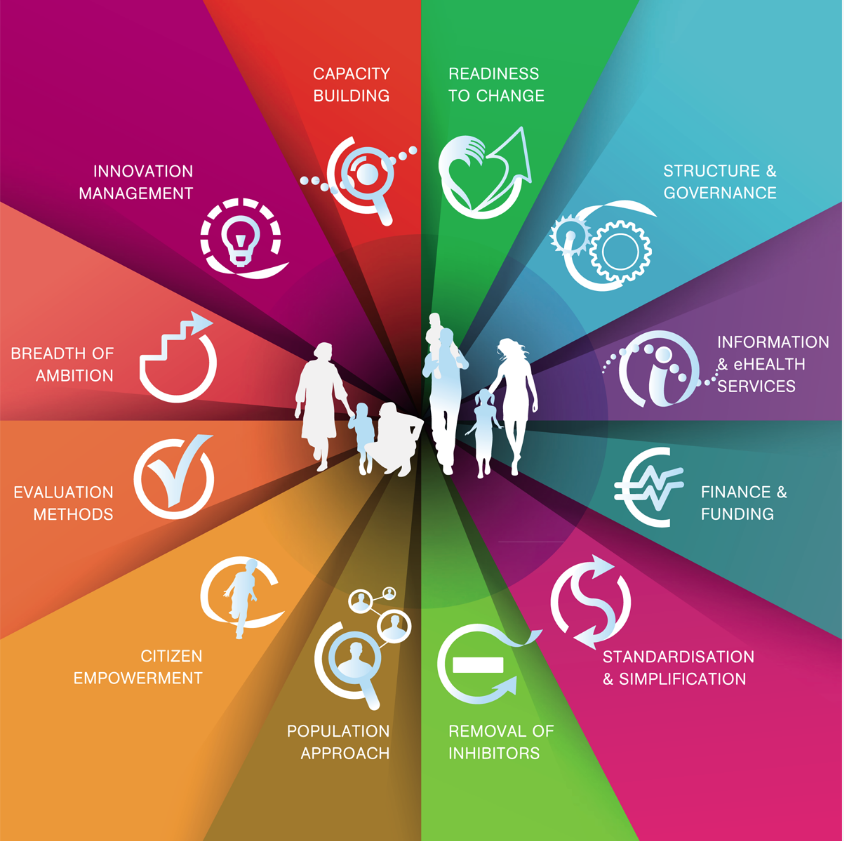 Share this!
To innovate healthcare and improve the patient's journey the AER Committee on Social Policy and Public Health has constantly offered a place for experiences exchange and knowledge sharing on integrated e-care systems since the first AER Conference on Integrated Care in 2013. This topic gained new momentum with the intervention of EHTEL's Diane Whitehouse at the workshop of the AER e-health network in Arad on the SCIROCCO maturity model for integrated care.
Health innovation ecosystems & the deployment of integrated care systems
In March 2018, during the Spring Committee Plenaries in Arad (RO), Committee 2 held a workshop on health innovation ecosystems & the deployment of integrated care systems. Both topics are closely related as they require to build relationships and establish trust between multiple stakeholders to support collaboration, as findings from the MACH5 project show. To help regions deliver more integrated care services for their citizens, the SCIROCCO maturity model presented at this workshop shows its use, as it helps in analysing the situation in areas as diverse as citizen empowerment, governance, innovation management or finance and funding.
Assessing a region's maturity to implement integrated care systems
The maturity model was first developped within the European Innovation Partnership on Active and Healthy Ageing in the Action Group on Integrated Care (B3) of which AER is a member. The SCIROCCO consortium, which includes AER members Norrbotten and NHS24, further developped the model. The maturity model is now operationalised it in the form of an online self-assessment tool. This online tool is ready to be used by stakeholders who are working on innovative solutions that support the delivery of integrated health and care. The tool has been tested in 40 regions across Europe, Singapore and the United States. The SCIROCO tool is a participatory tool which helps regions to:
Understand the strengths and weaknesses of their regional context and inform national, regional and local policy-makers about potential areas of improvement;
Adopt and transfer integrated care good practices by identifying their maturity requirements, thus facilitating knowledge transfer;
Facilitate multi-stakeholder dialogues focused on progress towards the implementation and delivery of integrated care;
Facilitate twinning and coaching activities between regions by helping them to understand the local conditions that enable the successful deployment of integrated care.
Registrations are open for the SCIROCCO Final Conference "How to Accelerate Scaling up of Integrated Care in Context". During this event participants will learn about the self-assessment tool, the methodologies on how to apply the tool and the experience of regions in using it. The final conference will take place on Wednesday, 24 October 2018, at the Scotland House Conference Centre, Rond point Schuman 6, 1040 Brussels
The conference will be also web-streamed, here is the link to join us remotely
More information about this event is available on the SCIROCCO website
What are integrated care systems?
Integrated e-care systems aim to provide health and social care in a flexible, personalised, and seamless way. The integration of care can be
vertical, involving patient pathways to treat named medical conditions that transcend organisational boundaries and connect community-based generalists with largely hospital-sited specialists
or
horizontal, involving peerbased and cross-sectoral collaboration to improve overall health closing the traditional gap that often exists between health and social care or vertical, ensuring better.
The objective is to bridge delivery, management, and organisational gaps. An integrated e-care approach harmonizes and coordinates the management, organization, and delivery of services. This ensures healthcare services provide quality and efficient solutions to the needs of patients. ICT plays an important role in integrated care systems, and topics such e-health, big data in healthcare, artificial intelligence have constantly been on the agenda of AER events.
Photo credits: Scirocco webpage, The 12 dimensions of the Maturity Model tool. 
Follow AER!