Share this!
On 8 and 9 November 2017, the EU Executive Agency for SMEs (EASME) launched in the European Commission's Charlemagne building an Information Day and brokerage event targeting potential applicants to the 2018 calls for project proposals under the Horizon 2020 Challenge 5 "Climate Action, Environment, Resource Efficiency and Raw Materials".
Allison Imrie, from the EC – DG Research and Innovation, gave an insight into the new Work Programme for 2018-2020 which focuses on moving to a greener, more resource efficient and climate-resilient economy in sync with the natural environment, demonstrating a strong commitment to supporting the UN's Sustainable Development Goals (SDGs) and the targets of the COP21 Paris Agreement.
Outline
The Societal Challenge 5 Work Programme –aimed at increasing European competitiveness, raw materials security and improve wellbeing while ensuring environmental integrity, resilience and sustainability– is therefore structured around two multi-annual calls: "Building a low-carbon, climate resilient future: climate action in support of the Paris Agreement" and "Greening the economy in line with the SDGs".
The work programme lays down the following 6 priorities:
climate action in support of the Paris Agreement;
circular economy;
raw materials;
water for our environment, economy and society;
innovating cities for sustainability and resilience; and
protecting and leveraging the value of our natural and cultural assets, which includes Earth observation, nature-based solutions, disaster risk reduction and natural capital accounting, and heritage alive.
The total indicative budget for the 2018-2020 programme is €1.1 bn.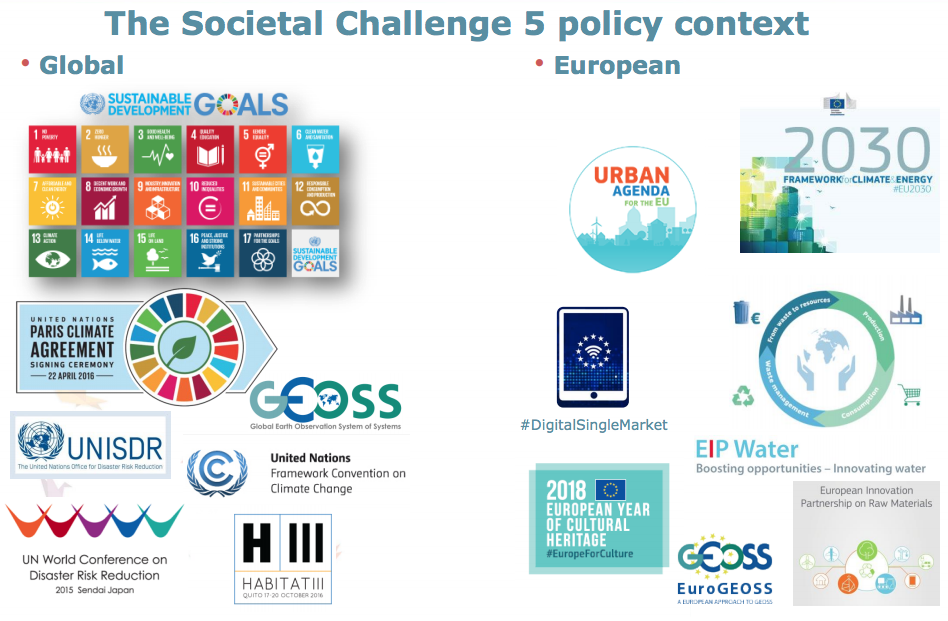 Targeted calls
Following the introduction conference, the thematic sessions on November 9th meet the Societal Challenge 5 objective to achieve a resource –and water– efficient and climate change resilient economy, the protection and sustainable management of natural resources and ecosystems –including also the preservation of cultural heritage– and a sustainable supply and use of raw materials, given the needs of a growing global population and the limited availability of natural resources.
In accordance with the 2017/2018 Action Plan adopted at the General Assembly in Sankt Pölten (AT), which also sets out action lines on topics like climate change, raw materials and the circular economy or cultural heritage, the AER Secretariat would like to draw the attention on the following specific calls:
If you wish to check the full list of calls for proposals, please just click here.
Regions on board!
Should  your region be interested in any of the 2018 calls under Horizon 2020, the AER Project Team would be more than eager to help you develop a concrete proposal, build a consortium as well as go through the application process.
The 2018 calls are open from November 7th of 2017 and the first call deadline is set on February 27th of 2018.
Contact
Photo credits: @pixabay https://pixabay.com/en/glass-ball-autumn-tree-gnarled-1813707/ @EASME https://ec.europa.eu/easme/en/2017-information-day
Follow AER!