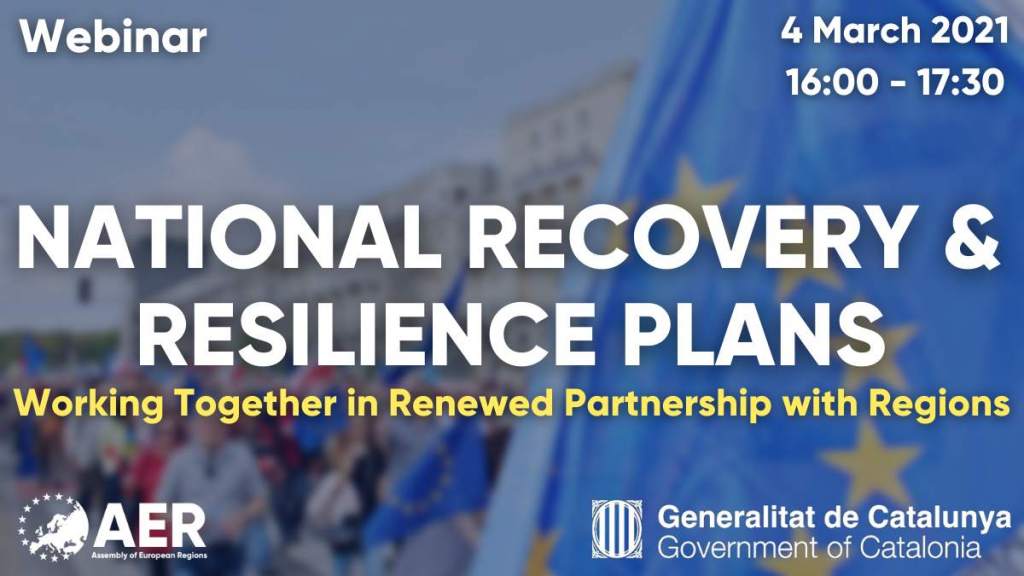 Share this!
On 4 March AER will host a debate on the role of regions in overcoming the economic and social impact of the COVID-19 pandemic.
The EU's Recovery and Resilience Facility (RRF) represents a ray of hope for regions as Europe sets out on long road to recovery from the COVID-19 pandemic.   

However, a recent study conducted by the European Committee of the Regions and the Council of European Municipalities and Regions clearly demonstrates that our cities, regions and municipalities are not being meaningfully included in the member states' preparation of National Recovery Plans. What can we do to ensure that regions have a greater say in the design and implementation of these recovery plans?
Join us on Thursday, 4 March from 16:00 to 17:30 CET for our online session in association with the Government of Catalonia where we will:
Reflect on the role of regions in shaping a resilient and sustainable recovery;
Spur debate on how to better involve regions and municipalities in the design and implementation of national recovery plans, and;
Provide insights on how regions and municipalities can access the Recovery and Resilience Funds.
This panel debate will bring together regional authorities and EU representatives. The debate will be followed by a more open Q and A session where participants will be able to share their perspectives and glean insights from our panel. Check out the event page to register and view the speakers!
Follow AER!