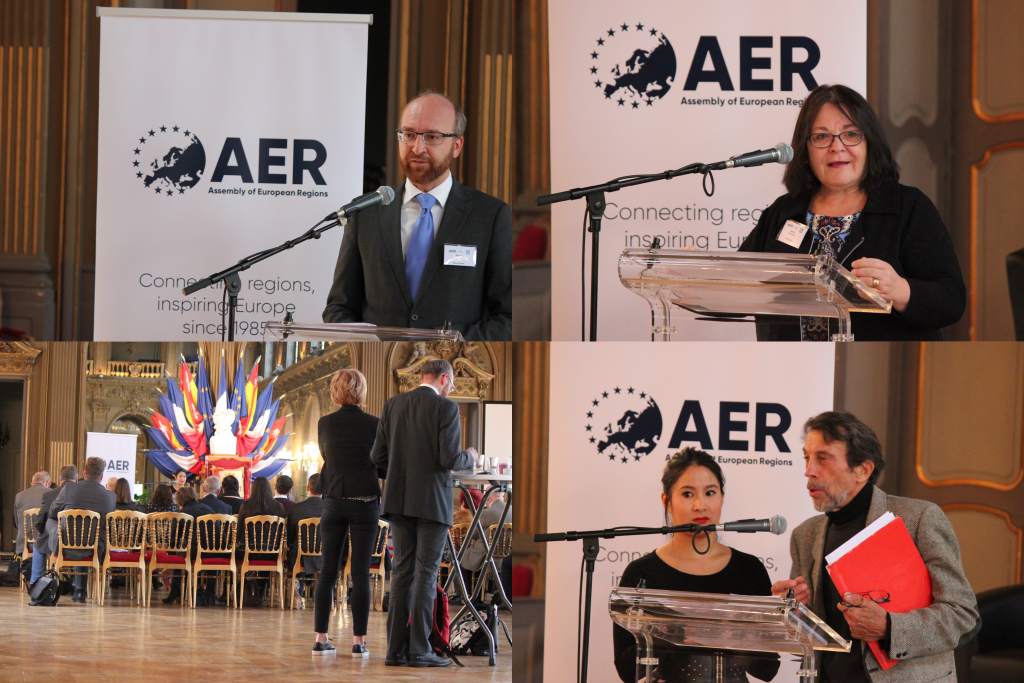 Share this!
The value of data, smart green and integrated transport systems, regions and culture,  youth mental health and life-cycle approaches: the workshops organised on the occasion of the Nancy plenary meetings were an opportunity to exchange experiences on a series of topics close to regions' heart.
Data, the world's most valuable resource
We generate quantities of data each day said Agneta Granström, Chair of the AER e-health Network and Committee 2 Vice President for Health Innovation, and know only part of how this data is used and by whom. Yet data may be referred to as the new oil: complex to collect, expensive to transform, central to the economy and with endless potential.
In healthcare applications include a variety of aspects including the patient's records, healthcare management, and the aggregation of medical information to support diagnosis and treatment.
Guy Mangin, coordinator of the NENObase big data project at the Technical University of Nancy and Marilyne Vô, collaborator to the NENObase explained how their project started from the needs of neurologists and involves doctors, hospital managers, students in an effort to offer support to neurologists for diagnosis and treatment.
The strength of the project resides in it involving different stakeholders in the co-creation of the tool. Because brain tumours are very rare and extremely diverse, neurologists often find themselves in a difficult place when they have to propose the best treatment. Moreover the treatment involves a team of different specialists ranging from radiologists to anatomopathologists. The NENObase allows to pool the knowledge of hundreds of specialists and provide patients with better quality of healthcare.
As Kenneth Johannesson, Committee 2 Representative for Equal Opportunities underlined, big data tools like the NENObase have tremendous potential to provide citizens in rural areas with better healthcare and give doctors  with access to existing knowledge.
Data and data treatment are a game changer too. They are re-organising power between stakeholders. Policy-makers therefore need to concentrate considerable efforts on the development of health innovation ecosystems. This relates also to the topics which will be discussed at the Artificial intelligence: are regions up to the challenge? event on November 30th in Brussels.
Transports: smart green and integrated
The AER working group on Transports and Mobility, which is led by Martin Tollén looked into the opportunities for members to get involved in the European Strategy on Cooperative Intelligent Transport Systems (C-ITS). AER Coordinator for Institutional Relations & Advocacy Vania Freitas provided an update on the EC Strategy and informed about the ways she can offer members support.
Matthieu Jacquot, Director of COVIVO, a Grand Est (FR) example of shared mobility solutions offering carpooling for companies and communities, explained how public and private transport solutions complement each others. The futur of mobility is facilitated by IT applications.
Discussions included questions of access to transport solutions, inter-modality and shifting habits. The working group will continue to focus on these topics and the ways regions can promote sustainable mobility services. A recurrent topic for this group is also the support to regional airports (as opposed to larger airports), which continue to be an essential part of the connectivity of territories. Roger Estefors, the group's expert on regional airports provided an update on the situation.
Regions for culture and vice-versa
The breakfast briefing on culture was an opportunity to reflect about the role of regions for the development of culture and the role of culture in regional development. Grand Est Vice President in charge of Culture Pascal Mangin provided insights on the region's role and action in this field. Magnus Berntsson, in his quality of President of the Regional Council of Västra Götaland (SE) shared an example of how the region's support in the film industry enabled to propulse the sector and get significant returns on investments, in terms of quality, international recognition and regional development. Katarina Tolgfors, County Councillor from Örebrö, shared the experience of the theatre where she also works as a communication professional and Alf Norberg, County Councillor from Gävleborg provided more insights on his region's action in the framework of the 2018 European Year for Cultural Heritage.
AER Coordinator for Finance of European Projects Luca Magri updated members on opportunities which will be available for regions in the context of the European Year for Cultural Heritage. 2018 will see activities and initiatives all around Europe to get people interested and involved in cultural heritage. The calls for projects were published after the Breakfast Briefing and are now available on the European Commission's webpage. The deadline is 22/11.
Youth mental health: creating real added value
Any project proposal should always aim to create useful outputs for stakeholders. Linda Moestam explained how the SAM project in Norrbotten (SE) has been able to engage all interested parties in a co-creation process on good mental health. They jointly developed an toolbox to promote good mental health at all stages of life. Participants identified jointly the stakeholders they would like to benefit with this project and then worked together to define outputs which would actually be efficient.
The AER Subcommittee on Youth led by Marta Vilalta has been working on the identification of needs for regional action in the field of youth since November 2016 in Izmir. The group identified the difficulty for young people to relate to others as a shared concern across wider Europe. This led to the idea to developing a joint initiative involving Committee 2 and Committee 3 members. A preparatory meeting took place on the occasion of the AER General Assembly and resulted in the decision to develop an EU-funded project.
Life-cycle approaches
The last workshop of the week was the one led by Fritz Balkau on life-cycle approaches for regional development. This approach which takes into account all the steps of elaboration of products and services is useful for regional development planning and blends well with AER activities on the circular economy such as the 2016 Regional Innovation Award.
Follow AER!